Scott Reardon wants solo gold at Doha 2015
After tying for the world title two years ago, the Australian sprinter wants to stand alone at the top of the podium at the IPC Athletics World Championships.
13 Oct 2015
Imagen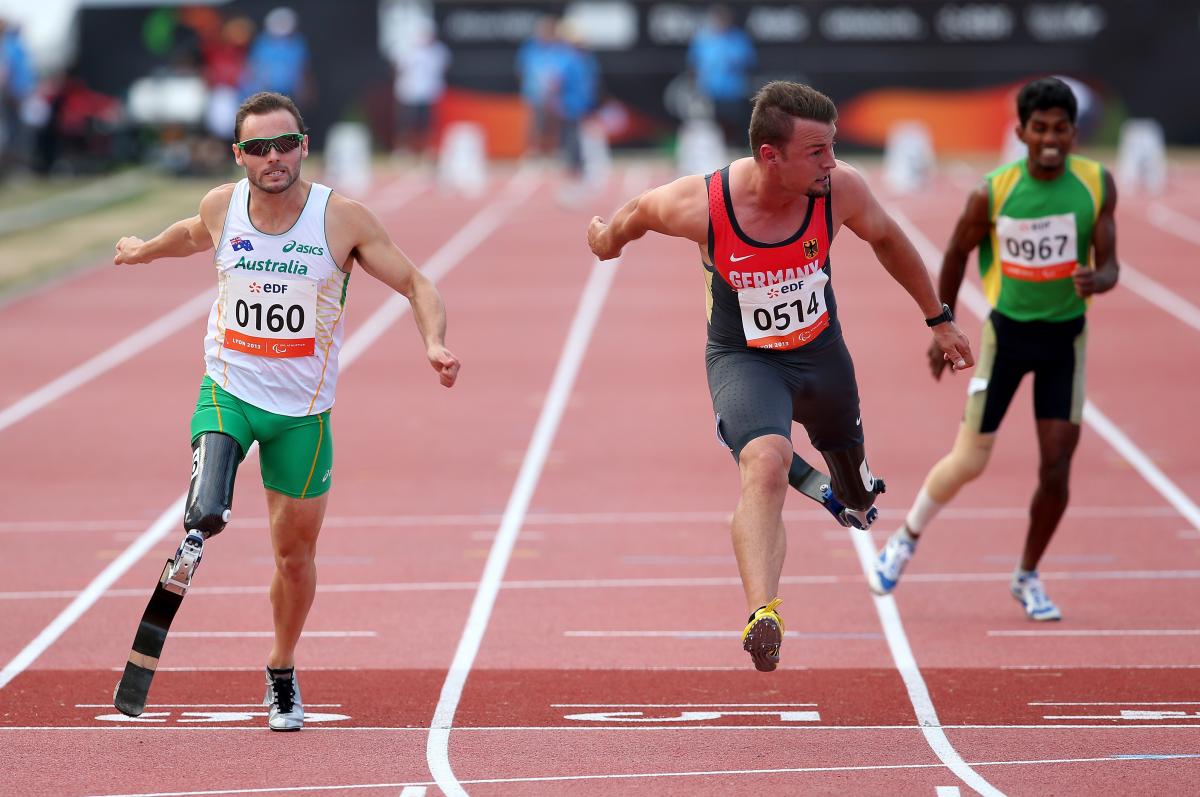 ⒸIPC
By IPC
"It spurred me on but also it helped me identify a few of the issues that I had mentally in the past when I was racing. I've been able to fix some of those things because of that race,"
Scott Reardon claimed 100m T42 gold at the IPC Athletics World Championships two year ago, but there is no way the Australian wants a repeat of that performance when he lines up at this month's World Championships in Doha, Qatar.
Back in 2013, the 25-year-old tied for gold with his rival, Paralympic champion Heinrich Popow. Reardon led for much of the race, but the German battled hard right up to the line and the pair were both given a time of 12.68 seconds.
Reardon and Popow stood on top of the podium together to receive their gold medals; this time around Reardon wants to make sure he is standing there alone.
"I don't want to put myself in the same situation as what I was last time," said Reardon. "Winning the gold medal was awesome, but the circumstances that came around with it was something that I won't forget.
"It was a high and a low and everything in between - and I definitely want to stand on that top step by myself knowing that I am absolutely 100 per cent the best person in the world at that particular moment."
Now Reardon feels he is able to use the lessons he learned from that memorable race to help him achieve gold once more – but this time by himself. Not only is he physically stronger two years on, he believes his mental fortitude has also improved.
"It spurred me on but also it helped me identify a few of the issues that I had mentally in the past when I was racing. I've been able to fix some of those things because of that race," explained Reardon.
"I realised that I probably put myself in a position where I let that situation happen by some of the things that were happening in my head.
"So being able to identify that and move past that and put things in place so that it doesn't happen anymore, it was a really good learning curve. Because of that I'm a better athlete and mentally a lot stronger."
Lining up in the 100m T42 final in Lyon, France, Reardon believes he was too aware of those around him. Now he is focused solely on himself.
"I've been working on making sure I stay in my race 100 per cent of the time, through the whole race and making sure I don't drift away. Because it doesn't take much. A mild lapse in concentration in that type of race can mean the difference between winning and losing.
"I have to make sure that I don't do that. It worked all this season and hopefully when it matters I'll be able to do that again. I'm 100 per cent sure that I've fixed that issue and it won't happen again."
The Paralympic silver medallist is able to look forward to racing in Doha at the 2015 IPC Athletics World Championships knowing that he has had a solid few months training behind him, after a promising start to the year during the Australian summer season.
The Temora-born sprinter still sits top of the world rankings after clocking 12.24 in Canberra back in February – a time he managed on four occasions. Still, he has a tough field to beat – it is not just Popow who will pose a threat.
Russia's European bronze medallist Anton Prokhorov sits second in the world rankings and lines up alongside the two men that clinched gold and silver ahead of him at last year's IPC Athletics European Championships, France's Clavel Kayitare and Denmark's Daniel Jorgensen.
However Reardon believes that consistency will help him achieve his aims, including a target he still holds close – breaking the 12 second mark. Popow holds the current world record mark of 12.11 seconds, but the Australian believes that he can go much faster.
"I've always maintained the belief that with consistency you can improve," he said. "It was still not where I wanted to be at the start of the season - I wanted to go under the 12 second barrier – but I think having a good consistent season last year gave me a lot of confidence knowing that this year I could actually improve again. If I can piece things together a bit better this year – I've got a bit more strength underneath me too, it's getting closer and closer to happening.
"I do believe it's possible for an above the knee amputee to be able to do that and I haven't found a legitimate reason why I can't do it - everything I do tells me I can.
"It's really down to a point where I peak at the right time and I execute a race. If I can do both things at the right time I think it will come. I'm not putting any pressure on myself to be able to do it – it's a matter of when it happens, not if. If it happens this year at the World Championships then that's a bonus."
The IPC Athletics World Championships will take place in Doha, Qatar, between 21-31 October, attracting 1,300 athletes from 100 countries.