Tahti expects a close battle for 100m gold at Doha 2015
The Flying Finn, believes he will have to go under 14 seconds to win his third consecutive 100m world title in the T54 class.
09 Oct 2015
Imagen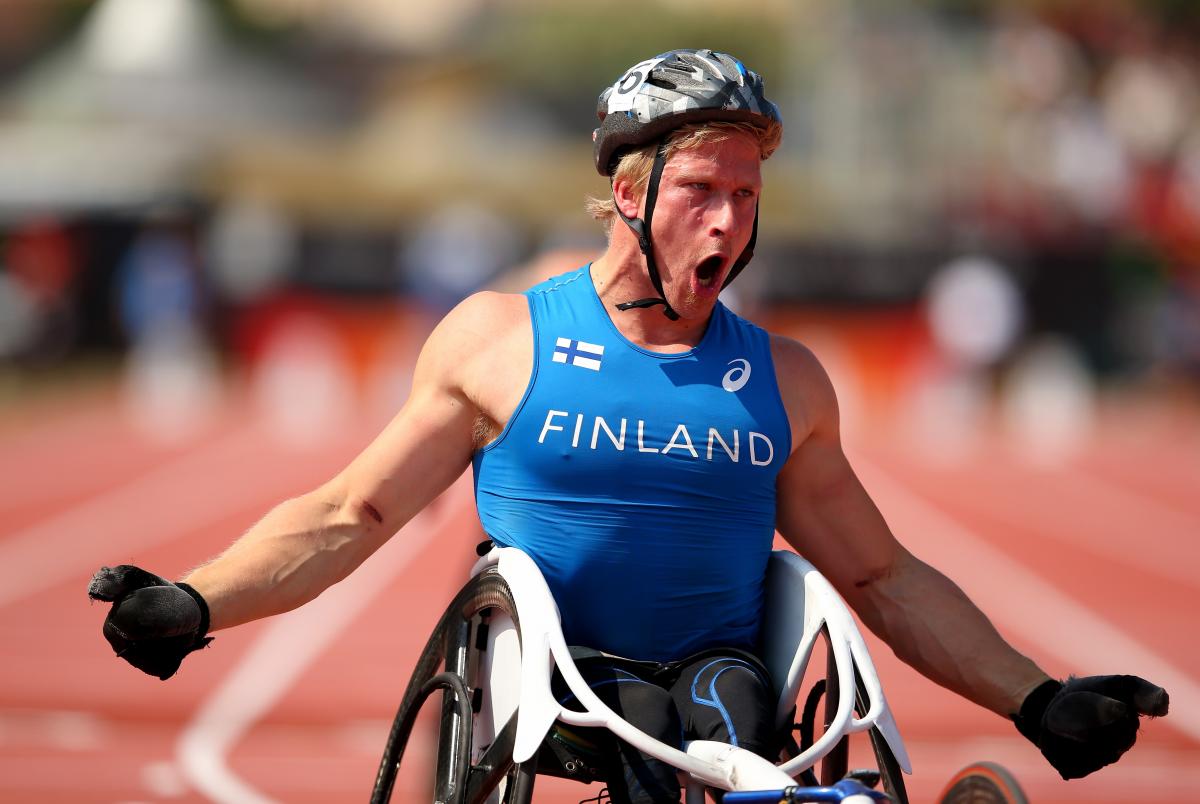 ⒸGetty Images
By IPC
Finland's Leo-Pekka Tahti believes the 100m T54 at this month's IPC Athletics World Championships could be the closest – and the fastest – yet.
The reigning Paralympic, world and European champion is aiming for a World Championship hat trick in Doha, Qatar, having won the event in 2011 and 2013.
Top ranked over 100m for the past five years, Tahti should prove difficult to beat. But the Flying Finn is well aware that a third consecutive world title will not come easily.
The line-up in the men's 100m T54 is one of the most competitive ever, with a talented field all hoping to knock the 32-year-old off the top spot. As well as Dutch world silver medallist Kenny van Weeghel, there's Saichon Konjen, Paralympic bronze medallist at London 2012.
The Thai currently sits second in the world rankings behind Tahti, having crossed the line just 0.1 seconds behind his rival in Arbon, Switzerland back in May. The pair are the only T54 racers to have gone under 14 seconds so far this year, but Tahti believes there may be more to come.
"Konjen is a very interesting guy because it looks like he is very strong at the moment. He was very strong at the London Paralympics as well," said Tahti.
"I think he is now at a better level than he was in London so it is a very good consideration for me because that gives some kind of extra boost to train even harder.
"I can't think that the World Championships will be easy for me. It is going to be very difficult to win in Doha."
Tahti set the current world record of 13.63 over three years ago, in the first round at the London 2012 Paralympic Games. So what does he think it will take to win the World Championship title this year?
"I think there is a possibility that more than one or two guys will go below 14 seconds, so if that is going to happen it's going to be a very tough race. I expect very good levels there and if we get a little bit of a tailwind the times in Doha might be very good."
Aside from Konjen, the field also includes Japan's world ranked number three Yoshifumi Nagao and China's Yang Liu, who clocked 13.92 to win Paralympic silver behind Tahti at the London 2012.
Then there is van Weeghel, a consistent presence on the podium alongside Tahti when it comes to T54 sprinting. The Dutchman was the last person to beat the Finn over 100m – nearly 18 months ago at the Daniela Jutzeler Memorial in Switzerland.
It is a rare blot in Tahti's copybook – the 32-year-old was also unbeaten for four years between 2007 and 2011.
Van Weeghel, who won the world 200m T54 title in 2013 and the European 200m T54 title last year, has recently turned his attention to longer distances – a fact which gives Tahti a small measure of relief.
"It is a good advantage for me that Kenny is also doing the longer distances, as I am just doing the sprinting. My training is quite different from the long distance athletes," explained Tahti.
"When I lose it's a boost for me, because I want to be the best in the world. That's motivating me so much all the time.
"When I won competitions four years in a row, that gave me some kind of extra pressure, because I started to think about the fact that some day I will lose, some day it was going to happen.
"And when it happened in 2011 I was very disappointed but at the same time very happy, because finally someone had beaten me - so I didn't have to think about the pressure to win all the time anymore."
Still, when it comes to major international competitions, the Finn – who has won 100m T54 gold at the last three Paralympic Games - believes maintaining his unbeaten run is vital.
"I think it is quite important to be unbeatable at big competitions, like the Paralympics and World Championships, and of course it gives me more confidence going in to the big competitions.
"If I know that I am in very good shape I am unbeatable, that gives me more self-confidence in the race. Most of the time it's a very good situation for me. It definitely gives me an extra boost."
Tahti will be one of 1,300 athletes from 100 countries competing at the 2015 IPC Athletics World Championships between 21-31 October.