Me and my coach with the USA's David Brown
The US 100m T11 world champion talks about his relationship with his coach, the Brazilian 800 Olympic champion from 1984 Joaquim Cruz.
03 Jul 2016
Imagen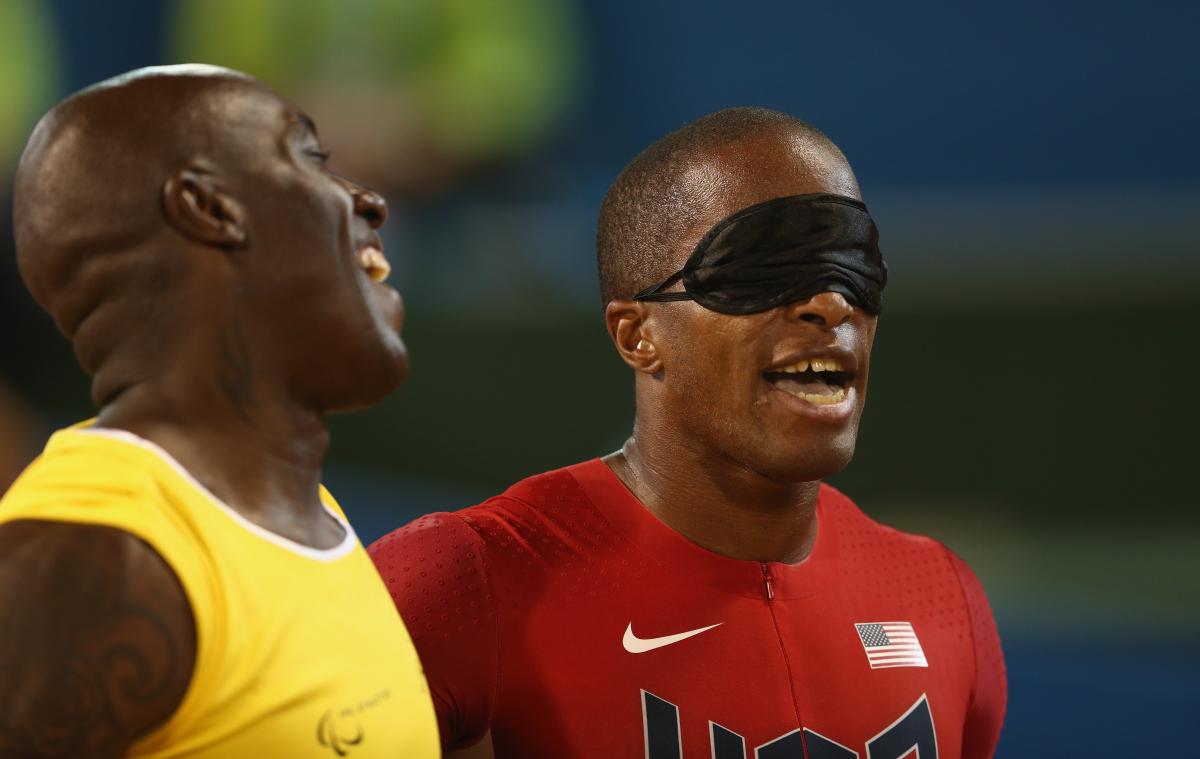 ⒸGetty Images
July's edition of 'Me and my coach' features US sprinter David Brown and his Brazilian coach Joaquim Cruz, who reveal how their loyalty to each other always comes first.
---
When US sprinter David Brown lines up in Rio de Janeiro, Brazil, at September's Paralympic Games, his key rivals – home grown stars such as Lucas Prado, Daniel Silva and Felipe Gomes – will be assured plenty of support from the local crowds.
But there's one Brazilian he can certainly rely on – his coach, Joaquim Cruz.
Cruz, who was born in Taguatinga, Brazil, won gold at the Olympics in 1984 – he is the fifth fastest 800m runner of all time and a legendary name in the sport.
The pair have worked together since May 2012, when Brown, who competes in the T11 class for visually impaired Para athletes, moved to the US Olympic Training Centre in Chula Vista, California.
Whilst Cruz is quick to acknowledge his friendship and respect for Brazil's current crop of Para athletic stars, Brown knows that his coach is right behind him.
"I don't look at that as a problem," said Brown, who won 100m gold at the 2015 World Championships and is the current 100m and 200m T11 world record holder.
"I actually asked him the question – 'Coach when we go to Rio, and I'm against the Brazilians, how will that be for you?' He said 'They're not my athletes, you are my athlete. I am coaching you, I'm not coaching them.'
"I'm like 'Okay, that answers that question!' Every medal that I've won against them, he's come up to me and he's like 'Good job, give me a hug.'"
Cruz agrees: "We train hard and we prepare well for anyone. We have good relationships with the athletes – off the track we are friends, I respect them and talk to them, and David is friends with a few of them as well. But once we step on the track that's where the friendship stops. At the track it's down to business."
While Cruz's support for Brown in Rio de Janeiro is guaranteed, what does he believe his young sprinter can achieve?
"He's in the best shape of his life right now," admitted the Brazilian.
"I was one of those athletes who didn't like to run with my tongue, and I tell him the same thing – go do it then talk about it. But I just want to tell you that he's in very good shape."
It's clear Cruz and Brown have a successful, close partnership – which has developed from their very first meeting. Cruz recognised his young charge's potential immediately.
"The kid was born to do athletics. I was able to connect with him from day one; David was on board from day one," explained Cruz.
"I explained to him how the whole thing worked, and how we needed to build a good foundation so he would have a healthy, long career.
"As I was talking to him I could feel his spirit rising – that's how much he was absorbing. He is one athlete that I can say is equal to a young Joaquim Cruz – with his work ethic, his training; his dedication on and off the track is unbelievable."
Respect goes both ways.
"When I found out all the accomplishments that Coach Cruz made in his time it was like 'This guy knows what he's talking about,'" said Brown.
"At the same time, before I even knew all about him, the things that he was saying and the way he operates – it was my mind set. I felt that this guy was reading my mind."
In fact their understanding of one another is so in synch that sometimes even Cruz forgets that Brown is blind.
He recounts a recent pep talk to his athletes – which included a group of able-bodied runners:
"I said 'Guys take a look at this please,'" explained Cruz. "To which Brown piped up 'Coach I can't see!'
"I know he's blind but I don't treat him any differently – my answer to him was 'Shut up, you have more vision than all of us together!' - and he does."
__
Sport fans from around the world can now buy their Paralympic tickets for Rio 2016 from authorised ticket resellers (ATRs)
The IPC's Global ATR is Jet Set Sports, and Rio 2016 tickets and packages can be purchased on the CoSport website.
Residents of Brazil can buy 2016 Paralympics tickets directly from the Rio 2016 website.
Visa International is the exclusive payment card and the official payment system for the Paralympic Games.