Mental strength the secret for Sho Watanabe
Wheelchair racer ready to stun marathon world again on home roads in Tokyo
22 Feb 2018
Imagen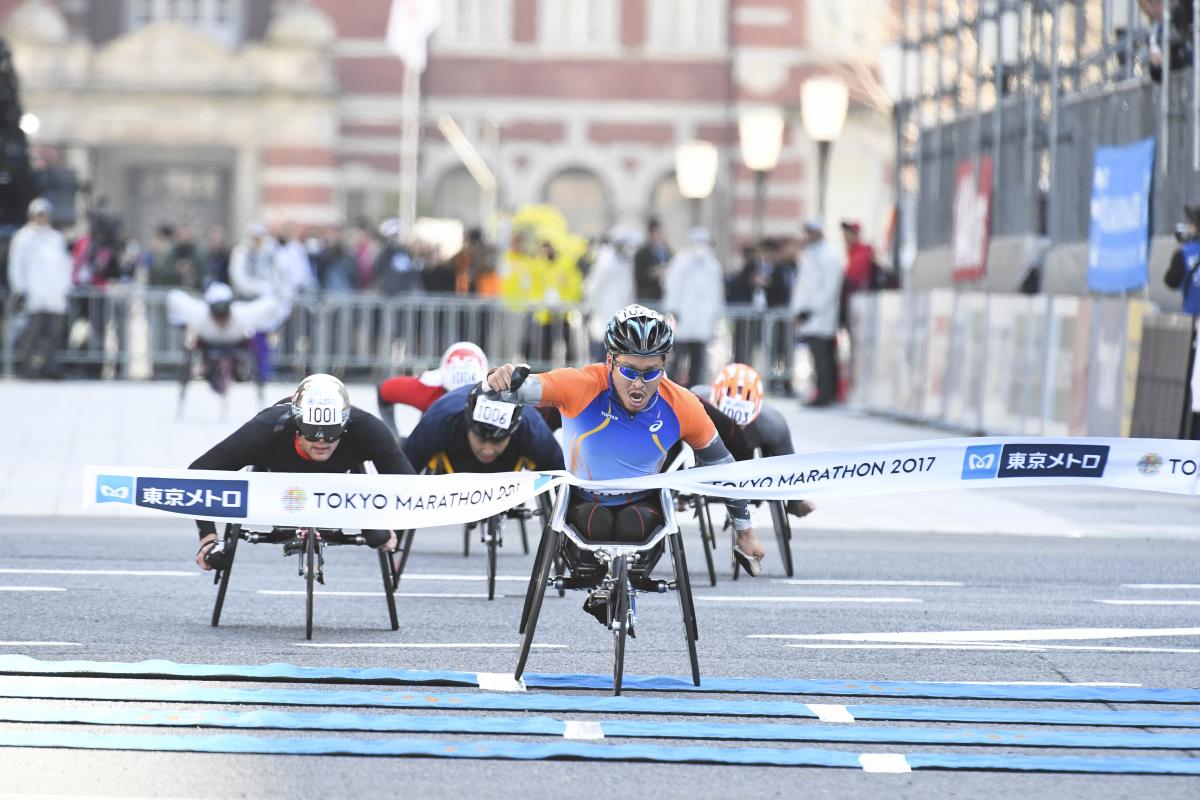 ⒸTokyo Marathon Foundation
By IPC
"The Japanese have strong mental power, which helps us to keep going. Despite not training together, there are many fast racers. There are also many legends - and we all want to follow our legends."
Sho Watanabe believes the secret for a repeat victory in his home marathon in Tokyo on Sunday (25 February) is all in the mind.
Twelve months ago, the Japanese wheelchair racer upset the form book when he beat Swiss Paralympic champion Marcel Hug to the line in the Tokyo Marathon.
Now, one year on from that memorable win, Watanabe is ready to prove that victory was not a one-off.
The 26-year-old from Fukuoka in Japan has spent the last three months working hard on his physical fitness to improve his power over the 26.2-mile course – but he also believes that his mental strength will be paramount to further success.
"Currently, Marcel is at the top of the world. I cannot win a game of strength; but the wheelchair marathon winner will be the one who dominates and controls the race. If I can develop my favourite race plan, I expect to win the race again," said Watanabe.
"This year, I'm going in to the race with even more confidence than I did 12 months ago. I love racing and I feel happy to fight against strong competitors. For me, racing against Paralympic medallists such as Marcel is very exciting and something I enjoy. I like the speed and strategic battle of wheelchair racing."
In fact, Watanabe believes that mental strength is a trait that prevails throughout the Japanese team and is the reason for their continued success in distance wheelchair racing.
Three Japanese wheelchair racers currently sit in the top ten of the Abbott World Marathon Majors Series XI leaderboard – Kota Hokinoue is fifth with 16 points, one place ahead of Watanabe (13 points), while Ryota Yoshida (9 points) lies in eighth place after finishing third in Berlin last year.
"The Japanese have strong mental power, which helps us to keep going. Despite not training together, there are many fast racers. There are also many legends - and we all want to follow our legends," added Watanabe.
While Watanabe will line up on Sunday with confidence earned from last year's success, plus a solid winter's hard work under his belt, he is not looking back for inspiration.
In fact, with the Paralympic Games taking place in Tokyo in two years' time, he is even more excited about what lies ahead.
"I think that winning for the first time in Tokyo is a big step towards the Tokyo 2020 Paralympic Games," added Watanabe, who rounded off 2018 with an impressive third place finish in the New York Marathon in November.
"But last time is last time, this time is this time. I think that it will be a completely different race. I would like to win in Tokyo once again, and gain even more confidence with a second consecutive victory."
Watanabe is 'neither nervous or frightened' about Sunday's race, the first major marathon in the 2018 calendar, and insists that the fact he will be competing on home soil will have no bearing on his focus. Instead, he is just pleased that local fans will have the chance to see elite stars in action.
"No matter which country I am racing in, I can concentrate and focus on achieving my best performance. So, that is nothing to worry about. However, racing in my home country, it is a good opportunity for many people and fans who support us to see the race live," he added.
"I would like to increase the number of wheelchair race fans, showing them how cool and exciting it is, and especially to feel the speed of the wheelchair race."