Moises Fuentes talks importance of Para sports
Colombia's Paralympic medallist explains how swimming helped him move forward after becoming paraplegic at 18 as a result of a spinal cord injury caused by a gunshot.
30 Jan 2017
Imagen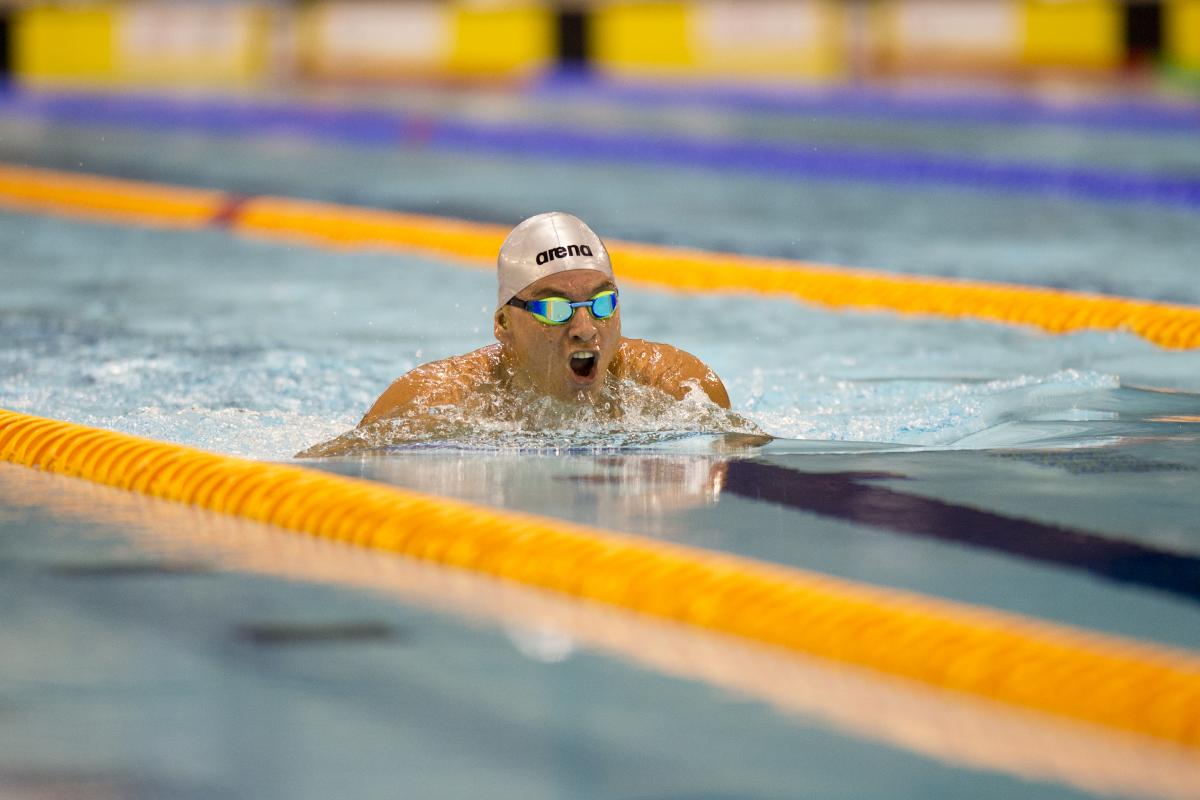 ⒸLuc Percival
By IPC
"I focused on working hard. Because achieving your dreams depends only on ourselves, our perseverance and dedication."
Moises Fuentes will never forget 13 October 1992.
The then 18-year-old Colombian was helping his brother and merchant Roberto at work, when a group of armed men attacked them.
"They had previously threatened my brother to pay them 'taxes' and he refused, which is why they came to our place to kill us," explained Fuentes.
"My brother got murdered and I was shot six times. One of the bullets hit my spinal cord and, as a result, I became paraplegic. It was a very difficult moment for me. I did not understand why I would end up using a wheelchair for the rest of my life."
Twenty four years after that tragic episode, Fuentes won his third swimming Paralympic medal at Rio 2016, a bronze in the men´s 100m breaststroke SB4.
"After so many years practicing the sport and all I had been through, it was gratifying to reach the Paralympic podium once again," said Fuentes, who also won bronze at Beijing 2008 and silver at London 2012.
"I worked hard to win gold and at the moment I was not so happy. But then I watched the race again and saw how close Greek swimmer Antonios Tsapatakis, who finished fourth, was to me that I started valuing the bronze more.
"Being amongst the top swimmers again at your fifth Paralympic Games it is very important and makes me feel very happy."
As a kid, Fuentes used to swim in the river and practice football, but it was not until after getting shot that he decided to take sports more seriously.
"I realised swimming was perfect for me because it makes me feel free. It is a wonderful sport where you are constantly competing against yourself, trying to lower your times.
"And it was thanks to sports that I managed to move forward after the attack. Interacting with other people with impairment made me understood that I was not alone. Sports gave me the physical and, especially, the mental strength to value the second chance life gave me."
In 2013, Fuentes fulfilled one of his life dreams by winning the world title in the 100m breaststroke SB4 in Montreal, Canada.
"That was a proof that you can achieve anything you want in life if you are willing to make the effort," he said.
"I do not hold a grudge on the people that shot me. Because keeping bad feelings inside you is only harmful for yourself. You need to try to be as happy as possible, always willing to help others and never let anything break you down.
"I focused on working hard. Because achieving your dreams depends only on ourselves, our perseverance and dedication. It is important to always move forward, no matter how small the step we are making is."