Muller, Swoboda open season with wins in Szeged
The Rio 2016 Paralympic medallists captured gold in the season opening World Cup.
29 May 2017
Imagen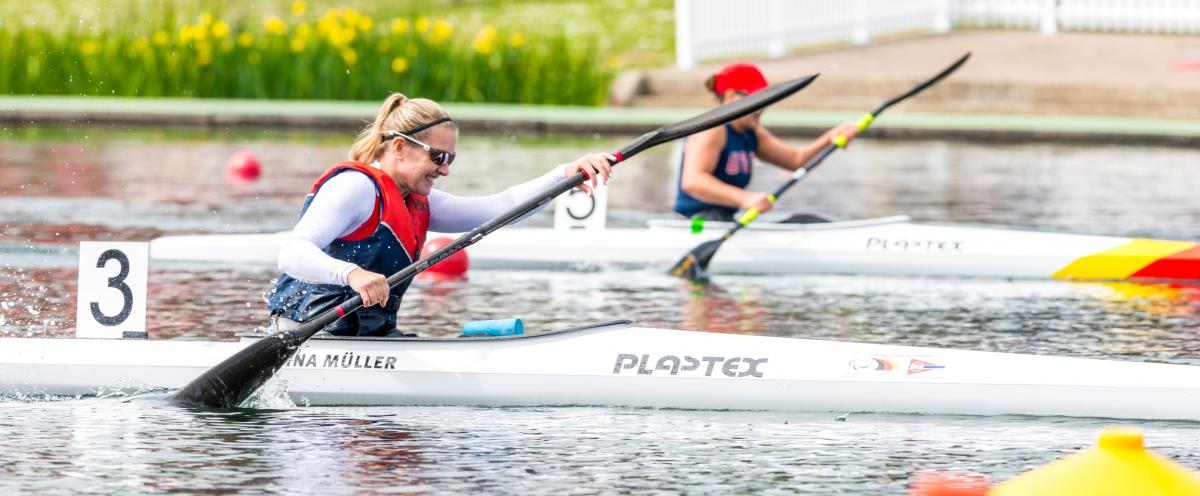 ⒸRalf Kuckuck DBS Akademie
By ICF and IPC
Germany's Edina Muller and Austria's Markus Swoboda opened the 2017 Para canoe season with victories at the International Canoe Federation (ICF) Sprint World Cup 2 in Szeged, Hungary, held 25-27 May.
The two silver medallists from Rio 2016, where the sport made its Paralympic debut, showed solid form building off of September's Games.
Muller (1:00.759) had a commanding win in the women's KL1 200m. Japan's Monika Seryu (1:05.290) followed in second, rounded off by Italy's Juliet Kaine (1:07.074).
"I was a little sick at the start of the season for about two months, so I'm just happy that I'm back and it's working really well again," Muller said.
"Szeged is a very special competition for me, I've never been here but I'm half-Hungarian, so my whole family could come.
"I have a nice little home crowd here, my 80-year-old Grandmother could come and watch my first race in canoe, so that was very special for me."
She missed gold in Rio by just a fraction of a second, pipped by long-time rival Jeanette Chippington of Great Britain.
"Of course the first moment is hard. You go there to win gold, you train to win gold," Muller said.
"But Jeanette is an incredible athlete, and we have had some great races.
"I was happy with my silver medal, because that's a great result. I was just very proud to win a medal at my first Paralympics in canoe.
"If everything goes well my plan is to compete in Tokyo."
After cruising to victory in the men's KL2 200m, Swoboda (42.202) revealed that he made a conscious decision to take life a bit easier after Rio 2016.
"I've had a lazy winter, I've put on some weight," Swoboda said. "I didn't expect to do so little, but maybe I just got lazy. I'm still happy to come out in front. But maybe that's because of my new boat."
The six-time world champion said he was not disappointed with silver at Rio 2016, but more so disappointed in himself.
"I didn't really improve in two years of paddling," Swoboda said. "I said after the Paralympics that I would take a step back, and maybe not be so strict on myself. Because when I did less training, I did nearly the same times as I did after. … So I think I'll just take it easy for a while and see how that works out for me."
Uzbekistan's Azizbek Abdulkhabibov (43.271) took silver, and Italy's Federico Mancarella (44.063) came in third.
Home favourite and Paralympic silver medallist Robert Suba (51.098) fell agonisingly short in the men's KL1 200m.
France's Remy Boulle (50.752), who finished fifth at Rio 2016, beat the Hungarian to the finish line. Italy's Esteban Gabriel Farias (52.906) completed the podium.
Ukraine's reigning Paralympic champion Serhii Yemelianov (39.254) dominated the men's KL3, beating the Russian duo of Leonid Krylov* (39.808) and Artem Voronkov*(40.262) respectively.
Russia did take gold in the women's KL2 through Nadezda Andreeva* (53.663), who finished well ahead of Israel's Pascale Rachel Bercovitch (57.063) and Ukraine's Natalia Lagutenko (57.463).
France's Rio 2016 bronze medallist Cindy Moreau (50.653) was victorious in the women's KL3. She finished ahead of Sweden's Sochi 2014 Nordic skiing champion Helene Ripa (52.307), who recently announced her retirement from the winter sport to focus on canoe. Canada's Erica Scarff (52.460) came in third.
Non-Paralympic Va'a events were also held.
Next up is the World Cup from 2-4 June in Belgrade, Serbia.
*Editor's note: The International Paralympic Committee suspended the Russian Paralympic Committee on 7 August for its inability to fulfil its IPC membership responsibilities and obligations, in particular its obligation to comply with the IPC Anti-Doping Code and the World Anti-Doping Code (to which it is also a signatory). As a result of the suspension, Russian athletes cannot enter IPC sanctioned events or competitions, including the Paralympic Games. For further information please click here: https://www.paralympic.org/russian-paralympic-committee-suspension