Nottwil 2017: Chile's Moya golden as guide, coach
Two weeks after guiding Cristian Valenzuela at London 2017, Chilean helps Amanda Cerna to win
04 Aug 2017
Imagen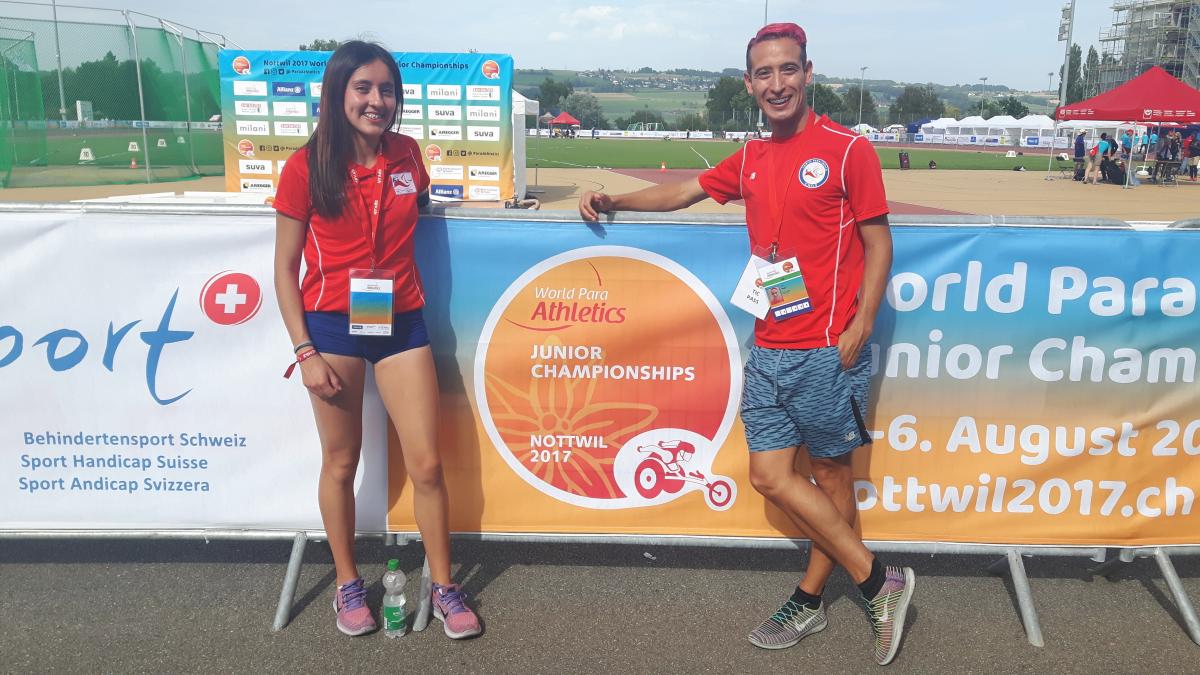 ⒸIPC
By IPC
"And it is a tough task as you do not need to focus only on running but on guiding him, showing him the way, telling him where the other competitors are."
Raul Moya represented Chile at this year´s two main Para athletics events, but in two different roles.
First, he guided London 2012 gold medallist Cristian Valenzuela to a fifth-place finish in the men´s 1,500m T11 at July's 2017 World Championships.
Moya, 26, then travelled to Nottwil, Switzerland, for the World Para Athletics Junior Championships, where he celebrated gold as coach of Amanda Cerna in the women´s 200m T42-47 Junior (U20) on Thursday (3 August).
"To work with some of Chile´s best Paralympians is an immense honour and a privilege for me," said Moya. "The fact that both Cristian and Amanda chose me to work with them means that I am doing well. I really enjoy helping them and other young athletes grow."
Apart from being a guide and a coach, Moya is also an athlete. He began working with Valenzuela eight years ago because they shared the same coach: Ricardo Paso.
"With Valenzuela we went through so many things together, we are big friends," he said. "To every competition, he travels with two guides in case one gets injured, being Francisco Munoz the other.
"I remember winning silver at the Toronto 2015 Parapan American Games and gold at the Doha 2015 World Championships with him. Wonderful experiences both of them!
"In Doha we really wanted to win that gold. We were second almost the entire race, but could finally surpass Brazil's Odair Santos and take the title. It was so nice."
According to Moya, being a guide is not only about being the fastest but about sharing the experience.
"I love training with Cristian because besides training we are friends and can enjoy good times together," he said.
"As a guide you want to help the other. Leave that self-centred side of yourself because the Para athlete is the star, not you.
"But in order to be an efficient guide, you need to be equally as fast or even faster than your athlete. The guides are all athletes as well. And it is a tough task as you do not need to focus only on running but on guiding him, showing him the way, telling him where the other competitors are."
At Nottwil 2017, Moya enjoyed one of his main victories as Cerna´s coach.
"Amanda is a very good athlete, young, makes sacrifices and focused on her career," he described. "She sometimes gets nervous, as everyone, but knows how to run and has a promising future."
Cerna is enjoying her first and last Junior Worlds.
"This is a big challenge. I came super motivated and willing to give it all," she said.
"I am so happy and excited [about my gold]. I had been having good results so I knew I was a candidate, but still [knew it] was not going to be easy. I still have to run the 100m and 400m and want to go for everything."
Live stream will be provided on Paralympic.org, World Para Athletics' website and Facebook page, and Nottwil 2017´s website.
More information, including a full list of competitors, can be found on Nottwil 2017's website.