Nottwil a key indicator ahead of London 2017 claims Genyn
The Belgian T51 wheelchair racer will face his Finnish rival Toni Piispanen at this week's World Para Athletics Grand Prix in Switzerland.
29 May 2017
Imagen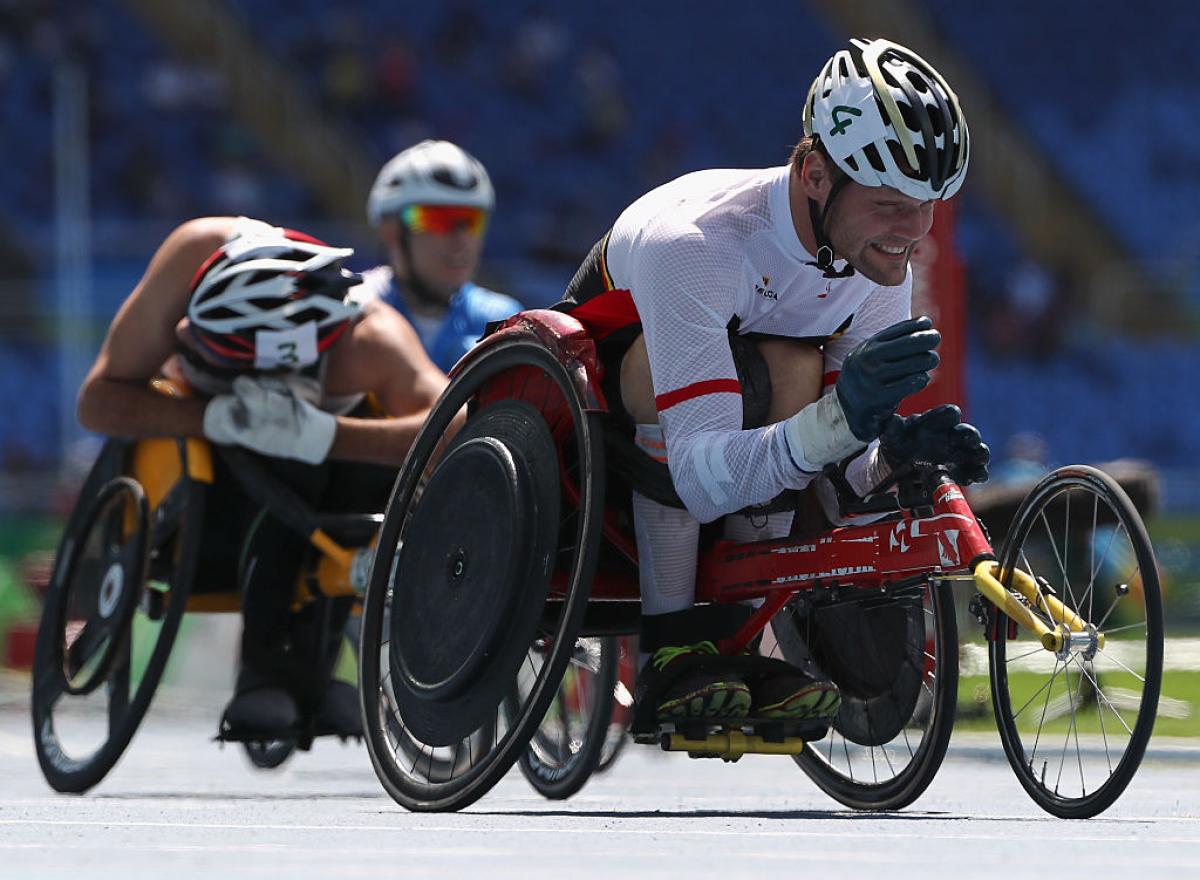 ⒸGetty Images
Double Paralympic champion Peter Genyn believes the winners of this week's (2-5 June) races at the World Para Athletics Grand Prix in Nottwil, Switzerland, will have an edge when it comes to July's World Para Athletics Championships.
The Belgian goes head-to-head with his Finnish rival and 100m T51 world record holder Toni Piispanen once again in Nottwil knowing there is not long until the two face each other for world titles in the British capital.
"I'm pretty sure of it. Even if it's only mental, I think the guy who wins the most races here is going to go in with a big advantage to London," explained Genyn who won 100m and 400m T51 gold at Rio 2016.
"I think it's very important if you can win a few of the races. If you are going to lose a few I think it's going to be difficult."
And if recent performances are anything to go by, Genyn knows he has a race on his hands.
At last weekend's competitions in Arbon, Switzerland, Genyn and Piispanen, the London 2012 100m T51 Paralympic champion, could not be separated; photo finishes in both the 100m and 200m were unable to split the pair.
Genyn and Piispanen will race again in Nottwil and the Belgian knows that results could be tight once again.
"I think we are going to have some very interesting races in the next few days and I'm sure we were both surprised that it was this close.
"I knew Toni would be good, he wants revenge for Rio, so I expected him to be good but I didn't know it would this close. There is still room for improvement but I'm not going to talk too loud yet."
At the Doha 2015 World Championships Genyn won 100m and 400m T51 gold – his first major titles. He went on to clinch double gold at the Grosseto 2016 European Championships before rounding off the year with two wins in Rio, Brazil.
The 40-year-old acknowledges that those successes stand him in good stead as he prepares to defend his world titles.
"It all feels very good. I think I might have to gain a little bit more speed but I'm sure we will before London, so I'm fairly confident.
"You know everybody is looking at you and everybody wants to beat you. Before the Worlds in 2015 everybody was only looking at Toni, so it's a little bit more pressure this time. But I still feel the same and the good thing about London is a lot of family and friends are coming over.
"I think I still have the mental edge on him because I had the Worlds, Europeans and Rio, so it's up to him to beat me now - but I'm sure he's going to try."
At last year's Nottwil Grand Prix, Genyn came out on top in the 100m and the 200m T51 – setting a new world record in the longer sprint too.
But over 400m it was Mohamed Berrahal who took first place and Genyn is aware that the Algerian, who is set to be back in Switzerland once again, remains a big threat – especially after lowering his own African record at March's Dubai Grand Prix.
"It's the same feeling with Toni," he explained. "I'm sure Berrahal is looking forward to beating me but I'm fairly confident I can still take him on. But I saw that he already put down a very fast time this year so we will have to see. I'd love to see where he's at now."