Ostrava 'the biggest thing' for Canada's Kingsmill
Goaltender is one of the four Canadian players making his World Para Ice Hockey Championships debut this week in Czech Republic
21 Jun 2021
Imagen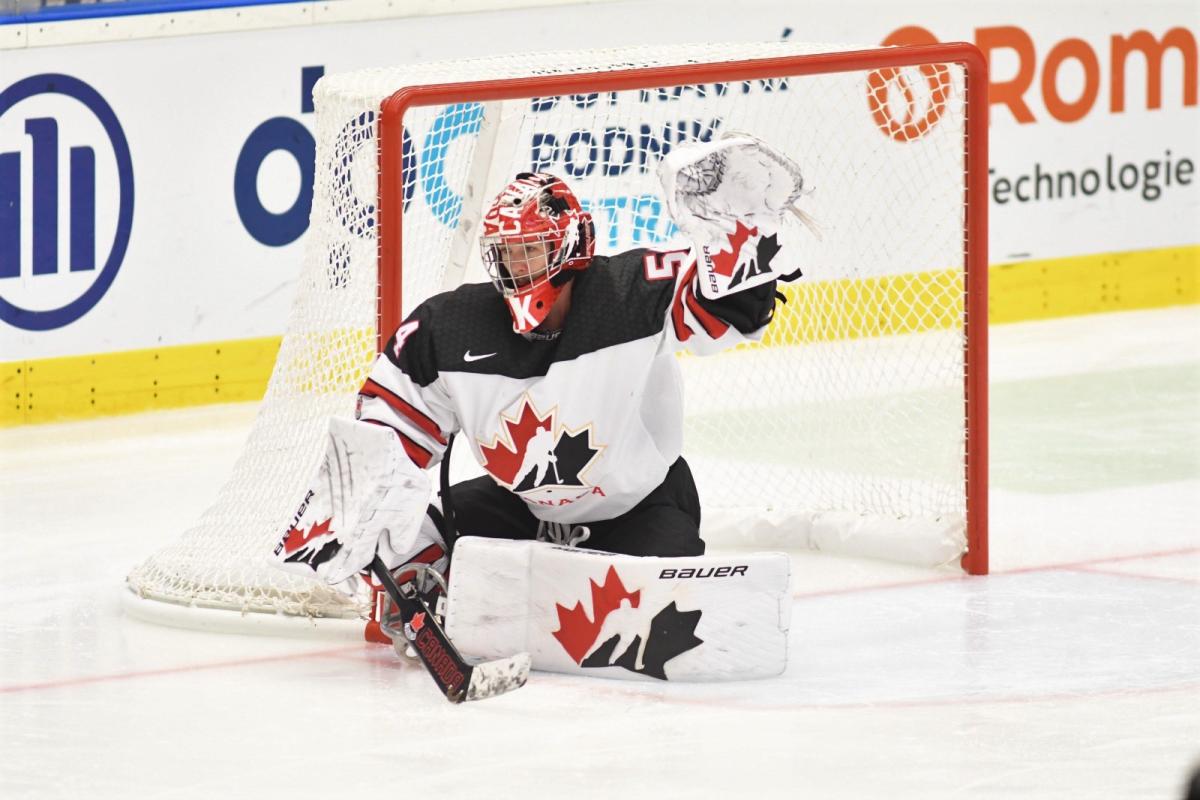 Ⓒparahockey.cz
By Stuart Lieberman | For World Para Ice Hockey
Goaltender Adam Kingsmill is one of four players from Canada making his World Para Ice Hockey Championships debut this week in Ostrava, Czech Republic. 
In Canada's victory over South Korea on Sunday (20 June), the 21-year-old had the opportunity to man the net for the first time on the world stage, stopping the puck twice in 22 minutes of play against South Korea.
"I'm hoping to go out there and compete my best and learn a lot," he said. "I'm very grateful to be partnered with [Canadian goaltender] Dom Larocque who has a ton of experience at World Championships and playing in high-stakes games. I've learned so much not only from his physical game, but his mental game as well, which I think is going to be the biggest thing for me."
It is not often a Para ice hockey powerhouse such as Canada has a new national team goaltender, as teams are only allowed two on their World Championship roster.
Kingsmill grew up in Smithers, British Colombia, a small town of nearly 5,000 people known for its "miserably cold" winters, according to him. When the goaltender was just two years old, he was outside running around in his rubber boots in the rain when he tried to race the lawn mower. Kingsmill slipped and fell — and that's when he lost his leg.
"It's a community that doesn't have a whole lot of disabilities in it, and quite honestly, they didn't know how to treat me any differently than anyone else, so I think that played out in my favor," he said.
"Just like every other kid there I was very outdoorsy. There's not a whole lot to do indoors in that town. That really helped me embrace it. We had a pond in our backyard, and a couple months after my amputation once I started walking, I was on skates on our backyard pond playing hockey."
A different breed
He also participated in softball, motocross, standup hockey and golf, but being a goaltender in Para ice hockey is what stuck with him. Angles vary between standing goaltenders and sitting Para ice hockey goaltenders, and those who tend to be successful on the Para side are the ones who can move their waist, even just a couple of inches to the side, in seconds to block the puck.
"Goalies are definitely a different breed," Kingsmill said. "There's really no pipeline for them. It's getting in the crease and seeing what you can do. You're going to find out pretty quickly if you want to do it or not, and whether you prefer to be a goal scorer or the one to stop the goals."
In 2016, Kingsmill joined Hockey Canada's development programme, and after five years of training at the competitive level cracked the national team roster in time for this week's World Championships.
Due to the COVID-19 pandemic, it has been a quiet first season for Kingsmill, who has spent much of his year at home in Calgary training, being a full-time student and coaching at a goalie academy. But he is thankful to be where he is today.
"Obviously it has been a very uncomfortable year for people across the globe, and in some places it has been better than in others, even within the Canadian borders," he said.
"It's been such a long time since we've been able to compete against each other, but through the adversity, we made it work with a great team and great staff."
Kingsmill and Canada return to the ice on Tuesday (22 June) to face hosts Czech Republic in their last game in the preliminary round. 
All games are being streamed live on World Para Ice Hockey's website and Facebook page with geo-block restrictions in Canada, Czech Republic, Slovakia and USA. 
The tournament will consist of three days of preliminary pool play followed by two days of playoff matchups and then the medal round. Full results and statistics are available on the Ostrava 2021 microsite.