Outstanding Ekler and Sabatini shatter world records in Jesolo
Italian athletes break one world and eleven national records as the World Para Athletics Grand Prix season makes a stop in Jesolo from 6 to 8 May
08 May 2022
Imagen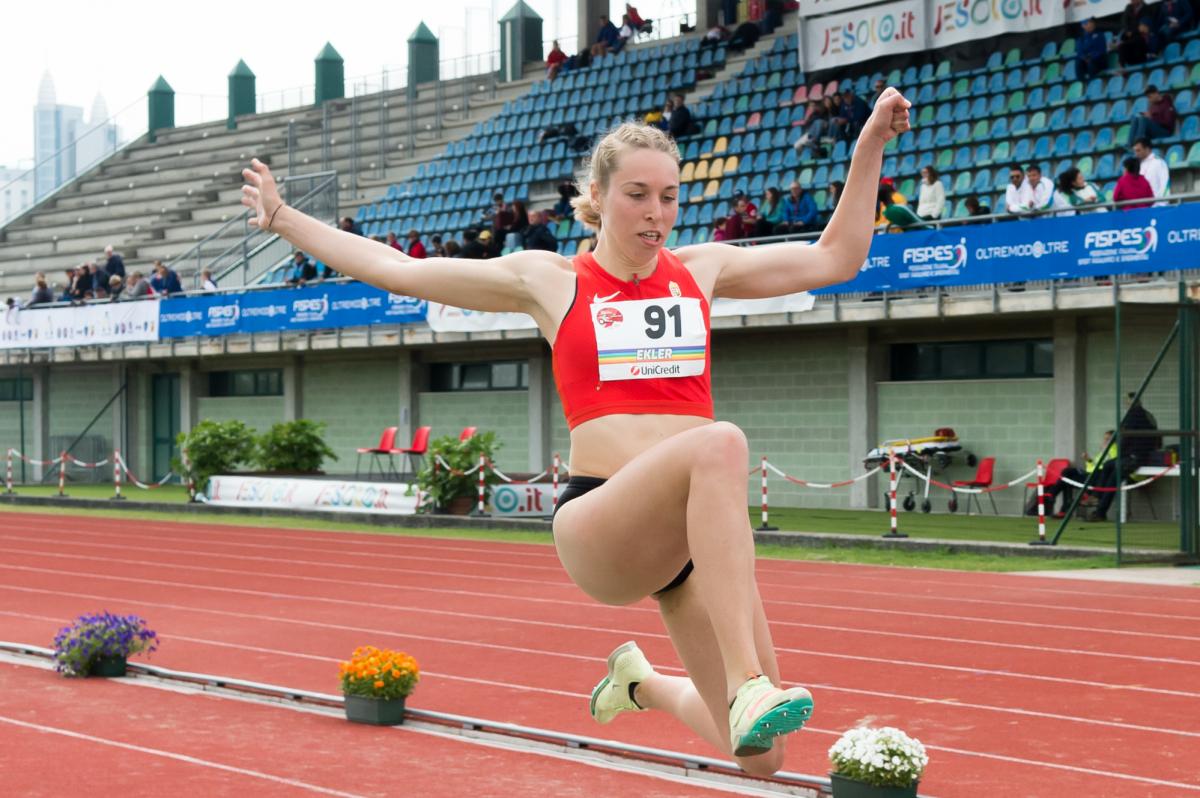 ⒸMassimo Bertolini/FISPES
By Filip Ozbolt | For World Para Athletics
Jesolo, Italy, hosted the second World Para Athletics Grand Prix of the season from 6 to 8 May.
Athletes from 27 nations spread across three regions (Europe, Asia, Africa) competed from Friday to Sunday at the Armando Picchi Stadium with the competition culminating on the last day with four world records broken*.
Luca Ekler of Hungary improved on her world record in the women's long jump T38 class for 11 centimetres. The 23-year-old from Gyor jumped to 5.74m in the fourth attempt to secure the victory and a new world's best result.
TWO WINS FOR EKLER
 "I am so happy, I can't really describe it. I am really happy as this world record was a big surprise for me," said Ekler. "We had to work a lot on my long jump. I felt really good in the field, the weather was good, as well as conditions and the crowd. Thank you Jesolo."
Ekler jumped over the old world record of 5.63m three more times in Jesolo, but with the help of wind. Asked about whether she can improve on her world record in the future, the Paralympic and world champion said:
"I think I can improve. I was already jumping longer in practice and I hope I will beat this world record soon."
Besides winning the long jump event, Ekler triumphed in the 400m multi-class event on Friday clocking in 1:03.29s.
Italy's Ambra Sabatini, another rising Para athletics star, broke the world record in the women's 200m T63 class. In her international debut in the event, the 20-year-old Sabatini shattered the world's best time.
"It was a good race. I didn't expect the world record. My rivals were really good and I hope to do better in the next phase of the season," said Sabatini who crossed the finish line in 29.87s.
Sabatini's record is almost two seconds faster than the previous one held by her compatriot Martina Caironi (31.73s). The athlete from Livorno now holds world record times in the women's 100m and 200m T63 class.
Italian athletes also set national records with impressive marks on Sunday morning. Matteo Cappelletti clocked in 28.65s in the men's 200m T43 class to bring down the record held by Greek athlete Achileas Stamatiadis.
The 26-year-old Gianmatteo Punzurudu set the world's best mark in the men's shot put F62 class. In his fourth attempt, the Italian athlete shone with a 9.28m-throw.
HARD WORK PAID OFF FOR KASHAFALI
Host nation had more success to cheer for in Jesolo besides the four world records. Their athletes broke nine national records, while some of the star athletes put on a great performance in front of the home crowd.
The 55-year-old Giuseppe Campoccio won all three events that he entered in Jesolo. Former European and World Championships medallist triumphed in the shot put F32-33 (10.88m), discus throw F33 (22.54m) and javelin throw F33 (22.18m)
The two-time Paralympic champion Assunta Legnante won the shot put multi-class event (14.51m) and discus throw F11-20 event (38.73m).
Paralympic medallists Oney Tapia and Martina Caironi got the taste of victory on home soil as well. Tapia outperformed the rest of the field in the men's discus throw F11-20 event with a 38.84m-throw, while Caironi jumped to victory in the women's long jump T63-63 event (4.90m).
Paralympic and European champion Adiaratou Iglesias Forneiro of Spain tasted the outdoor competition for the first time after the Tokyo 2020 Paralympic Games and won the 100m (12.63s) and 200m (25.11s) T13 events.
Norway's world record holder and Paralympic champion Salum Kashafali competed in the 100m distance and set the fastest time (10.81s) in a multi-class event.
"It's good to get started with the season. It was a lot of fun. I got lots of positive reactions after Tokyo, I tried to embrace them, let them sink in and appreciate all that is happening to me. All the hard work has paid off," said Kashafali who plans to compete at the next Grand Prix station in Notwill, Switzerland.
"My plan is definitely to improve myself and run faster. There is no European or World Championships this year, so I will focus on running faster."
Complete results from the Jesolo 2022 Grand Prix can be found here.
World Para Athletics Grand Prix now moves from Italy to Switzerland. Notwill will host its second Grand Prix in a row from 26 to 28 May.
*World record subject to ratification by World Para Athletics.