Nick Mayhugh: 'I want to educate people about the Paralympics'
• USA's four-time Paralympic medallist is a die-hard football fan with a Ronaldinho tattoo and big plans for the future in Para athletics
• 'I grew up to be a 21-year-old not knowing anything about the Paralympics and I never want that to happen again,' says the US sprinter
28 Apr 2022
Imagen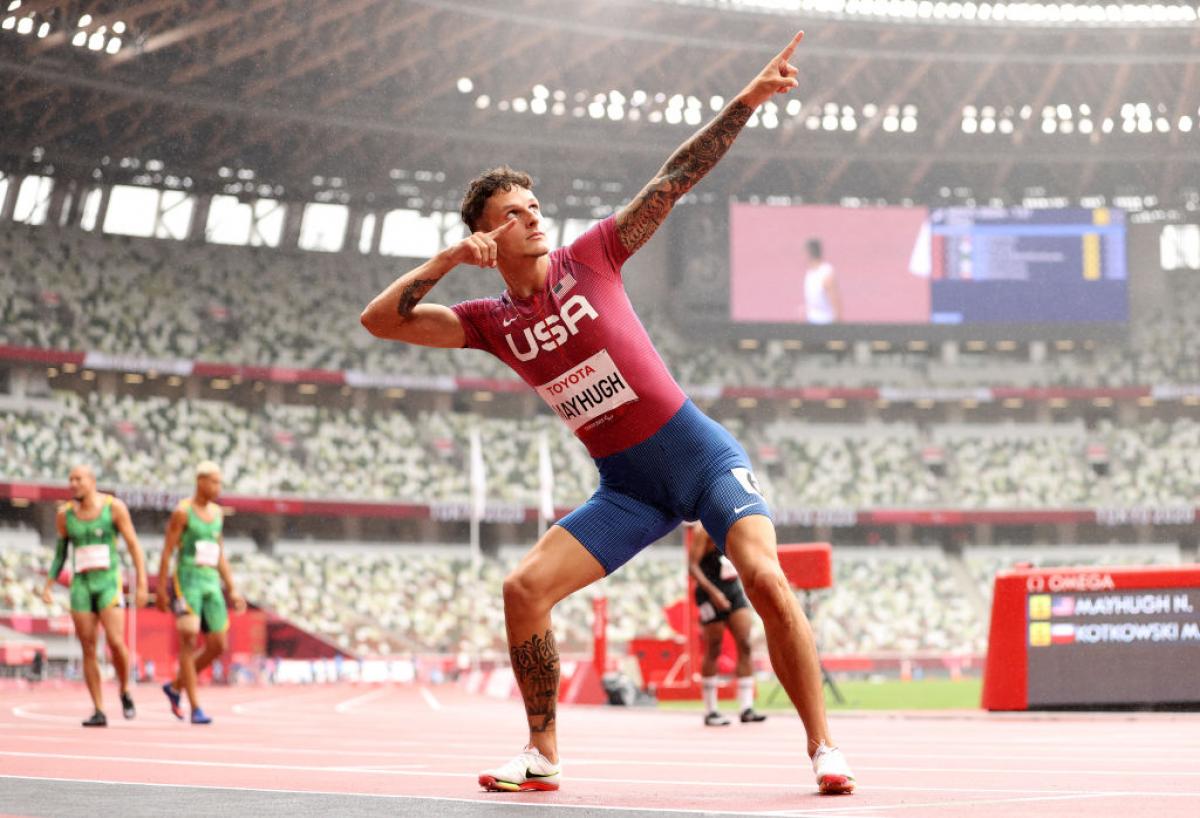 ⒸLintao Zhang/Getty Images
By Filip Ozbolt | For World Para Athletics
Nick Mayhugh took Para athletics by storm at the Tokyo 2020 Paralympic Games taking three gold medals in his debut. 
The US sprinter had joined the sport a bit more than two years earlier after a successful career in football 7-a-side - which included a bronze medal at the Lima 2019 Parapan American Games in Peru.
In Japan, the 26-year-old from Fairfax, Virginia triumphed in the men's 100m and 200m, as well as in the 4x100m universal relay. He also added a silver in the men's 400m to his tally [Mayhugh competed in the T37 class in Tokyo and this year has been reclassified to T38 at the Dubai 2022 World Para Athletics Grand Prix].
World Para Athletics caught up with Nick before the season kicked off* to talk about Tokyo 2020, his future goals and his ever-lasting passion for football.
World Para Athletics: After an exhausting and successful Paralympic year, how did you spend your vacation?
Nick Mayhugh: The vacation was definitely needed. For the last two and a half years, I have done nothing but training for 10 hours per day, six days per week. I haven't been able to go on a vacation and see my family and friends. It was great to get into my happy place which is the beach, lay in the sand, relax and watch the waves. I allowed my hamstring to heel but I am ready to get back to work.
With almost eight months gone from the Tokyo 2020 Paralympic Games, did you have time to reflect on your success and realize what you have done?
NM: It hasn't hit me yet. I understand what I did and the significance of everything that I did. I am so proud of my coach, my brother, and the team that I have. I was happy for Tatyana [McFadden], Brittni [Mason, teammates in the universal relay], and not so much for myself. It just hasn't hit me yet that I did everything that I did. Maybe I will wake up one day and have that 'wow moment'. I think all of this is going on because I expected things to happen the way they did in Tokyo. I have worked for it and I had world record times written and taped on my wall.
Your brother could not travel to Tokyo to watch you because of the COVID-19 pandemic. Did he plan a surprise for you when you came back home from the Games?
NM: It was special. I knew he had something coming up as a surprise but the funny thing is that he set up the phone in the waiting area at the airport while they have let me go out of the plane as one of the first people. I walked past my brother as he just turned his back and didn't see me. I went to the bathroom and when I came out, I first saw him and ruined his surprise. It is funny that things don't always work out the way we want them to. I hope he will be able to come and see me together with my parents in Paris 2024.
Media compared you to Jamaican sprinter Usain Bolt during the Tokyo 2020 Games because of your achievements and similar celebrations. How much does it mean to you since you have been in this sport for only two and a half years?
NM: That is where I become speechless. It is an honour for me to be put in the same sentence as Usain Bolt. I remember watching him break world records and also following his last race where he had to pull out from the relay because of a hamstring injury. When I started my career in Para athletics, I wouldn't be able to sleep sometimes until three in the morning so I watched videos of him on YouTube. The next morning I had to wake up at six and he pushed me because I wanted to replicate what he did on the track. I want to leave a lasting effect off the track and educate as many people about the Paralympics as Bolt did for the Olympics. He saw me celebrating in his style at the Tokyo 2020 and sent me a video back which was crazy. He told me to keep going and it is exactly what I am going to do.
You have openly spoken about the fact that you have struggled at times and wanted to quit Para athletics. Can you recall those moments and tell us more about them?
NM: I went from playing 7-a-side football and being a marathon athlete who can run 60 to 90 minutes to become a sprinter who runs for 100 to 400 metres. I was the best in football and went to being the worst in Para athletics. It was very hard for me because I am a stubborn person but it was also a learning experience. For the first three to four months, my coach wasn't even working with me. He would just throw out the blocks on the track and say learn it yourself. As time passed by, I learned and got better. I am excited because I know I can run faster than I did in Tokyo. Titles and records are for the media and fans but I am just happy when a kid watches me and uses my unique story not to give up on Para sports. I want to leave my legacy in the sport but also out of it to educate people about the Paralympic Games. I grew up to be a 21-year-old not knowing anything about the Paralympics and I never want that to happen again.
You won four gold medals in Tokyo, but which one of them was the most special for you?
NM: The 100m or 200m race finals were the most special for me. I was speaking to my coach and we both agreed that the 100m race was the hardest for me because I come from football. It was also the first final where the initial explosion of emotion came out of me and it felt really good. The 200m final was the toughest race because it was the last one. My hamstring was not at 100 per cent but I knew if it would hold on that I would do something special and I did by running under 22 seconds. I was on the phone with my brother the night before and he told me that I would run 21.9s and I replied that I will retire if I do that. In the end, I did it, and it was even more special because my brother predicted the outcome. Also, the breaking news is that I am not retiring and I want to stay as long as the sport will have me.
One of the interesting things about you is that you have a tattoo of a former Brazilian football star Ronaldinho. Why did you decide to leave a memory of him on your body for the rest of your life?
NM: When I was 10 years old and started to practice football, my coaches were all Brazilian and were talking nothing but Portuguese. They also taught me a little bit, but don't ask me to speak it now [laughs]. The coaches were hard on us and they taught us how to play the Brazilian way. At the time, I watched a lot of videos of Ronaldinho on YouTube playing for Brazil and Barcelona. He was dancing on the field, enjoyed playing football, and tried to do as many tricks and nutmeg the opponent as many times as he could. He was my favourite player and I tried to copy his moves when I was on the field.
What are your favourite Ronaldinho moments from his long-lasting and successful international career?
NM: My favourite Ronaldinho moment is his first goal for Barcelona when he hit the ball from outside of the box to the crossbar and into the goal. The stadium just erupted and I will never forget it. Also, the standing ovation he got at the Santiago Bernabeu when substituted during a 0-3 win in El Clasico against Real Madrid was a special moment. That hit me when I was growing up. He made such a complicated game simple and fun. Ronaldinho was in football what Usain Bolt is for me in athletics. I just want to meet him one day, say thank you, and show him my tattoo. Hopefully, he will like it.
Juventus and US men's national team midfielder Weston McKennie is one of your best friends. Can you describe your relationship with him for us?
NM: We have been a lot closer in the last couple of years given the pandemic. He was overseas with Schalke and now Juventus in Turin but we got to spend a lot of time together playing video games and now with the world getting back to normal, we are both busier. I come to him for advice and he comes to me as well when he struggles with something.
As a former football player and a big fan of the sport, what do you predict for the US men's national team at the Qatar 2022 FIFA World Cup?
NM: I am excited for them, they are a young team and I feel like the people in the US are excited for the men's national team again. Our women's programme is great for a number of years and we are proud of them but it is also good to see the men's team improving. When our national team qualifies for the Qatar 2022 World Cup, I think they will get to the round of 16 at least.
* The article was first published on 27 April and amended on 28 April .