Para equestrian: Q&A with Stinna Tange Kaastrup
Get to know the Danish grade 1b rider ahead of Rio 2016.
03 Sep 2016
Imagen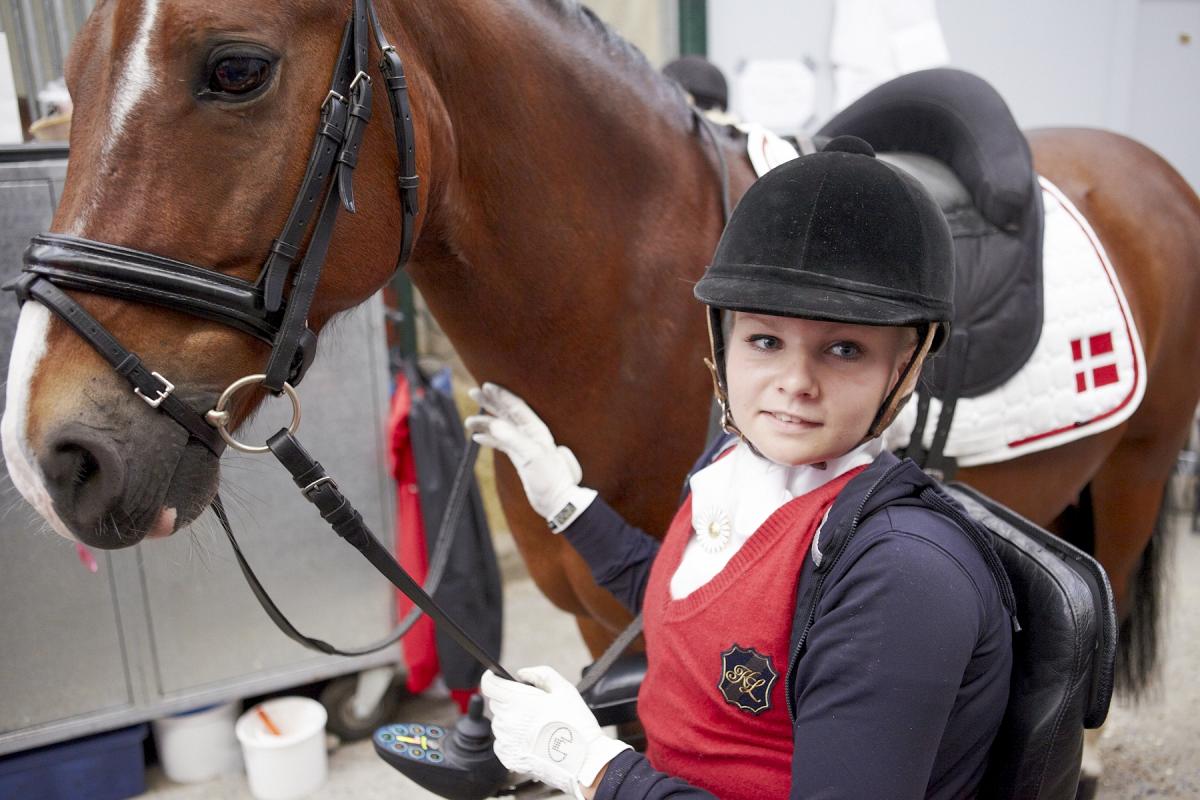 ⒸLiz Gregg
By Robert Howell | For the IPC
Stinna Tange Kaastrup (grade 1b) is making her Paralympic debut at the Rio 2016 Games – but it should not have been. The Danish rider who has world silver and European bronze medals under her belt was due to compete in London 2012, with high expectations of a medal, when her horse, Snoevs, tragically died in the months leading up to those Games. Now she is ready to ride for Denmark.
Paralympic.org: How did you get into your sport?
Stinna Tange Kaastrup (STK): It all started when I six years old. Like other Para riders I started with physiotherapy riding. However, it was clear early on clear that I had a natural feel for it and after a couple of years I started riding like everyone else. When I was younger my motivation was that I wanted to be able to ride just like all the good riders in the riding club – and then better than them. Therefore, I worked so hard to learn to do the same stuff that people were doing with their legs. I learned it all; half-passes, shoulder-in, leg yield, canter etc. Today that is no longer my motivation. Today what drives me is that I want to be better than the rider I was yesterday.
At first, I was doing able-bodied shows, but when I was 13 years old, I was introduced to Para equestrian. It all really took off when I got Labbenhus Snoevs in 2008 and especially in 2010 when I turned 16 and I was allowed to start international competition.
What does it mean to you personally to represent Denmark at Rio 2016?
STK: It means so much! My pony Snoevs sadly died before the 2012 London Games, and just a month after we won the European Championships, so this will be my first Paralympic. I am so excited about it. And actually really proud!
We have worked so hard the last year to get to this place and at times it seemed so far away and nearly impossible! But nothing is impossible if you believe in it and give it all you've got.
I just can't wait to ride down the centre line in Rio on Smarties!
What would it mean to you personally if you won a medal in Rio?
STK: A medal at a Paralympics would definitely be the biggest thing. Ever.
However, after just one year of partnership with Horsebo Smarties, and a bit of a difficult start, medals is not the goal for the 2016 Games. My goal is to make it to the freestyle final so I get to dance three times in Rio with the horse of my dreams!
If you had to pick five words to describe yourself what would they be?
STK: That is a tough one!
Compassionate, passionate, happy, empathic and little bit temperamental.
Who do you see as your biggest rivals in Rio?
STK: There are so many great riders in grade 1b! I think that the competition will be very exciting.
Do you have any superstitions or routines which you go through when competing?
STK: Yes. I always do mindful exercises an hour before getting on the horse, and I try to eat and sleep well before competition. I have two things that must be done just because. Smarties must have an odd number of plaits and we must both have a spray from an old gold glitter hairspray that I have; that one started all the way back with Snoevs.
What advice would you give any riders starting out in your sport?
STK: The best advice I ever got and what I would like to pass on is to remember that we do this because it is fun! It is not going into war or doing a lifesaving surgery, it is a sport. Although we take it very seriously, we must not forget to enjoy it.
If you could pick one thing about your sport what do you most enjoy?
STK: The horses. I think they are the reason that we are all in this sport in the first place. To feel that connection and bond with this huge animal, that really does not have to obey you, but does it anyway because he wants to. That's what really humbles me and fills me with so much respect and love for our four-legged friends.
If you could have dinner with anyone, living or not, who would that be?
STK: The Dalai Lama! I believe he would be the most inspirational man to talk with.
Who is your biggest inspiration in life?
STK: In sports is must be Lis Hartel. She was not only the first woman to win an individual medal in dressage at the Olympics; she was also paralysed from below the knees. It really reminds me that if you set your mind up to something and work hard everything is possible.
Para equestrian competition at Rio 2016 begins 11 September, with medal events taking place 13-16 September, at the Olympic Equestrian Centre in Deodoro.
__
Sport fans from around the world can now buy their Paralympic tickets for Rio 2016 from authorised ticket resellers (ATRs)
The IPC's Global ATR is Jet Set Sports, and Rio 2016 tickets and packages can be purchased on theCoSport website.
Residents of Brazil can buy 2016 Paralympics tickets directly from the Rio 2016 website.
Visa International is the exclusive payment card and the official payment system for the Paralympic Games.