Para equestrian: Q&A with Sophie Wells
Get to know the British grade IV rider ahead of Rio 2016.
30 Aug 2016
Imagen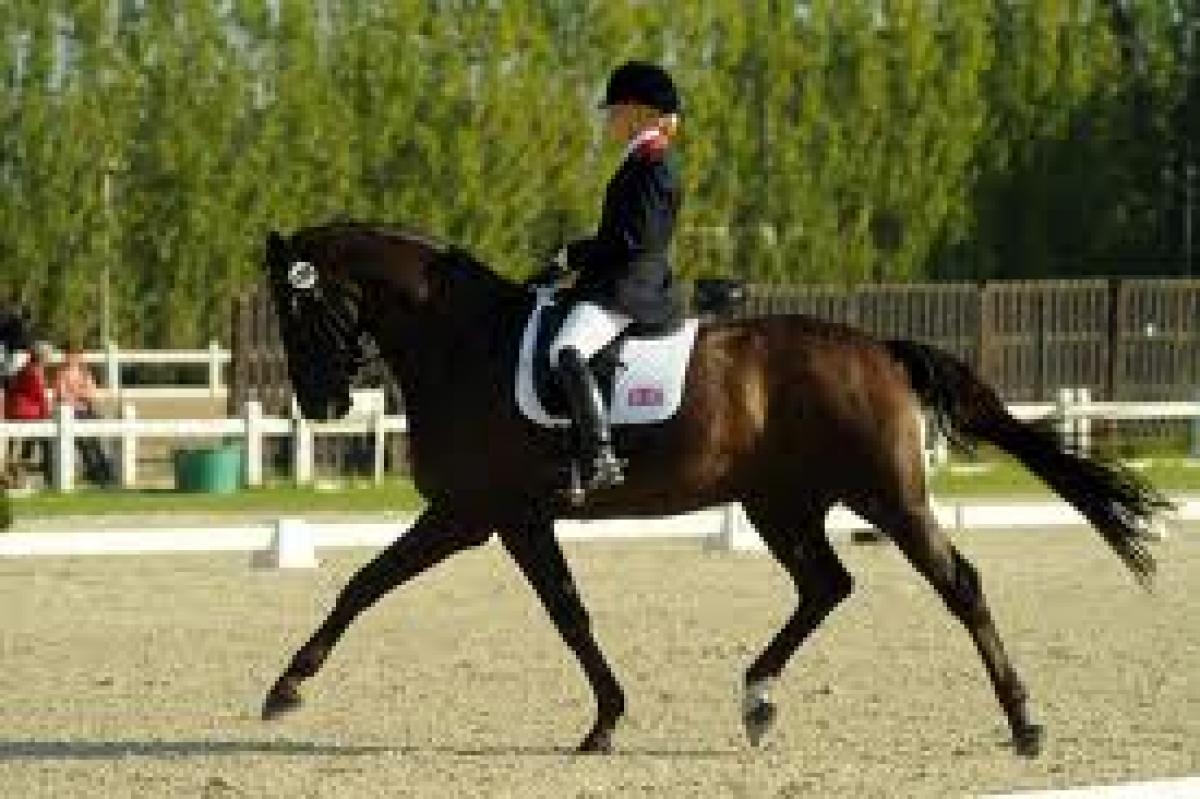 By IPC
Sophie Wells (grade IV) is one of the brightest stars in an already packed Great British team. The former European and world champion has yet to win gold at a Paralympic Games. She rides in the ultra-competitive grade IV class alongside Belgium's current champion Michele George and the Netherlands' Frank Hosmar.
Paralympic.org: How did you get into your sport?
Sophie Wells (SW): My dad was a farmer and had cattle when I was young so I've always been outdoorsy and around animals. I tried different sports – swimming, gymnastics - and then tried riding. I found I was allergic to horses so came away from them but I always went back. When I was eight I started at riding school and got my first pony (which was kept in a cow shed and driven around in a cattle trailer) and then went on from there.
What does it mean to you personally to represent Great Britain at Rio 2016?
SW: Firstly, it's a massive honour to wear the flag on your chest and represent the nation. Secondly, you have a massive feeling of pride to have got there on a horse you've worked with for years. I've had my horse for Rio (Valerius) for nine-and-a-half years so the journey we have had is massive, so there's a lot of pride.
What would it mean to you personally if you won a gold medal in Rio?
SW: What I aim for is to bring my best performance to the arena at the right time and show my horse off to the best of his ability and ride to the best of mine. If that culminates in a medal I'd obviously be really proud of that, but number one is to go out and do my best and show off my horse and that's what I've focussed on and worked really hard every day to do.
If you had to pick five words to describe yourself what would they be?
SW: Perfectionist, focussed, passionate about my sport, I like to help people and do a lot of coaching now, and optimistic.
Who do you see as your biggest rivals in Rio?
SW: Michele George and Frank Hosmar and Line Kongesgaard from Denmark. There are a few up and coming (riders) too but obviously Michele and Frank and I have been there for a number for years.
Do you have any superstitions or routines which you go through when competing?
SW: I have my mascot Dathney with me. She's a toy giraffe and my trainer got her for me at my first Championships in 2009 and she goes everywhere with me and is the last thing I check before I go in the arena -I ask my trainer 'have you got Dathney?'
What advice would you give any riders starting out in your sport?
SW: Keep your head down and work hard and be passionate about what you do. With horses you always have up and down times in your career and as long as you enjoy it and you love what you do that's what sees you through.
If you could pick one thing about your sport what do you most enjoy?
SW: The connection between horse and rider.
If you could have dinner with anyone, living or not, who would that be?
SW: That's a really hard question – let's say Margaret Thatcher. She was a strong woman and that's always inspiring.
Who is your biggest inspiration in life?
SW: My trainer Angela Weiss. I've trained with her for 12 years now and she helped me through all my teenage years and growing up and helped build the person who I am.
Para equestrian competition at Rio 2016 begins 11 September, with medal events taking place 13-16 September, at the Olympic Equestrian Centre in Deodoro.
__
Sport fans from around the world can now buy their Paralympic tickets for Rio 2016 from authorised ticket resellers (ATRs)
The IPC's Global ATR is Jet Set Sports, and Rio 2016 tickets and packages can be purchased on the CoSport website.
Residents of Brazil can buy 2016 Paralympics tickets directly from the Rio 2016 website.
Visa International is the exclusive payment card and the official payment system for the Paralympic Games.