Para equestrian: Q&A with Sydney Collier
Get to know the US grade 1b rider ahead of Rio 2016.
02 Sep 2016
Imagen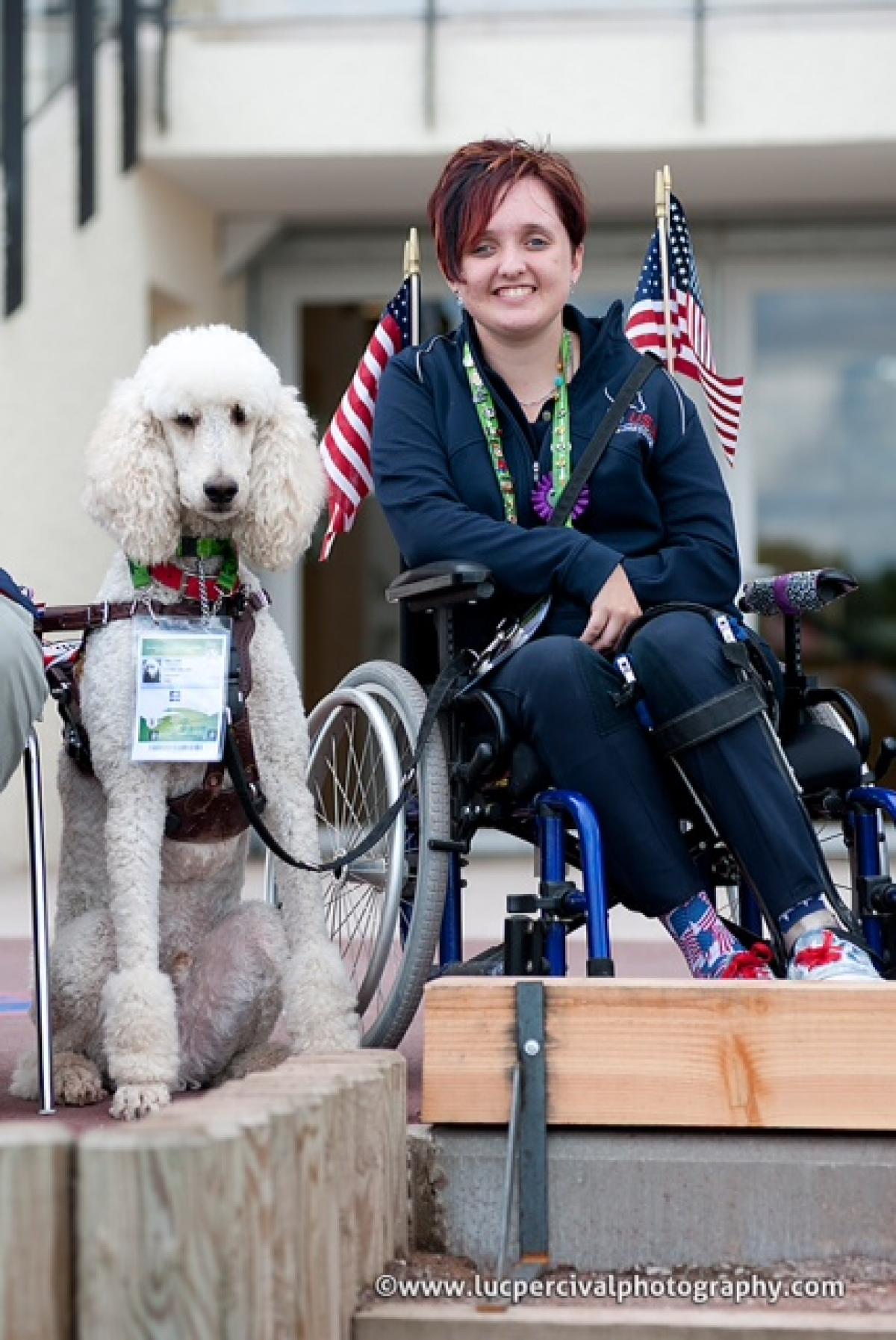 ⒸLuc Percival
By Robert Howell | For the IPC
At the Alltech International Equestrian Federation (FEI) World Equestrian Games in 2014, Para equestrian dressage fans from around the world fell in love with the USA's Sydney Collier. The youngest competitor in the Games and accompanied by her service dog Journey, Collier lit up every room she entered and every conversation she had with wit, charm, and the most infectious enthusiasm for life and sport. Making her Paralympic debut in Rio (though sadly not with Journey), we should expect the same thing to happen again.
Paralympic.org: How did you get into your sport?
Sydney Collier (SC): I actually got into my sport by chance. Ever since I was seven I competed and trained in eventing, and my goal at that point to compete in a Rolex competition in the future. After my stroke in 2009 I got discouraged to a certain extent that I would never be able to achieve that particular goal, but then in 2010 I was lucky enough to watch Para dressage at the World Equestrian Games in Kentucky.
It was there that I realised that, just because I had a stroke, it didn't mean I had to give up on my big goals and aspirations. I was also fortunate enough to meet my dear friend and mentor Jonathan Wentz there. He took the time out of his busy schedule to introduce me to the president of the USPEA (United States Para Equestrian Association) who got me classified while I was there. Honestly without Jonathan Wentz I have no idea where I would be today. He's the person who first started me on this path and I was so lucky to meet him!
What does it mean to you personally to represent the USA at Rio 2016?
SC: This question is one of the toughest for me personally to articulate into words. The honour I feel to get to represent the USA in Rio is bigger and more touching than any words can accurately describe. More than anything I hope to make my country and my team proud!
What would it mean to you personally if you won a gold medal in Rio?
SC: If I were to win gold in Rio it would prove to me that all of my hard work and sacrifices that my family and I have made over the past six years were worth it. It would also be an overwhelming amount of emotions because I would be able to dedicate the win to Jonathan who passed away in 2012 after he represented the US at the Paralympics in London. That would make the win even more emotional and even though he can't be here with us I know that he is up there somewhere smiling down at the team as a whole leading up to Rio!
If you had to pick five words to describe yourself what would they be?
SC: Positive, funny, outgoing, determined, and strong.
Who do you see as your biggest rivals in Rio?
SC: Lee Pearson (Great Britain) for sure. Great Britain as a whole has an extremely strong team headed to Rio. Also Germany and Denmark notoriously have really strong Para dressage teams so I believe they will be the three countries to really look out for.
Do you have any superstitions or routines you go through when competing?
SC: I always wear my competition socks. They are USA flag (knee-length riding socks) that I mismatch with other USA-themed ones. It sounds funny but the socks are an essential part of my competition day. Before I ride I always listen to a specific playlist of music that I created for the competition. It's mostly rock, alternative, metal, and that sort of thing. Then I write out and draw my test in my notebook that I have dedicated with quotes from all sorts of important people. There are two songs I always have to listen to before I ride in competition – "Vindicated" by Dashboard Confessional, and "Lose Yourself" by Eminem.
What advice would you give any riders starting out in your sport?
SC: The best advice I could give to someone starting out in Para dressage is to never give up. Every day has its ups and downs but the key to success in any sport really is to stick with it and train as much as you can so that you're ready for anything thrown your way.
If you could pick one thing about your sport what do you most enjoy?
SC: It's the relationship between the horse and the rider. It's something that is stronger than words and that you don't truly understand until you've experienced it for yourself. Even on the hardest of days they are always there for you.
If you could have dinner with anyone, living or not, who would that be?
SC: I'd choose Jonathan Wentz for sure. I'd want to get his advice heading up to Rio and I would like to know what he thinks I need to improve on in my riding as well as my everyday life. In the end I want to make him proud and do his legacy justice, because although he cannot be here with me in person whenever I ride down the centreline he is always right there with me.
Who is your biggest inspiration in life?
SC: Again it's Jonathan Wentz, because he accomplished so much in his short lifetime and because he helped to inspire so many people and grow the sport of para dressage in the USA. Out of the dressage team as well as the Para dressage team in London, Jonathan was the highest scoring rider. He is always in my thoughts and I will never forget him. Whenever I compete I always have a photo of me and him at one of my first competitions in Texas, so that way he is always right there.
Para equestrian competition at Rio 2016 begins 11 September, with medal events taking place 13-16 September, at the Olympic Equestrian Centre in Deodoro.
__
Sport fans from around the world can now buy their Paralympic tickets for Rio 2016 from authorised ticket resellers (ATRs)
The IPC's Global ATR is Jet Set Sports, and Rio 2016 tickets and packages can be purchased on the CoSport website.
Residents of Brazil can buy 2016 Paralympics tickets directly from the Rio 2016 website.
Visa International is the exclusive payment card and the official payment system for the Paralympic Games.