Peter Genyn smashes 12-year-old world record on day four of Grosseto 2016
Six world records fall on day four's afternoon session of the 2016 IPC Athletics European Championships.
14 Jun 2016
Imagen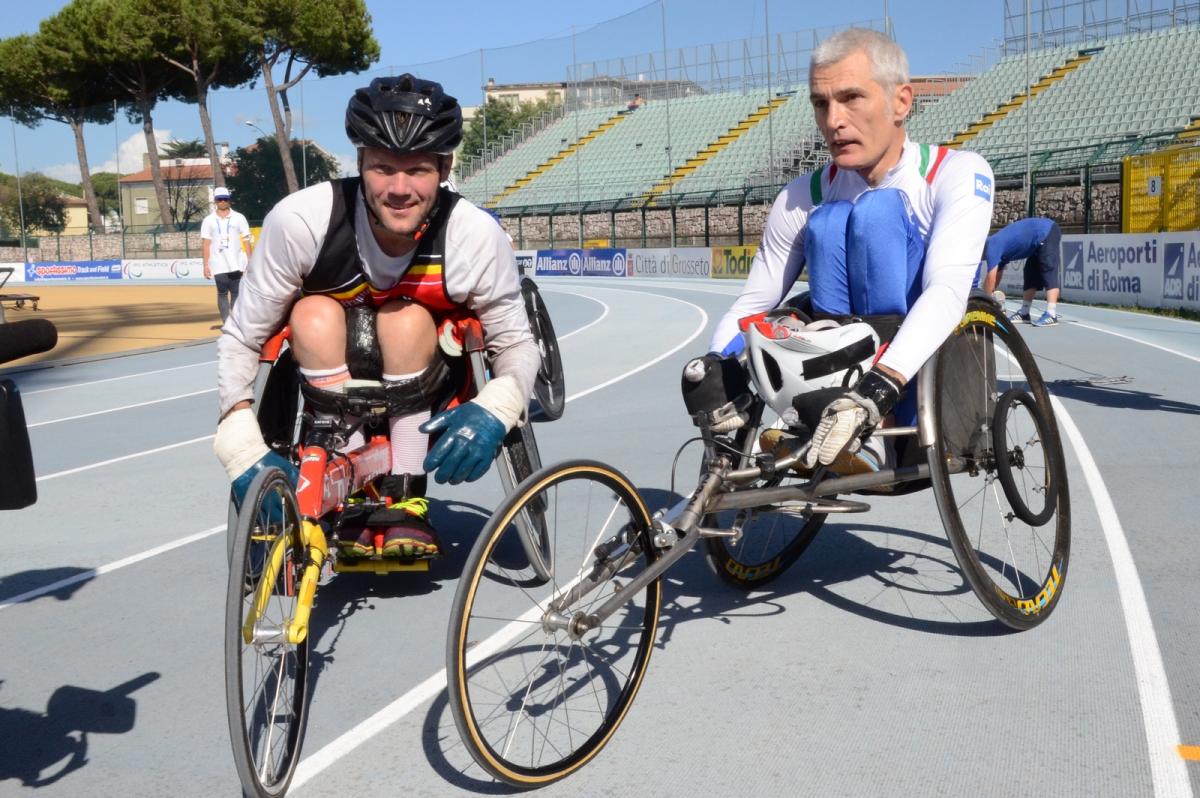 ⒸAgenzia Fotografica BF
By IPC
Belgium's Peter Genyn raced in to the record books as he broke a 12-year-old world record out on the track on the fourth day of competition at the IPC Athletics European Championships in Grosseto, Italy - one of six world marks to fall on Tuesday afternoon (14 June).
The reigning world champion established a strong lead early on in the men's 400m T51 and maintained his form all the way to the line.
Genyn's time of 1:18.09 was 0.48 seconds quicker than the time set by Mexico's Edgar Navarro Sanchez back in 2004.
"It feels amazing to get another gold and to set another world record. To beat the previous world record by half a second is pretty cool, I'm excited and pretty happy with this," said Genyn, who will be aiming for his first Paralympic title in September.
"The last 100-150 metres were really killing me. But I don't know if I can improve on this, I will give everything I can to do it. We train hard and see what results might come but I guess that's what everybody is doing."
Great Britain's Georgina Hermitage lay down her marker for this year's Paralympic Games with her second win and second world record at the Tuscan city's Carlo Zecchini Stadium.
Just 24 hours after smashing her own 400m world mark the 27-year-old knocked more than a second off the 200m T37 record which Frenchwoman Mandy Francois-Elie set back in 2013.
There was no doubting Hermitage's terrific form as she left her rivals behind and held on strongly to the line, finishing in 27.21.
"I wanted to get a PB today - I didn't think I would run low 27 seconds - I was just hoping to be under 28 seconds. I'm just so happy to get the world record and win a second European gold medal," said Hermitage.
Russia's Andrei Vdovin set a new 400m T37 world record in Swansea two years ago and he did the same again in Grosseto as he won the men's 400m T38 in 50.52.
There was a world record too for Vdovin's teammate Vladimir Sviridov in the men's shot put F36.
The defending champion added 13 centimetres on to the mark he set at last year's Grand Prix in Germany with his fourth round throw of 15.34m.
"I'm happy with both results, but I'm more satisfied with the gold rather than with setting a new world record. Still I worked hard to do all this," said Sviridov.
Denmark's in-form Para athlete Daniel Jorgensen has already broken the T42 long jump world record this year and he added another three centimetres to take his first European title with a winning jump of 6.70m.
"It is my first gold medal at the European Championships so I am very happy, that was my goal when I came here. A new world record was just amazing to get here as well.
"Last year when I came here for the Grand Prix in Grosseto I beat the world record. Now I am back and I did it again, so I have great memories from this place," said Jorgensen.
There was a thrilling competition in the men's club throw F32 as Russia's world champion Vladislav Frolov first threw a new world record 36.13m – but it wasn't to last, as Poland's Maciej Sochal managed even further with the final throw of the day, reaching 37.19m.
"It is just amazing to win and get a new world record with the last shot of my competition. I feel fantastic, I can't believe what has just happened," said the Pole.
"I thought I would finish second because I made a mistake on my second to last attempt, then there was just one left. It was almost impossible but somehow I made it and now I feel really fantastic."
"The key thing for getting that final shot was that I managed to stay calm and focussed. Especially in my sport class it is very important to be quiet, otherwise stress can cause even more shakes and tremors. Sometimes it is also a psychological game."
Back on the track, Germany's in-form Johannes Floors (T43) smashed his own European record as he got the better of his teammate Felix Streng in the men's 200m T44 with a time of 21.82.
David Weir won the men's 800m T54, the Briton's third gold of Grosseto 2016 – with the 1,500m and the relay still to come.
Russia's Aleksei Byenchok led after the first lap but with 300m to go Weir moved through the field, tucking in behind the Russian round the top bend before accelerating powerfully down the final 80m.
It was an impressive finish by the multiple Paralympic champion who clocked 1:35.51, while fellow Briton Richard Chiassaro (1:35.65) came through for second and Bychenok (1:35.67) took third.
Russia's Natalia Kocherova continues to dominate the women's T54 races in Grosseto this week – she won the 800m with a championship record 1:53.07 to make it four wins out of four with two to go.
Finland's Henry Manni also remains on track for a clean sweep of European titles as he won the 200m T34 in a championship record 28.33 to add to the 100m and 400m golds he has already won this week. He finishes his Grosseto 2016 campaign with the 800m on Thursday.
Poland's powerful sprinter Mateusz Michalski went one better than the silver medal he won two years ago in the men's 200m T13, clinching gold ahead of Russia's Paralympic 400m champion Aleksei Labzin with a season's best 22.07. Lukasz Wietecki also struck gold for Poland winning the 1,500m T13 in a championship record time of 3:57.38.
In the men's 200m T12, 24-year-old sprinter Artem Loginov - who was part of Russia's gold medal-winning relay quartet at London 2012 - dug deep and came through in the final 20m to take the gold with a championship record 22.37.
There was further success for Russia as Alina Samigulina won the women's 100m T11 with a new championship record of 13.08, and European long jump champion Evgenii Torsunov added the men's 100m T36 title to his collection, finishing in 12.27 after Paralympic champion Evgenii Shvetsov was disqualified for a false start.
France picked up two more golds as world champion Marie-Amelie Le Fur clocked a championship record 59.34 with a convincing win in the 400m T44. Nantenin Keita looked equally in control with a championship record win of 56.30 in the 400m T13.
Lithuania won their second title of Grosseto 2016 thanks to world silver medallist Mindaugas Bilius who bettered his own European record with a throw of 16.07m in the shot put F37.
Russia's Irina Vertinskaya improved on her silver medal from Swansea 2014 with a win and a championship record of 26.28m in the javelin F37; Christos Koutoulias of Greece leapt a season's best 6.63m to win the long jump T47; Germany's Marianne Buggenhagen threw 24.57m to retain her European discus F55 title and there was a championship record for Frenchman Marcelin Walico, who threw 34.56m in the javelin F57.
Live streaming, live results and full schedules are available at www.grosseto2016.com
For broadcast footage from Grosseto2016 please email IPC Broadcasting Manager sascha.beck@paralympic.org
Rights free images from the event can be downloaded here: www.flickr.com/paralympic