Plovdiv 2018: Four rowing champions crowned
Crews from Brazil, Canada, France and Netherlands win first world titles
15 Sep 2018
Imagen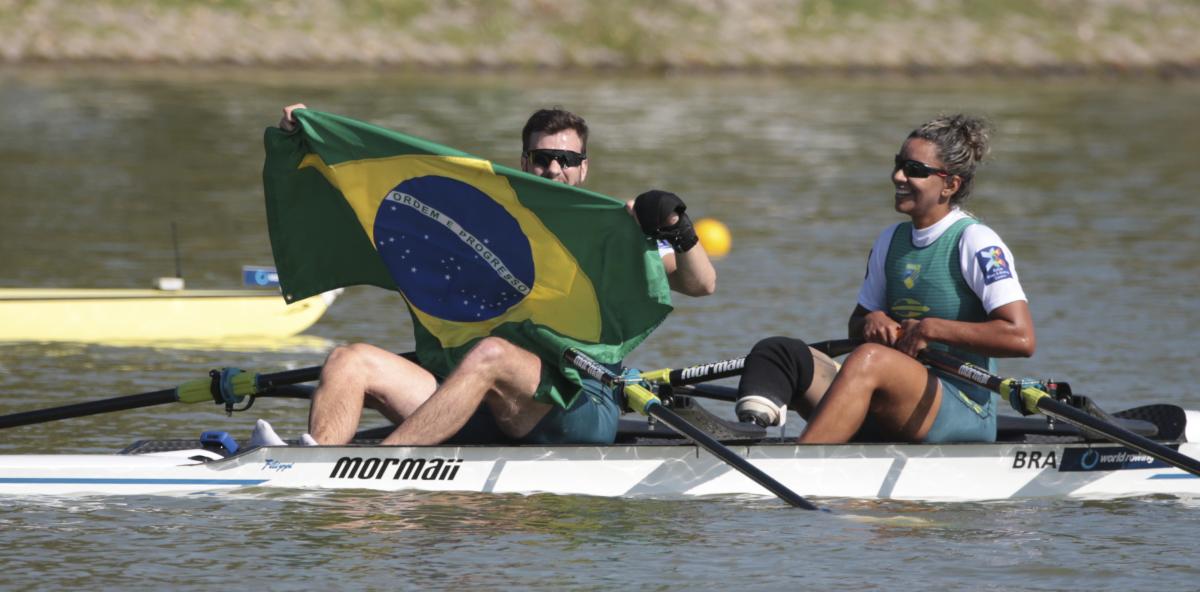 ⒸWorld Rowing
By World Rowing and IPC
" I lost my father four days before flying out to Plovdiv, so this is a very special win"
The first four gold medals were awarded, including a trio of historic titles, at the 2018 World Rowing Championships on Friday (14 September) in Plovdiv, Bulgaria.
Brazil successfully defended their PR3 mixed double sculls (PR3 Mix2x) title with a class-act, holding off Austria and Russia*, respectively.
"It's been a tough year as we've both had injuries," Brazil's Jairo Klug said. "Mine was in the middle of the season, her's was just at the start. I lost my father four days before flying out to Plovdiv, so this is a very special win."
The winning crew of Diana Barcelos De Oliveira and Klug had won the preliminary race earlier in the week, and on Friday with just 500m rowed, they had a two second lead over Russia's Evgenii Borisov and Valentina Zhagot*.
Russia did their best to keep up with Brazil but instead had to keep their eye on Austria's Johanna Beyer and David Erkinger. Beyer and Erkinger then did a big push and managed to get ahead of Russia. Austria tried to close on Brazil but the Brazilians had such a lead that there was nothing much that Austria could do.
At the head of the race, Brazil did not need to sprint the finish. The big fight in the final sprint went on for bronze with Germany sprinting through to challenge Russia, but Russia held on.
Koning remains king
All eyes were on Corne de Koning of the Netherlands. He set a new PR2 men's single sculls (PR2 M1x) World Best Time earlier in this regatta and went on to capture the category's first gold at a World Championships.
"I had a good race but I found it difficult to get into a solid rhythm," de Koning said. "I was quite nervous before the start because racing with expectations this high is more difficult than racing without expectations."
The Dutchman went into the lead with Canada's Jeremy Hall chasing hard. Going through the middle of the race, de Koning was able to build up a handy lead as Hall tried his best to hold off the very experienced Daniele Stefanoni of Italy. Hall then did a push and managed to shake off Stefanoni who had to keep an eye on Great Britain. The order stayed the same at the line.
Bouge spoils second Dutch gold
The women's equivalent was also contested for the first time at a Worlds, with France's Perle Bouge capturing the historic PR2 W1x title.
The Netherlands' Annika van der Meer remained within striking distance of Bouge. Meanwhile Poland's Jolanta Majka had pulled ahead of Brazil who looked to be losing steam.
Bouge then managed to get a decent advantage over van der Meer, with Majka coming into the final sprint firmly in the bronze medal spot. Rating 33, Bouge took gold with van der Meer at 31 taking silver and Majka at 28 winning bronze.
"I've been waiting for this for a long time, particularly after being in the double and coming into the single," Bouge said. I'll take some time now to enjoy the moment."
Canada capture golden moment
The PR3 men's pair (PR3 M2-) was also featured for the first time at a Worlds, with Canada's Kyle Fredrickson and Andrew Todd seizing the gold.
Earlier this season France's Taranto and Jesel raced at World Rowing Cup II and won. Here in Plovdiv, France had a new crew lining up of Jerome Pailler and Laurent Viala. Fredrickson and Todd got to the first 500m mark in the lead with Australia's James Talbot and Jed Altschwager following in second. Canada won the preliminary race two days ago, and they were proving it was well-deserved as they moved further away into the lead.
Talbot and Altschwager tried to close on Canada, but Canada was able to hold them off. Australia took silver and France held on for bronze.
"Today was about executing our race plan which is what we've done throughout the regatta," Fredrickson said. "Next year is qualification year and I think we'll be shifting our focus to the four and adapting our training for that."
More on the 2018 World Rowing Championship finals from Friday can be found on World Rowing's website.
Para rowing competition continues through Sunday (16 September).
*Editor's note: The International Paralympic Committee suspended the Russian Paralympic Committee on 7 August 2016 for its inability to fulfil its IPC membership responsibilities and obligations, in particular its obligation to comply with the IPC Anti-Doping Code and the World Anti-Doping Code (to which it is also a signatory). As a result of the suspension, Russian athletes cannot enter IPC sanctioned events or competitions, including the Paralympic Games.