Pritchard sets new World record, eyes Tokyo 2020
'I also broke the 1km indoor World record last year and now I hope to break the 5km record in February. It will be really special to get the triple set'
14 Dec 2019
Imagen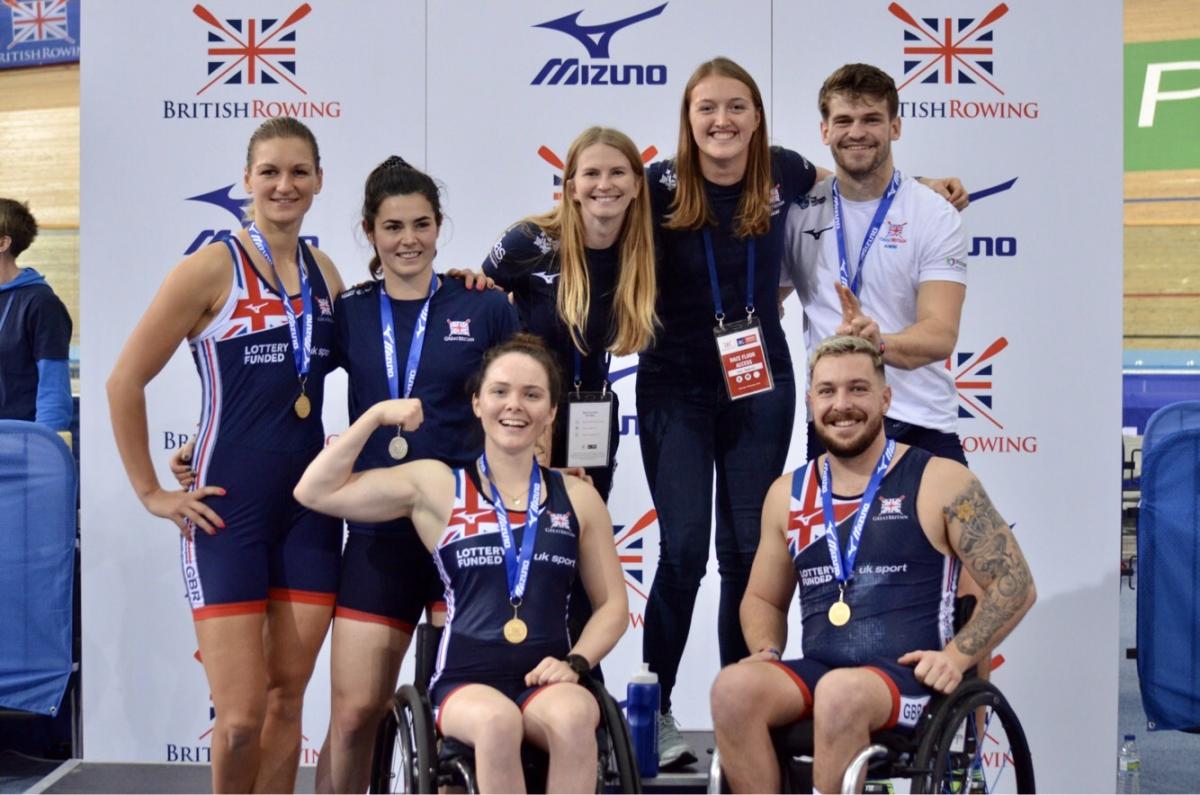 ⒸBritish Rowing
By Mary Barber | For the IPC
Great Britain's Para rower Ben Pritchard has set his sights on the Tokyo 2020 Paralympics  after smashing a second World record.
In front of a cheering 3,000-strong crowd, he grabbed glory in the PR1 men's 2km indoor Para rowing race in a time of 7:23.0, which was 33 seconds quicker than the previous record set by Russian athlete Alexey Chuvashev.
The 27-year-old was taking part in one of the selection events organised by British Rowing ahead of Tokyo 2020. The trials will continue until around April when the team to represent Great Britain will be chosen.
Speaking after the race at the Mizuno British Rowing Indoor Championships in London, a delighted Pritchard said: "I was aware I was on for a record time so it was amazing when it happened and particularly in front of a huge crowd. I am not used to that.
"I also broke the 1km indoor World record last year and now I hope to break the 5km record in February. It will be really special to get the triple set."
The former triathlete, from Swansea, who was paralysed from the waist down after a cycling accident in 2016, has set himself another big goal: "To go to the Paralympics in Tokyo next year and compete at the highest stage would be incredible," he said. "It will be the first Games for me but I am not nervous as we are a really tight squad and I know they will help me through."
In less than a year since he made his international debut for the GB team, Pritchard has become a major force in PR1 Para rowing. He won two bronze medals at Gavirate International Regatta in Italy and a bronze at World Cup II in Poznan in Poland.
Among the elite GB Para rowing squad who cheered him on was Lauren Rowles. The 21-year-old, from Bromsgrove, had earlier broken the PR2 women's 2k British indoor rowing record in a time of 8:18.1, which wiped more than a minute off the previous best. "Watching Ben smash the record was just awesome," she said. "He has pushed his single scull event so far forward. A lot of able-bodied people couldn't do the time he did."
Rowles is the reigning PR2 double mixed scull World and Paralympic champion along with Laurence Whiteley, 28, who was also at the event. "I have always wanted to take part in the indoor rowing Championships," she said. "There is a great atmosphere here and I like that it is open to everyone, not just elite rowers, but also young and old, at all different levels. Like us, they have come here to challenge themselves."
More than 1,800 competitors, from aged 11 to 88, took part in what was billed as the largest indoor rowing event in the world. There were 2,300 entries across more than 140 races. In total a staggering three World records, 10 British records and 60 Championship records were broken during the day.
GB's Giedre Rakauskaite also grabbed a World record (subject to ratification by Concept2) in the PR3 women's 2k in 07:03.1 with GB's Grace Clough, 28, coming in second on 07:21.1. The 28-year-old from Worcester powered along watched by some of her PR3 mixed coxed four teammates who won gold in the World Para Rowing Championships in Austria in August. They included Ellen Buttrick, 24, James Fox, 27, and Erin Wysocki-Jones, 27.  Oliver Stanhope, 21, was competing in the men's PR3 2000m at the time. He finished in 06:40.1.
After the race Rakauskaite, who is also hoping to make her Paralympic debut next year, said: "I wanted to get a record but it was harder to do than I imagined. Rowing in an arena like this there is a lot more people and noise than we are used to when we are competing out on a lake. But overall I am happy."
Tom Dyson, GB's lead Para rowing coach, said the indoor Championships helped to see how well each athlete coped under pressure. "The event is part of our strategy for selection for the Paralympics," he said. "We have a number of selection events, which help us to build up a picture of how well people have trained and performed and, being here, how they cope under this kind of pressure.
"It is rare for our athletes to compete in front of a crowd. They know their scores will be seen by everyone around the world. It is almost like a pride thing that they don't want to put something out that doesn't show them on a good path to Tokyo, so they will be putting their best foot forward. We were really pleased with how the team did in the World Championships."