Triple gold gives Dutch crew Worlds confidence
Annika van der Meer and Corne de Koning show strength ahead of August
15 Jul 2019
Imagen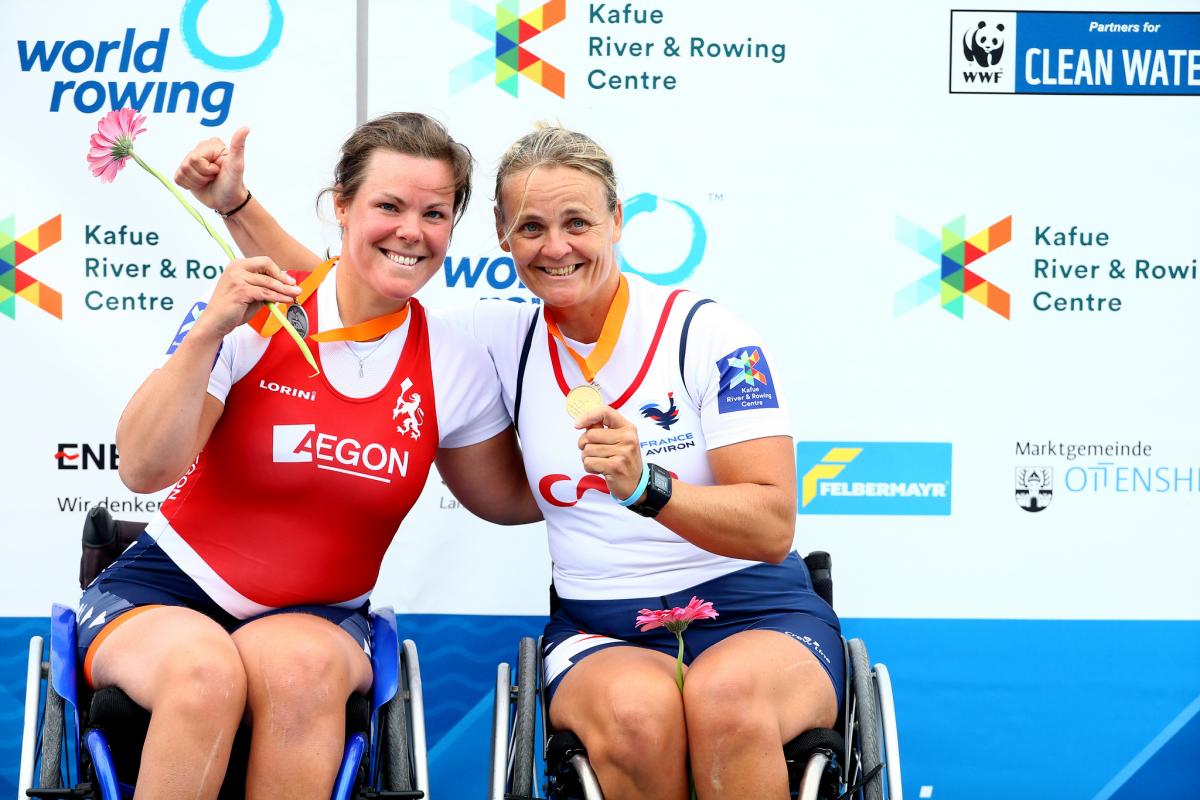 ⒸWorld Rowing
By Louise Wood | For the IPC
"It's a great atmosphere as I came across the grandstand and I can't complain about coming first here at Rotterdam"
Strong head and cross winds did not slow down Annika van der Meer and Corne de Koning at their home World Rowing Cup III over the weekend in Rotterdam, Netherlands.
The Dutch pair left with three gold medals, as well as confidence in the last major test ahead of the 2019 World Championships next month.
Van der Meer was the first to strike on Saturday, winning the PR2 women's single sculls (PR2 W1x) ahead of Poland's Jolanta Majka.
"It was a tough race because of the conditions but I like a challenge. I just had to make sure that I was rowing very cleanly and technically. I think this will set me up well for Tokyo 2020," said van der Meer.
De Koning matched his compatriot with gold in the PR2 men's single sculls (PR2 M1x) final. He came home in front of Ukraine's Yehor Harmash and Poland's Michal Godowski.
"That was a long race for me! It was tough with the wind coming in from the front and side," explained de Koning. "It's a great atmosphere as I came across the grandstand and I can't complain about coming first here at Rotterdam."
Together they secured gold medal number three on Sunday in the PR2 mixed double sculls (PR2 Mix2x) – the very event they share the World Championship title in.
The new combination of Svitlana Bohuslavska and Iaroslav Koiuda from Ukraine took the silver.
"That was so much fun," added van der Meer. "We worked hard on our technique in these conditions so it means a lot to have won here in front of our friends and family!"
Champions on top
Birgit Skarstein showed exactly why she is the favourite to retain her PR1 women's single sculls (PR1 W1x) world title come August in Austria.
The Norwegian dominated by 36 seconds ahead of Israel's Moran Samuel in second place and Ukraine's Anna Sheremet in third.
"This race was really important to us as we were testing out some small technical changes and this just confirmed it for us. Small changes like how I would drop the oar into the water. It's a very small detail but it adds up over 2000 metres," said Skarstein.
The victor of the PR1 men's single sculls (PR1 M1x) was no surprise either.
Paralympic champion Roman Polianskyi finished comfortably ahead of his nearest challengers Brazil's Rene Pereira in second and Lithuania's Augustas Navickas in third.
The Ukrainian will face a stiffer test at the World Championships but is heading to Linz-Ottensheim in fantastic form.
"It was really good today to race this competition. I was born for fighting and I am looking forward to the World Rowing Championships," said Polianskyi.
New faces
The PR3 mixed coxed four (PR3 Mix4+) saw new crews on the podium ahead of the Worlds. The Israeli crew of Simona Goren, Michal Feinblat, Achiya Klein, Barak Hazor and cox Leah Marissa Sass took the victory with Ukraine in second and the Netherlands in third.
German pair Jan Helmich and Valentin Luz took their maiden win in the PR3 men's pair (PR3 M2-) triumphing over Ukraine who took silver. The bronze medal went to the second German crew.
In the PR3 mixed double sculls (PR3 Mix2x) the only boat was from Israel with Shay-Lee Mizrachi and Saleh Shahin racing against the clock.
The 2019 World Rowing Championships take place from 25 August – 1 September.