Record-smashers shine at Paris Grand Prix
Luca Ekler, Fleur Jong Martina Caironi and Ayoub Sadni keep the hegemony in their events in test-event to next year's World Championships
13 Jun 2022
Imagen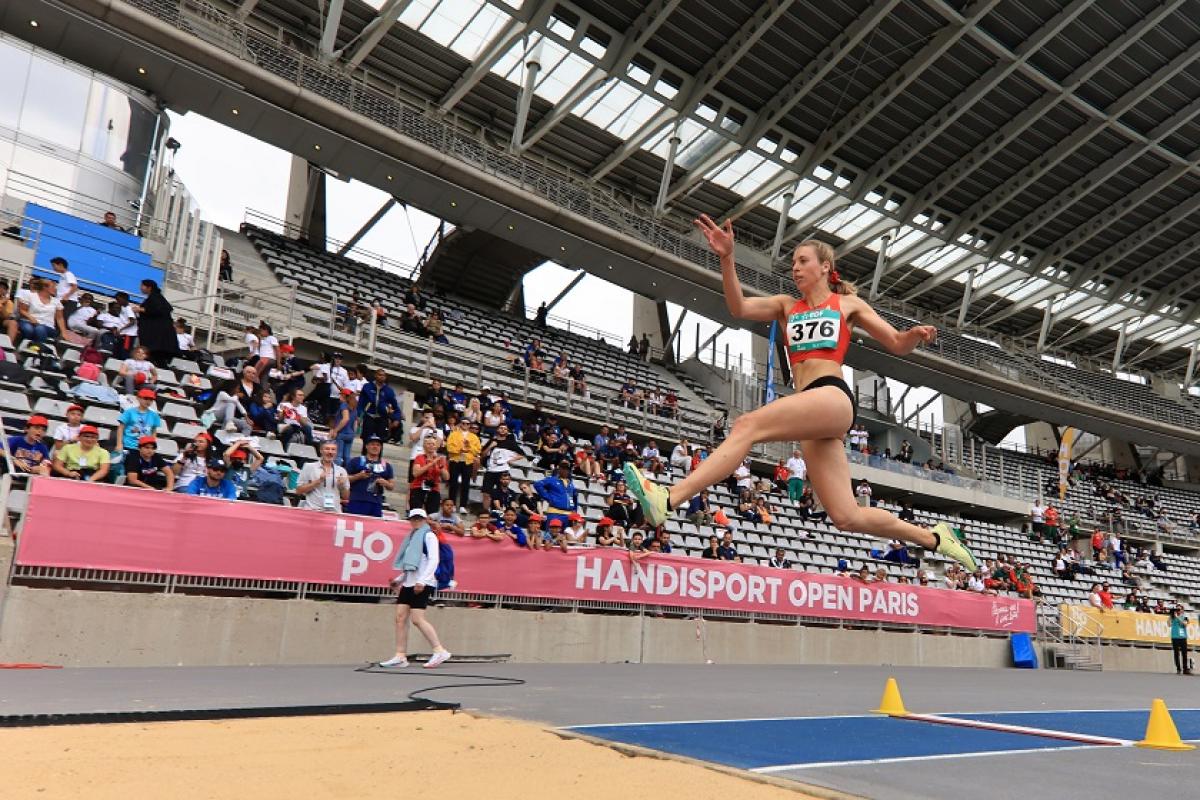 ⒸFlorent Pervillé/France Handisport
By Paloma Gutierrez | For World Para Athletics
The Paris 2022 Grand Prix was a very successful rehearsal for next year's World Championships and the 2024 Paralympic Games in the French capital. The competition that ended on Friday (10 June) saw four world records* from athletes that are used to smash them. 
Even before the competition Hungary's Luca Ekler was feeling confident about setting a new world mark in the women's long jump T38 at the Stade Charlety – venue of the Paris 2023 Worlds. 
"I think I can improve. I was already jumping longer in practice, and I hope I will beat this world record soon," said Ekler after breaking her own record at the Jesolo Grand Prix in Italy a month ago.
During the second day of competition in France, Ekler jumped 5.82m to improve the mark by 6 centimetres and take gold in the women's long jump T37/38/46/47.  She also triumphed in the women's 100m T38 with a personal best of 12.66. 
Paris is a special place for the Hungarian, who has sweet memories from her first time competing in the French city. Now she has added a few more and hopes to create more special moments to remember in the coming years. 
"It is my second time in Paris, because I was here in 2019. There was also an amazing crowd, that helped me a lot. That was the first time when I jumped for my first world record, and it is really special for me. Now I am looking forward to come next year and in 2024 for the Paralympics," she added.
 
Another athlete that is used to smashing world records is Fleur Jong from the Netherlands. After settling a new mark in the women's long jump T62 at L'Hospitalet 2022 Meeting in Spain over a week ago, she broke the 100m T62 world record in Paris. 
Fleur Jong also took bronze in the women's long jump T62/63/64. Italy's Martina Caironi was the winner breaking the long jump T63 world record with 5.46m. 
"I am really happy with the result, 5.46m is incredible. I know I am in shape, today I tried, in the last jump, to give the maximum. It is amazing because after so many years of career I am still trying to go beyond my limit," the Italian said. 
Morocco's Paralympic and world champion Ayoub Sadni also bettered his own world record in the in the 400m T47 at the Paris GP clocking 47.01s.
ITALY AND THE RISING STARS 
The fourth stop of the 2022 World Para Athletics Grand Prix had a stellar line-up with a mix of Paralympic stars and surprising new names.
One of them was Maxcell Amo Manu, who beat Germany's Paralympic champion Felix Streng to win the men's 100m T64 and become the fastest Italian Para athlete ever with his 10.75. 
"I am happy to have competed with the Italy shirt for the first time, to have responded with these good results and to have made the whole team that follows me happy," Manu said. "It was a very strong emotion, but I still want to try to do better, both for me personally and for my coach."  
Streng (10.91) took silver while Oliver Hendriks (10.91) from The Netherlands grabbed the bronze. 
ONE NOT ENOUGH
As if one medal was not enough, some of the athletes competing in Paris travelled back home with some extra weight in the luggage. 
Among them was Daniel Wagner, who missed the last Grand Prix because of an injury. The Danish athlete won gold in the 100m T42/T63 with 12.39 on day one and followed it with a triumph in the in the men's long jump T63 on Friday (7.19m, only 5 centimetres behind the world record). 
"It was a great competition, with really good jumps. It was a morning competition, which is not my favourite, and we have a lot of wind so that is not optimal. Being able to jump 7.19 was very good, it was a PB for me and only 5cm for the world record. There is much more coming, and I am so excited to come back here next year," Wagner said. 
Argentinian Hernan Barreto also took two golds at Paris 2022, one in the men's 100m T35 (12.93) and another in the 200m (26.28).
Germany's Irmgard Bensusan also visited the podium twice, taking gold in the women's 200m T64 and bronze in the 100m T44/T62/T63/T64.
The next time the Charlety Stadium will open its doors to a Para Athletics event will be to host the World Championships from 8 to 17 July 2023. 
Complete results from the Paris GP can be found here. 
Tunisian capital Tunis will host the next Grand Prix of the season from 27 to 29 June.