Russia win gold at ice sledge hockey Euros
Italy took silver and Norway bronze in Ostersund, Sweden, on Sunday (10 April).
10 Apr 2016
Imagen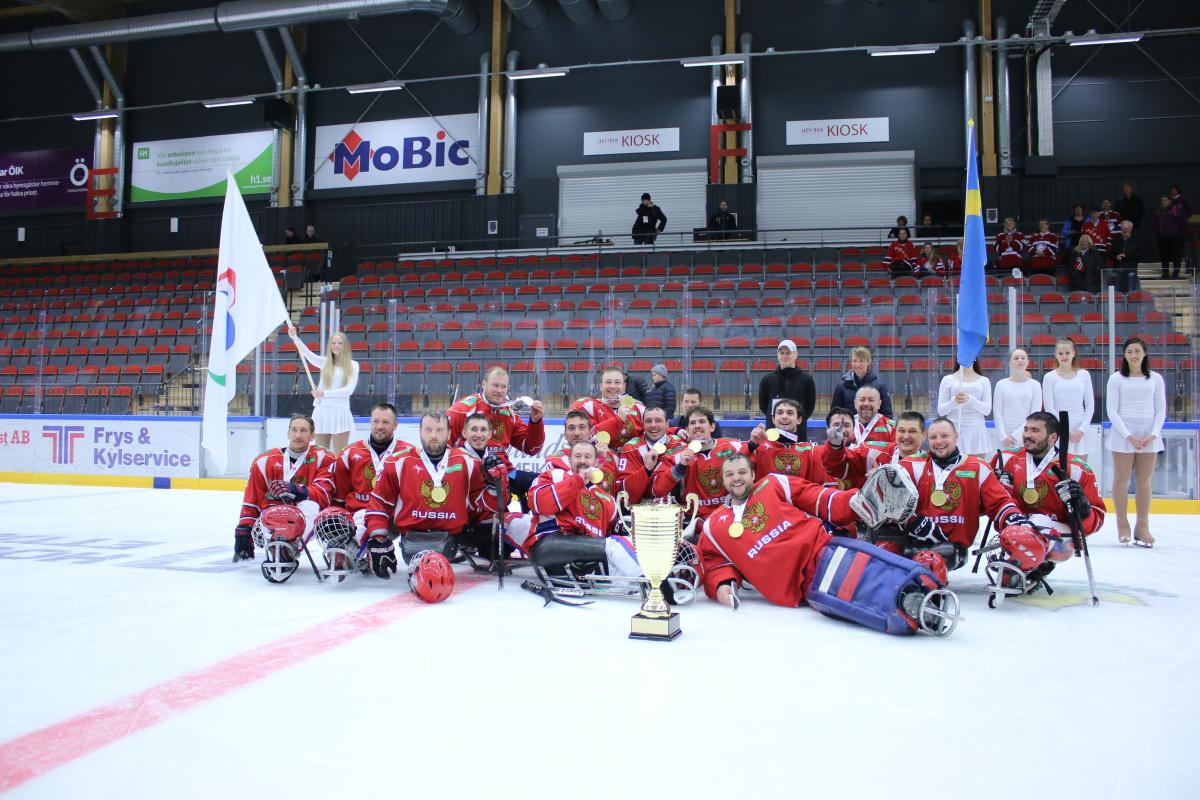 ⒸMaria Paulsson
By Kim McGreal and IPC
Russia claimed their first European title at the 2016 IPC Ice Sledge Hockey European Championships in Ostersund, Sweden, on Sunday (10 April), with Italy and Norway securing silver and bronze respectively.
Russia faced Norway in their final game, with the Norwegians needing a strong performance to overcome the Russian goal difference. Their loyal supporters, the friends and family members who had been at each of their games, were once again in attendance, their enthusiasm serving to increase the excitement level of the game.
It was Sochi 2014 Paralympic Games silver medallists Russia who opened the scoring in the first period. Ilia Volkov, assisted by Evgeni Petrov, found the net at 11:51.
His teammate Konstantin Shikhov followed at 12:38 with the assist from Nikolai Terentev, as Russia bombarded the Norwegian net with 10 shots in the opening 15 minutes.
Three more goals followed for Russia in the second period, and while Norway's fans were no less encouraging, the team appeared to be struggling against the onslaught. In the third period, showing no signs of slowing down, Russia scored a further four goals courtesy of Terentev, Alexey Amosov, Vadim Selyukin and Andrey Sokolov.
The game finished with a final score of 9-0, and continued Russia's unbeaten streak. Norway took the bronze.
Terentev left as the overall individual points leader, with 18 points (nine goals, nine assists) and took the award for Best Forward of the tournament.
Italy claimed silver after their 4-1 clash with hosts Sweden.
Sweden started strong and were the first team to get on the score board with a goal from Marcus Holm, assisted by Niklas Ingvarsson, at 10:31.
Just over a minute later Italy struck back, bringing the score level thanks to Sandra Kalegaris, helped by Greg Leperdi.
Defending European champions Italy took control of the game in the second period, finding the net two more times. Florian Planker scored his fourth of the tournament and assisted Leperdi with another alongside Nils Larch.
Both teams opened the third period with a penalty each. But despite being short-handed, it was Italy who scored, with Planker putting away his second and last goal of the game at 35:59, assisted by Kalegaris.
Germany played the Czech Republic in their final game on Sunday.
The first two periods showed just how evenly matched these two teams are. With some fantastic defense work, and players who were not afraid to throw themselves after the puck, the score remained tied 0-0.
Early in the third period, Czech Republic got the goal they had been hoping for thanks to a successful shot from Zdenek Habl, assisted by Jiri Raul and Miroslav Hrbek.
When Czech Republic were called for a holding penalty a couple of minutes later, Germany thought that they might have a chance to equalise, but their own charging penalty 43 seconds later put paid to that opportunity.
A second goal came for Czech Republic at 39:23 as Michal Geier found the back of Germany's net. Shortly afterwards, Germany scored one of their own thanks to Robert Pabst, but they were unable to find another before the end of the game and it finished 2-1.
The Czech Republic took fourth place in the standings, with Sweden in fifth and Germany in sixth.
Full results and statistics are available at the unofficial event website.