Sammi Kinghorn races into the unknown
British world sprint champion making marathon debut in Chicago
04 Oct 2017
Imagen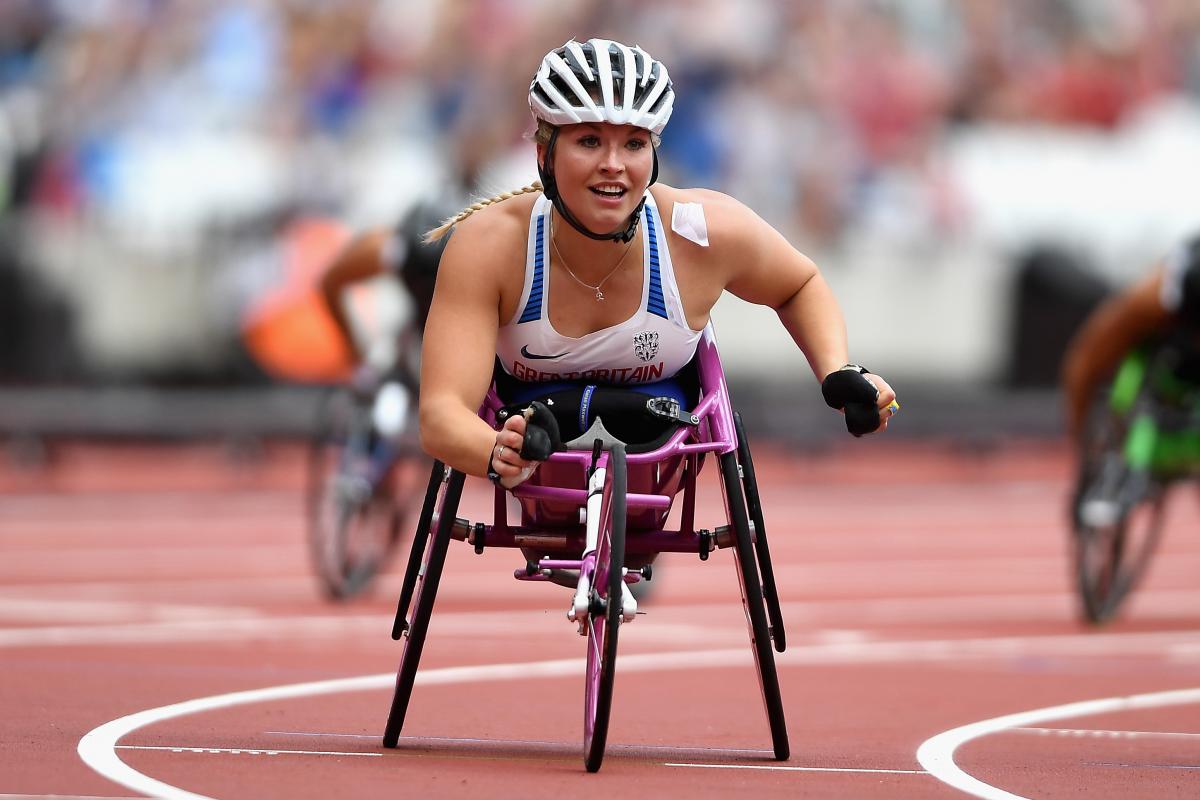 ⒸGetty Images
By IPC
"In the 100m, you just go as hard as you can whereas in the marathon I have no idea about the pacing, I don't know how long I can hold that pace for."
British wheelchair racer Sammi Kinghorn – one of 2017's most-improved Para athletes – is venturing into unchartered waters in Chicago, USA on Sunday (8 October) as she competes in her first marathon.
The chance to pull on a Scottish vest at the Commonwealth Games in Australia next April means the 21-year-old is prepared take on the 26.2-mile course in the Windy City in a bid to achieve the qualifying time for the Gold Coast 2018 Games.
"That's why I do my sports – to compete for my country. It's a chance to see how I can do in the longer distances," explained Kinghorn, who was named 2017 Scottish Sportsperson of the Year - the first Para athlete to win the award in its 15-year history – earlier this month.
"As an athlete your dream is to pull on that vest and I've got to do whatever I can to pull it on as many times as possible and compete for my country. You want to be on the podium singing the national anthem – and if that means doing a marathon then I'm going to give it everything I've got."
This year has already provided plenty of highs for the Scot. A new 200m T53 world record at the Arizona Grand Prix in May was followed by 100m and 200m T53 gold - and another world record - at the World Para Athletics Championships in July, her first global titles in a class currently bursting with talent.
"The T53 girls are on fire right now – Chelsea McClammer, Madison de Rozario, they are racing 1,500m and above (alongside T54 racers) and they are medalling," acknowledged Kinghorn.
As well as a new racing chair, the Borders-born Para athlete credits much of her success this year to her move to Glasgow to train in a group under the watchful eye of coach Ian Mirfin.
"That's what I needed – I was training on my own, and you feel like you are training really hard but then when there's people around you it does push you that little bit harder.
"Having my coach there; the technical side, working on starts; having people watch you – everything has just clicked in to place."
While Kinghorn favours the sprints, she does have experience in 10km road racing; she also completed her first half-marathon in Great Britain earlier this month.
"It was good; but also really tough and completely different not being able to see the finish line and know how far you've got to go," she said.
"I felt okay, but the whole time I was pushing I was thinking, 'I have to finish this and then do it all over again.' But I'm enjoying the new challenges."
Kinghorn admits that the prospect of doubling the half-marathon distance "still scares me a lot", joking that she "can't wait to go back and sprint 100m after the Commonwealth Games."
She has sought advice from other marathon racers and watched videos of previous races to help her prepare, but racing so far alongside more experienced Para athletes such as Tatyana McFadden, Manuela Schar and Amanda McGrory remains daunting.
"In the 100m, you just go as hard as you can whereas in the marathon I have no idea about the pacing, I don't know how long I can hold that pace for. So it's about going out at a good pace and trying to stay with someone - because it's a long way on your own," she admitted.
Kinghorn says she has no idea how long it may take her to complete the Chicago marathon, one of six major marathons which make up the Abbott World Marathon Majors series, but she knows what is required. The Commonwealth Games qualification time is 2:05, and that for now is her key target.
"I've had a bit of a wrist injury so I've not been pushing for two weeks, so it's not great preparation. But I don't really like excuses so I'm just going to go in and concentrate on that clock and concentrate on 2:05.
"I'd love to go under the two-hour mark for my first marathon – that would be amazing. Hopefully if I push hard enough I can get there."