Scott Reardon excited for Berlin showdown with Heinrich Popow
Australia's Scott Reardon is relishing the prospect of racing Heinrich Popow in Berlin next weekend (20-22 June) for the first time since they tied for gold at last year's World Championships, and believes that eventually either he or his German rival will smash the 12 second barrier for the 100m T42.
10 Jun 2014
Imagen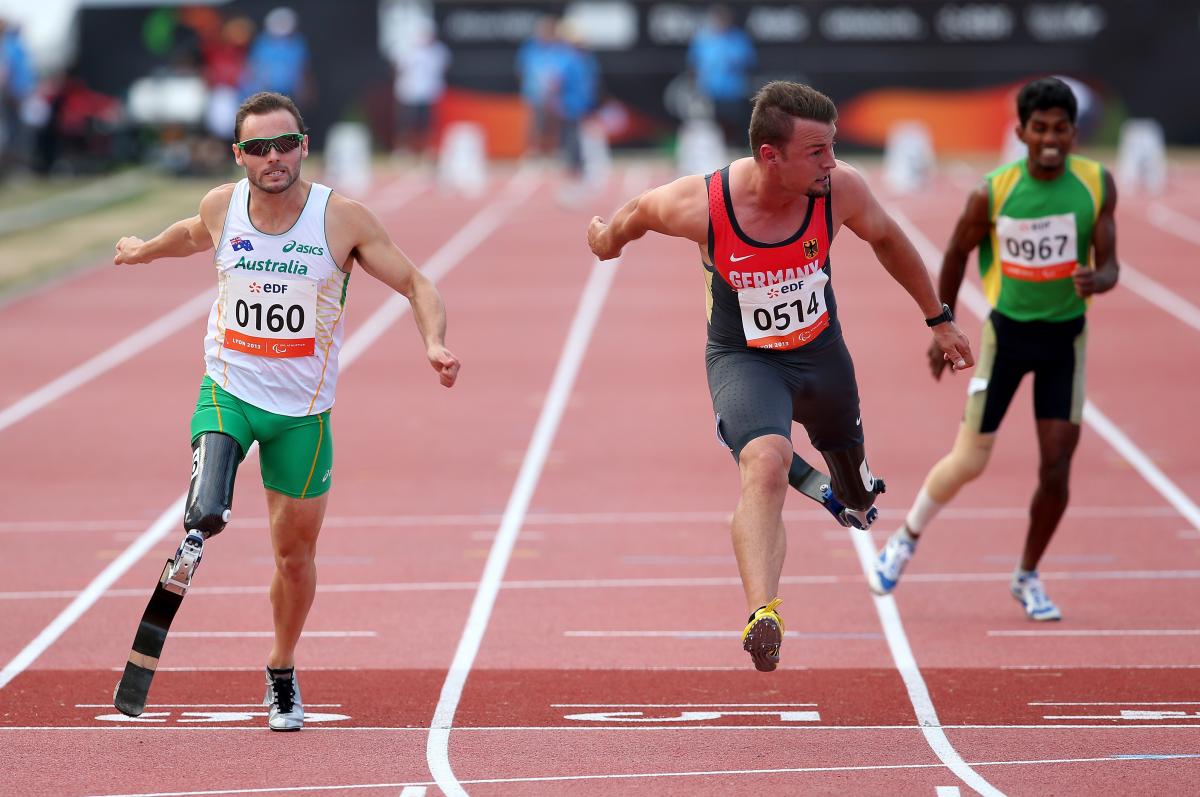 ⒸIPC
By IPC
"I'm training well and feeling stronger and better than I was this time last year so we'll have to see how it goes. The proof will be in the results."
At the 2013 IPC Athletics World Championships in Lyon, France, Reardon and Popow both stood top of the podium after clocking 12.68 seconds in a stunning race. The two have not raced each other since, but are now set to go head-to-head at the IPC Athletics Grand Prix in the German capital on Saturday 21 June.
The two's rivalry first came to prominence at the London 2012 Paralympic Games when Popow pipped Reardon to gold by just 0.03 seconds. With both racers clearly bringing the best out of each other, the 24 year-old thinks that Popow's world record of 12.11 is under serious threat in the near future as is another landmark in T42 sprinting.
"There is no doubt that a T42 athlete will go under 12 seconds," said Reardon who also won 200m silver at last year's World Championships. "Whether that happens this season or next season who knows, but within the next two years someone will certainly go under that time.
"If conditions are perfect in Berlin and preparations connected to the race have been going well then who knows how long that barrier will last. It will be broken sooner rather than later."
Having suffered a number of injuries earlier this season, Reardon used his time off the track to correct a number of little mistakes which he believes will improve his performance. Although he says he is still "work in progress", he took great confidence from racing well at April's IPC Athletics Grand Prix in Sao Paulo, Brazil.
"I'm training well and feeling stronger and better than I was this time last year so we'll have to see how it goes. The proof will be in the results," said Reardon.
"Heinrich is probably a little like me, unsure of where his form is, but we'll both run fast as we both bring the best out of each other.
"We are both competitive guys who want to run as fast as we possibly can.
"If I can go out and execute a race and, if I'm in as good shape as I think I am in, then who knows, anything could happen in Berlin. We're competitive guys and each time we go on to the track we always want to run fast. This race will not be any different."
Despite their huge rivalry on the track, Reardon and Popow remain friends off it, but the fromer world champion water skier admits to not paying too much attention to his rival's results.
"We have a fairly civil relationship off the track," explained Reardon. "It comes with all the top athletes. There is a lot of respect for each other. I get along with him just fine. However, as soon as we step on to the track, as most competitors do, you dislike the person standing next to you as you want to beat them.
"I try not to think about what my competitors are doing and try not to follow their results. I cannot control what my other competitors are going to be doing in a race.
"If I can go out there and run as fast as I possibly can then I'm going to be tough to beat, but if Heinrich is good enough to beat me on the day then that's fair enough."
Having made such great progress in recent years, Reardon is reluctant to position himself as 30-year-old Popow's natural successor. He is confident though he will be harder to beat as he gets closer to the Rio 2016 Paralympic Games.
"I've still got a lot more progression to make between now and Rio and things are going well. If I can stay injury and illness free and keep progressing over the years then I can explore a few options and try to get a little more speed.
"When I broke the world record last year, it was maybe a little too early. I was only four years into my track career and still had lots to work on. It was unexpected.
"I think over the next two years things will come together a little more. I will be disappointed if I'm not running faster in Rio than I am now."
Scott Reardon will be one of more than 570 athletes from 34 countries competing at the IPC Athletics Grand Prix in Berlin, Germany, between 20 and 22 June. Other big names to feature include the Netherlands' Marlou van Rhijn, Great Britain's Richard Whitehead, Brazil's Terezinha Guilhermina and Finland's Leo Pekka-Tahti.
The event in Berlin is supported by Allianz, IPC Athletics' international partner.
Related Images