Imagen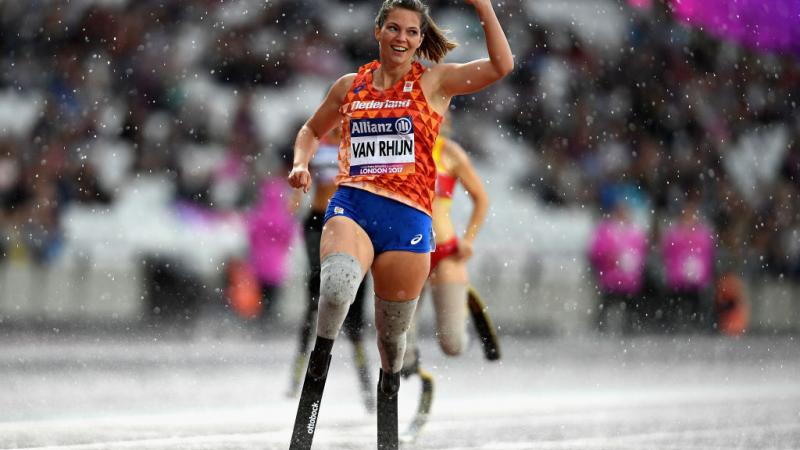 Marlou van Rhijn
Athletics | Swimming
Van Rhijn's first major international appearance was at the 2012 European Championships in her home country where she took gold in the 100m and 200m before going on to even greater glory at the London 2012 Games.
In the 100m heats she broke the T43 world record then in the final had to settle for silver behind France's T44 sprinter Marie-Amelie le Fur.
She was not to be defeated in the 200m however and stormed to gold in a T43 world record time of 26.18.
As a result of her impressive achievements in 2012 she was crowned disabled athlete of the year 2012 in the Netherlands in a ceremony broadcast live on Dutch television.
2013 continued with similar success as van Rhijn, a double-leg amputee, lowered her 100m world record further in the lead-up to the World Championships. She also wrote her name in to the history books with the world's fastest 400m time.
Full of confidence in Lyon, France, she won both the 100m (13.02) and 200m (26.74) world titles.
Van Rhijn continued to top the podium in 2014, retaining her 100m and 200m European titles in Swansea, Great Britain. She also won 400m T44 bronze.
The Dutch sprinter – nicknamed 'Blade Babe' –was in blistering form in 2015 lowering her own 100m and 200m world records no fewer than three times each.
She safely retained her two world titles at the 2015 World Championships in Doha, Qatar, sprinting to a world record 12.80 in the 100m despite stiff competition from the likes of Le Fur and Germany's Irmgard Bensusan.
Success continued in 2016 with another 100m world record at the Nottwil Grand Prix in Switzerland, then at Rio 2016 she triumphed in both the 100m and 200m T44.
There was a rare defeat for van Rhijn in 2017 however, as the Dutch sprinter lost her 100m world title to Great Britain's Sophie Kamlish, but there was no doubting van Rhijn in the 200m T44 as she stormed to gold in championship record time (26.02).
Photo Gallery
Imagen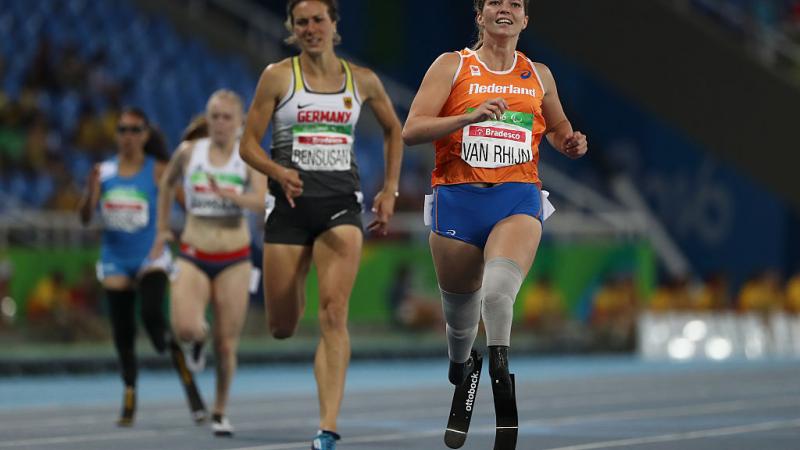 Imagen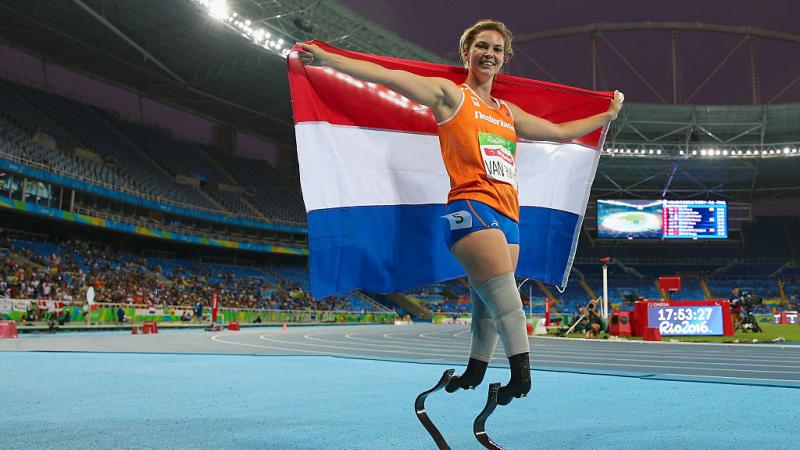 Imagen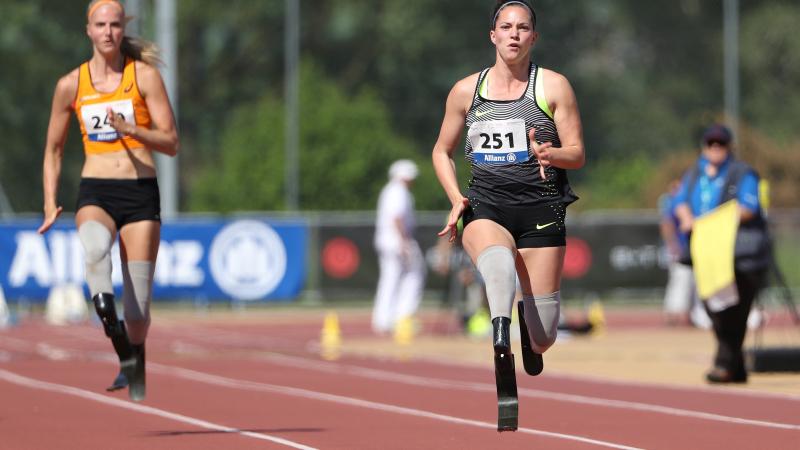 Imagen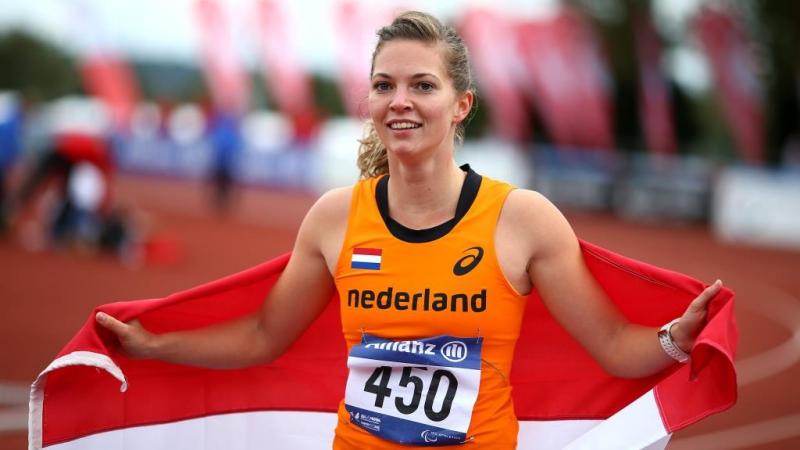 Results
IPC Swimming World Championships Durban 2006 (Durban, South Africa)

| Event | Medal | Unit | Date | Rank |
| --- | --- | --- | --- | --- |
| Women's 100 m Freestyle S9 | | Heats | | 24 |
| Women's 100 m Backstroke S9 | | Heats | | 21 |
| Women's 4x100 m Freestyle 34 pts | | Final Round | | 6 |
| Women's 400 m Freestyle S9 | | Heats | | 19 |
IPC Athletics World Championships (Lyon, France)

| Event | Medal | Unit | Date | Rank |
| --- | --- | --- | --- | --- |
| Women's 100 m T44 | | Semifinal 2 | 2013-07-24 | 2 |
| Women's 100 m T44 | | Final 1 | 2013-07-25 | 1 |
| Women's 200 m T44 | | Final 1 | 2013-07-27 | 1 |
IPC Athletics 2015 World Championships (Doha, Qatar)

| Event | Medal | Unit | Date | Rank |
| --- | --- | --- | --- | --- |
| Women's 200 m T44 | | Heat 2 | 2015-10-23 | 1 |
| Women's 200 m T44 | | Final 1 | 2015-10-24 | 1 |
| Women's 100 m T44 | | Heat 2 | 2015-10-29 | 1 |
| Women's 100 m T44 | | Final 1 | 2015-10-29 | 1 |
World Para Athletics Championships London 2017 (London, Great Britain)

| Event | Medal | Unit | Date | Rank |
| --- | --- | --- | --- | --- |
| Women's 100 m T44 | | Final 1 | 2017-07-17 | 2 |
| Women's 100 m T44 | | Heat 2 | 2017-07-17 | 2 |
| Women's 200 m T44 | | Heat 1 | 2017-07-22 | 1 |
| Women's 200 m T44 | | Final 1 | 2017-07-23 | 1 |