Cockroft and van Rhijn share their memories of racing with Usain Bolt
On Usain Bolt's 36th birthday, Paralympic champions Hannah Cockroft and Marlou van Rhijn look back at the time they shared a track with a fellow legend
21 Aug 2022
Imagen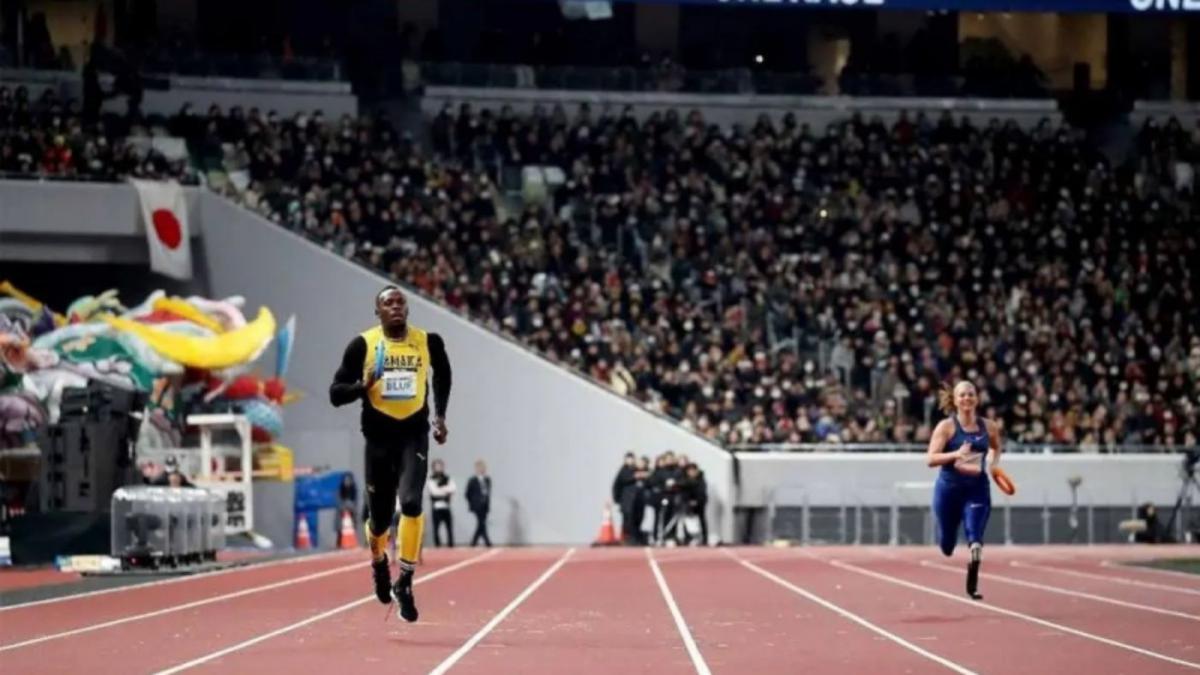 ⒸTokyo 2020
By AMP Media I For The IPC
Great Britain's Hannah Cockroft still remembers the moment she placed a relay baton in the hands of Usain Bolt. The 30-year-old may be a seven-time Paralympic gold medallist, as well as a world, European and Commonwealth Games champion, but those few seconds of seeing the Jamaican accelerate away from her remain a highlight. 
"Just watching him do his art, and the enjoyment he got out of it, made me really proud to be an athlete," Cockroft said. 
Cockcroft, Bolt, Marlou van Rhijn and a host of other Paralympic and Olympic superstars were in Tokyo at the time, taking part in a 6x200m relay. It was the highlight of an event in December 2019 designed to officially open the new Olympic Stadium. 
"To have Usain Bolt there, who was obviously the biggest athlete in athletics, was an amazing showcase of the level the Paralympics were on and how they were perceived," van Rhijn, a three-time T44 Paralympic sprint champion, said. 
"What was so amazing was that we had come from an amazing event in London (in 2012) and then a Rio Games (2016) where everything was really good and then Tokyo raised the game, making it really inclusive. They made sure that almost everything that happened for the Olympics also happened for the Paralympics. 
"Everything was taken as one big sporting event and I think they really showcased that in the stadium opening where there were the biggest Olympians and also great Paralympians." 
Stars and lightning bolts
The event at the Olympic Stadium in Tokyo was not Bolt's first interaction with Para athletes. In 2015 he also served as a guide to three-time blind Paralympic champion Terezinha Guilhermina to promote the Mano a Mano Challenge ahead of the Rio 2016 Paralympic Games.

Guilhermina, van Rhijn and Cockroft certainly sit side-by-side with Bolt in the pantheon of storied modern athletes, even if they are too modest to say it. However, it didn't stop them being a little starstruck. 
"I feel so, so lucky that I got to do that event," T34 wheelchair sprint queen Cockroft said, before sharing a story that still makes her beam with excitement. 
"I remember we were all sat penned into this little side area, waiting to go and do our relay and he (Bolt) was surrounded by security and sat in a different room," Cockroft said. 
"But then he just walked out and came and sat down next to me. And he said, 'I am really bored and lonely, can I talk to you for a bit?'. I said, 'absolutely!'. He was asking me all about the chair, what speeds I hold. He was really genuinely interested in learning about wheelchair racing." 
Van Rhijn had seen Bolt at several Diamond League race meets before, but it made all the difference finally getting to meet the eight-time Olympic champion when the pressure was off. 
"What I really loved is that I remember having a lot of fun," the Dutchwoman said. "We really laughed a lot and that is what is so great about him, besides his sporting record. It looked like he was having fun, which is what sport needs to be." 
A new audience
The natural mixing of Paralympic and Olympic athletes is the future, according to both van Rhijn and Cockroft. 
"The fact we got that inspiration (from the event in Tokyo); the fact we've just had the inspiration of the Commonwealth Games (in Birmingham, England); it keeps putting us in front of new audiences," said Cockroft, who won T33/34 100m Commonwealth gold earlier this month. 
"And it's not that audiences don't want to watch Para sport. It's that they may be audiences who haven't had the opportunity to watch Para sport, or who have never heard of Para sport. 
"The more places we put our sport, the more people we reach. And you just don't know who is watching. You don't know who is sat at home and who (might) not know we exist until they put on the TV, and there we are. That is why it is so important." 
Van Rhijn, who retired in 2021 and is now focused on "getting as many children (as possible) to enjoy running" as much as she did, could not agree more. 
"Para sport had to grow and it did, and we are now at a level where it can be integrated very easily," said the 30-year-old. "We have lots of professional athletes who can put on a very good show, and to give them the opportunity and to give people the opportunity to watch them all together (competing alongside able-bodied athletes) is something we should really strive for."