Imagen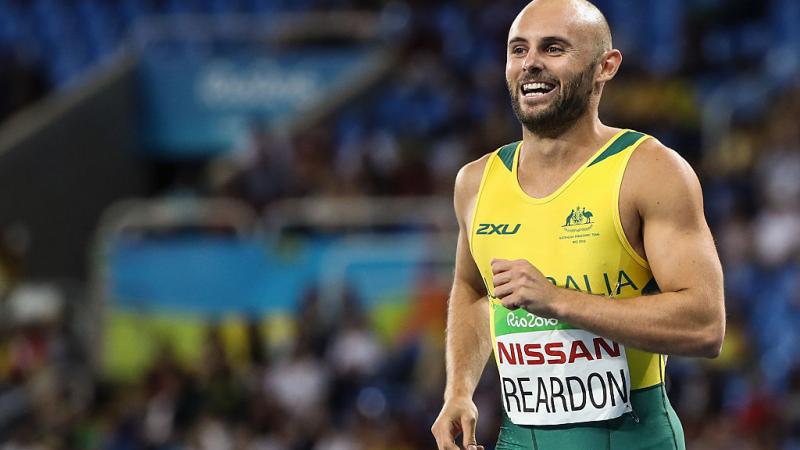 Originally a world champion water skier, Scott Reardon is now a 100m T42 Paralympic champion after success at Rio 2016.
Coached by Ukrainian Iryna Dvoskina, Reardon performed well at his first Paralympic Games in London, winning 100m silver in a personal best time of 12.43, just 0.03 seconds behind Germany's gold medallist Heinrich Popow.
He recorded another personal best in the 200m (26.03) , however finished fourth.
In 2013 Reardon made history at the World Championships in Lyon, France, when he tied for gold with Popow in a thrilling race which saw the two rivals clock exactly the same time.
After 90 minutes of deliberation, judges could not separate the two and both were awarded gold medals. Over 200m Reardon took silver behind British world record holder Richard Whitehead.
Standing alone on top of the podium was paramount for Reardon as he prepared to go for gold at the 2015 World Championships in Doha, Qatar.
The Temora-born sprinter had shown good form in the early part of the year during the Australian summer season, when he went to the top of the global rankings after clocking 12.24 in Canberra – a time he managed on four occasions.
Reardon's hard work duly paid off as he took 100m T42 gold in 12.13 – a new Championship record.
At his second Paralympic Games in Rio, Reardon clocked a Paralympic record 12.26 seconds in both the heats and final, a time good enough to win him gold in the latter race by 0.06 seconds from Denmark's Daniel Wagner.
Photo Gallery
Imagen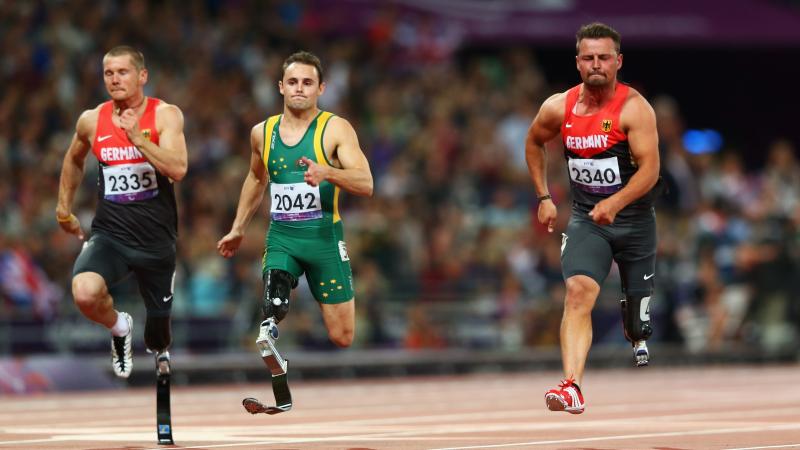 Imagen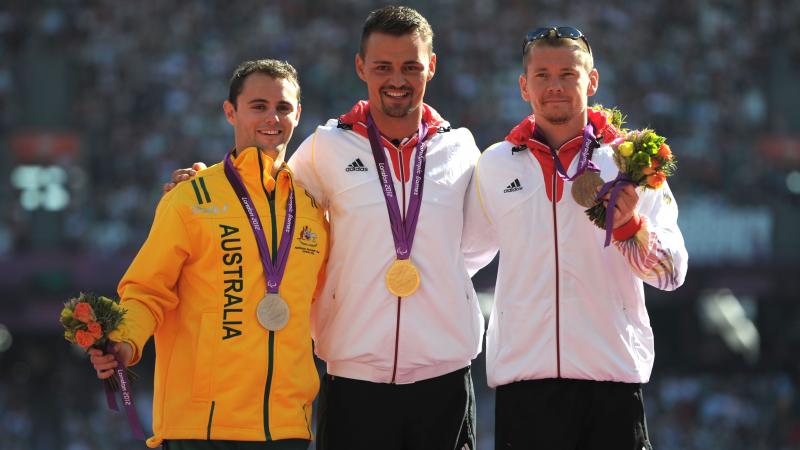 Results
2011 IPC Athletics World Championships (Christchurch, New Zealand)

| Event | Medal | Unit | Date | Rank |
| --- | --- | --- | --- | --- |
| Men's 200 m T42 | | Final | 2011-01-24 | 5 |
| Men's 100 m T42 | | Final | 2011-01-26 | 4 |
| Men's 4x100 m T42-46 | | Final | 2011-01-29 | 9999 |
IPC Athletics World Championships (Lyon, France)

| Event | Medal | Unit | Date | Rank |
| --- | --- | --- | --- | --- |
| Men's 200 m T42 | | Semifinal 1 | 2013-07-22 | 2 |
| Men's 200 m T42 | | Final 1 | 2013-07-23 | 2 |
| Men's 100 m T42 | | Semifinal 2 | 2013-07-25 | 2 |
| Men's 100 m T42 | | Final 1 | 2013-07-26 | 1 |
IPC Athletics 2015 World Championships (Doha, Qatar)

| Event | Medal | Unit | Date | Rank |
| --- | --- | --- | --- | --- |
| Men's 100 m T42 | | Final 1 | 2015-10-25 | 1 |
| Men's 100 m T42 | | Heat 2 | 2015-10-25 | 1 |
| Men's 200 m T42 | | Heat 2 | 2015-10-27 | 3 |
| Men's 200 m T42 | | Final 1 | 2015-10-28 | 4 |
World Para Athletics Championships London 2017 (London, Great Britain)

| Event | Medal | Unit | Date | Rank |
| --- | --- | --- | --- | --- |
| Men's 100 m T42 | | Heat 2 | 2017-07-17 | 4 |
| Men's 100 m T42 | | Final 1 | 2017-07-17 | 1 |