Setbacks not thwarting McKillop's 'triple-double' hopes at Doha 2015
Injury after injury – after injury, the Irishman is now more eager to win golds at the World Championships in October.
24 Aug 2015
Imagen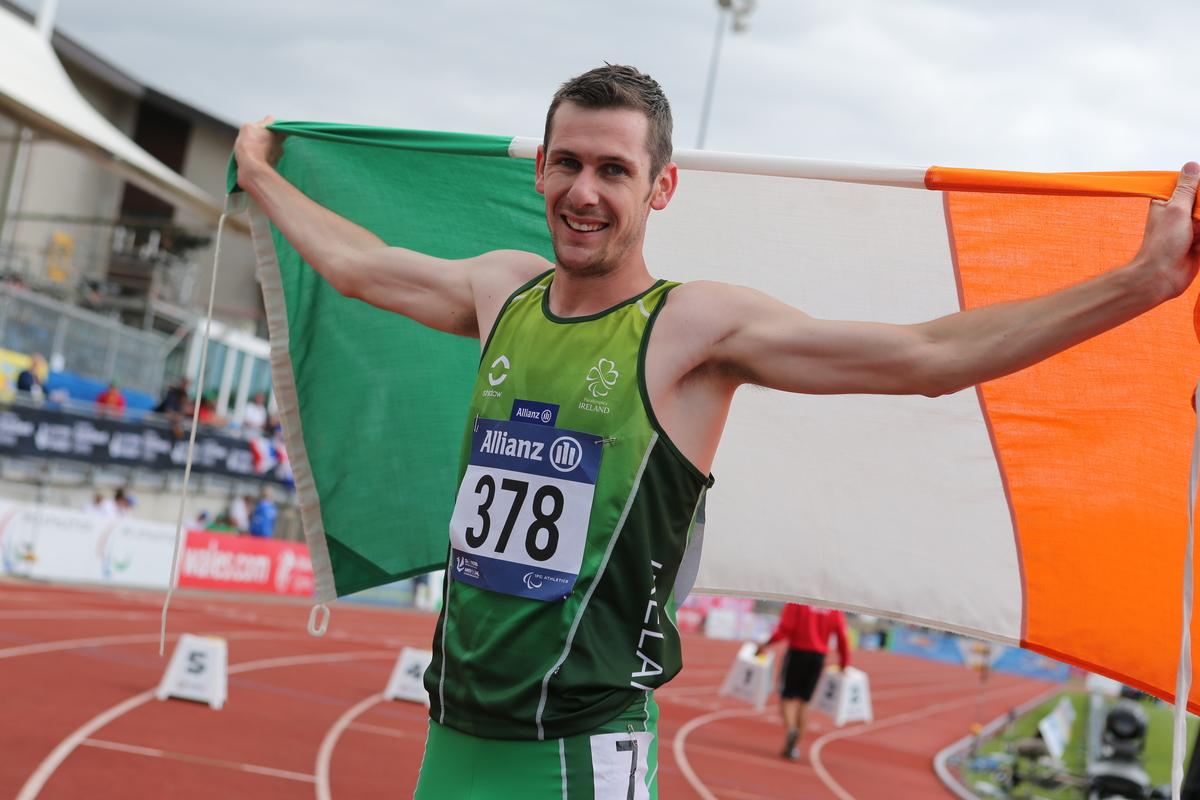 ⒸSporting Wales
By IPC
The 12th of August 2015 was a day Ireland's world and Paralympic middle distance champion Michael McKillop had been waiting for. It was the first time in 354 days since the 25-year-old set last stepped on a track.
In January this year, McKillop, who has cerebral palsy and competes in the T37 class, suffered a freak accident. The Irishman fell down the stairs in his home, damaging the tendons and ligaments in his foot.
The injury not only forced him to halt training; it was like history repeating itself – in a bad way. For McKillop, 2014 had also been blighted by injury, as a trapped nerve in his foot kept him off the track for months.
"I was in socks and slipped, went down and rolled over my ankle," he explained. "After 2014 as well, it was a horrible accident to happen. It was very frustrating."
By spring time, McKillop was ready to start running again. But after less than two weeks of training, he was thwarted once more. This time, by painful shin splints.
Still, the double-world record holder has already proved he has what it takes to turn despair into elation. Last August, after battling back from injury, he clinched the two medals that had been missing from his collection – 800m and 1,500m European gold.
Now McKillop is ready to put the last six months of injury and frustration behind him as he looks to defend his world middle distance titles at October's IPC Athletics World Championships in Doha, Qatar, and secure a triple-double by winning two gold medals at his third consecutive World Championships.
"It's been a long six months slog to get injury free, but it's looking bright now. All the negativity is in the past and I'm looking forward to trying to win gold in Doha," McKillop said.
"It just feels so good to be back on the track again. I had waited so long for this to happen; I went through so much rehab and so many injuries, MRI scans, doctor's appointments, and physio appointments.
"Now with all the training and rehab that I'm doing, it's moving in the right direction and I think that's the most positive thing for me, to not be injured. The last two years, the last two seasons, have just been continuous injury so I'm finally happy again; I'm focused on the challenges ahead of me."
However, McKillop realises that – with less than nine weeks to go until the World Championships begin on 21 October – he has a race against time to be ready.
"There's a lot of water to go under the bridge from here until I hit Doha, but I'll make sure I'm in the best shape possible to step on that track," he said. "I said the Europeans were the most important two medals that I've won in my career. I'd probably say the same again this year just because of the amount of injury, frustration and sadness that I've had to go through to get to be standing on the track.
"My sessions aren't still the same standard as they used to be, but I am a perfectionist and I like things to be the way they always were. It's just taking a little bit more time to get to that level."
McKillop is quick to acknowledge the strong support network that has helped him remain mentally focused during months of rehabilitation.
"I would be the first to admit that I would struggle mentally off the track. I don't think many people realise how important mental health is," he said. "My girlfriend Nicole has been a massive rock for me to try and get through these last six months and to be mentally back in the game.
"My dad's [and coach, Paddy] been keeping me up to date on what people have been doing. But I only looked at the world rankings two weeks ago before I stepped on the track. So we got an understanding of where everyone is sitting at this moment."
While McKillop may still be the man to beat, he is far from dismissive about his rivals, in particular Australia's 800m T37 world silver medallist Brad Scott, who currently tops the world rankings.
"I give all my competitors the respect that they deserve. It's coming up to Rio so yes, there's going to be people running quick times, and there are new guys from different countries that I've never heard of or raced against - but always the main competitor for me is Brad Scott.
"But if I can work as hard as I can on the track as I have off it, then without doubt I'll be 100 percent ready to go on that day."
McKillop hopes to be one of 1,400 athletes from 100 countries competing at the 2015 IPC Athletics World Championships between 22-31 October.