Shirley Reilly returns ahead of clash with Manuela Schaer
Paralympic champion Shirley Reilly has a new racing wheelchair for her 2014 Grand Prix debut in Arizona, aiming to prepare for the rematch between Switzerland's Manuela Schaer in Europe later in the month.
10 May 2014
Imagen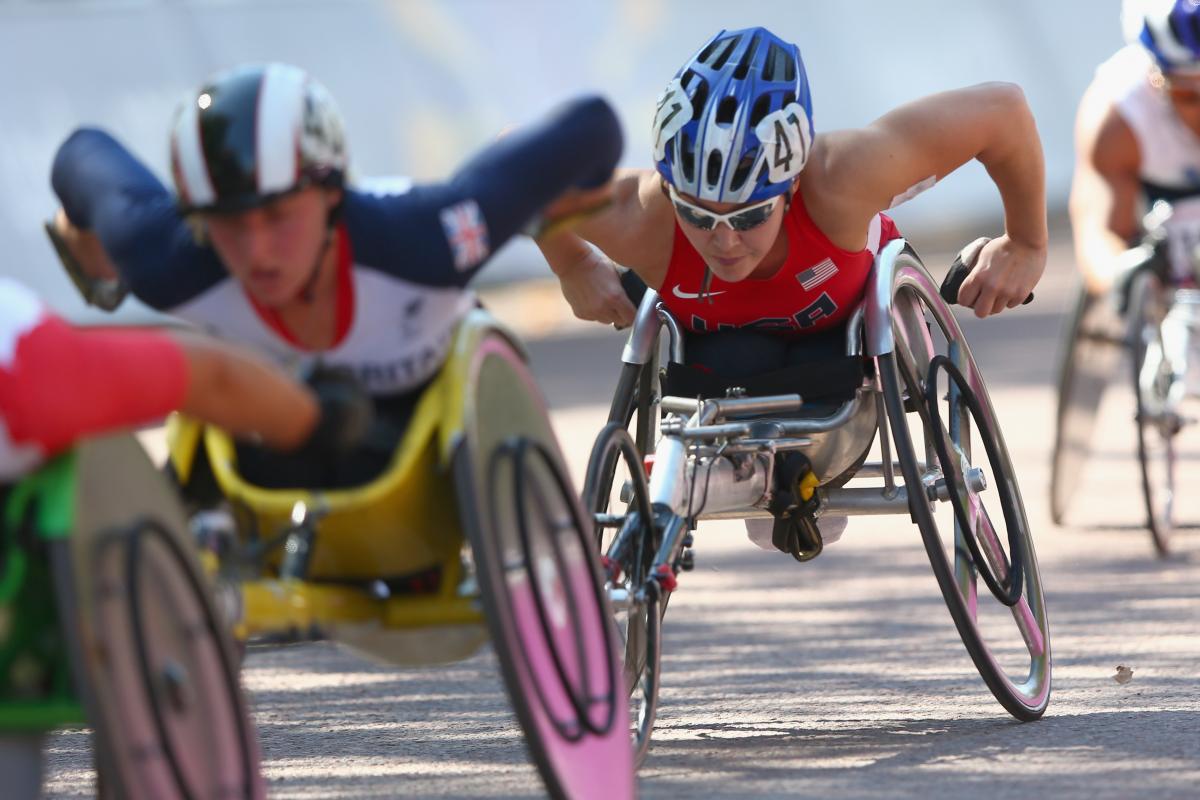 ⒸGetty Images
By Justin A. Rice | For the IPC
"What I'm going to focus on is try to run the best time I can run."
America's Paralympic champion Shirley Reilly feels she is heading back to form ahead of her 2014 IPC Athletics Grand Prix debut in Mesa, Arizona in the USA on Friday (9 May), following damage to her racing wheelchair sustained just before Christmas.
The Tucson, Arizona, resident, who took marathon gold at the London 2012 Paralympics after winning the Boston Marathon that same year, got her hands on a replacement chair just in time for Boston last month where she finished seventh.
Arizona will act as her tune her up for the rematch against Swiss rival Manuela Schaer in the 1,500m T54 at the IPC Athletics Grand Prix in Nottwil, Switzerland, from 16-18 May, which will also feature Australian Madison de Rozario, Canada's Diane Roy and Great Britain's Shelly Woods. All five women were finalists in the 1,500m at the 2013 IPC Athletics World Championships in Lyon, France.
However Reilly said she will not focus on Schaer or any of the other competitors from Lyon 2013.
"What I'm going to focus on is try to run the best time I can run," she said. "If someone is in front of me that's the person to catch. For me it's about getting a good start and finishing strong. I'm going to try to run the best race I can and try to run a good time."
The 28-year-old American could only cross train while waiting for her chair to be fixed over a long few months but the replacement ultimately proved to be painfully small during the 2014 Virgin Money London Marathon. Reilly finally received a new and improved chair just in time for the Boston Marathon a week later and finally feels like she is racing strong again going into Arizona.
"In Boston it didn't seem like I did very well but I did better than London," she said. "Place wise it doesn't look like I did well but time wise it was a big improvement."
"I didn't have a backup (chair)," Reilly said. "I was kind of waiting on that chair and I finally got it and it wasn't built correctly. It was really tight on my ribs. I was really struggling to make that chair work.
"I've been in (a new chair) a little over a week and its' working out well. I'm building a foundation, trying to get stronger, trying to get used to my new chair."
And now that Reilly has had time to train, the triple Paralympic medallist is looking forward to competing in the 200m, 400m, 800m and 1,500m in Arizona, where she swept all four T53 events last year.
"I'm excited," she said. "I think it will be fun. I know there are going to be some good athletes that are going to come. I'm hoping to run one really good time to see how I do. I think it will be good. I'm excited."
The 2014 IPC Athletics Grand Prix Desert Challenge Games start on Friday at 18:00 (MST) and continue until Sunday (11 May).
The Grand Prix then moves to Nottwil, Switzerland, from 16-18 May and Grosetto, Italy, from 10 May - 1 June, ahead of the 2014 IPC Athletics European Championships from 18-23 August 2014.