South Korea confident of regaining A-Pool status
South Korea's ice sledge hockey team is keen to win the 2015 World Championships B-Pool, in the hope of bouncing back to the A-Pool in 2017 in time for their home Winter Paralympics.
05 Mar 2015
Imagen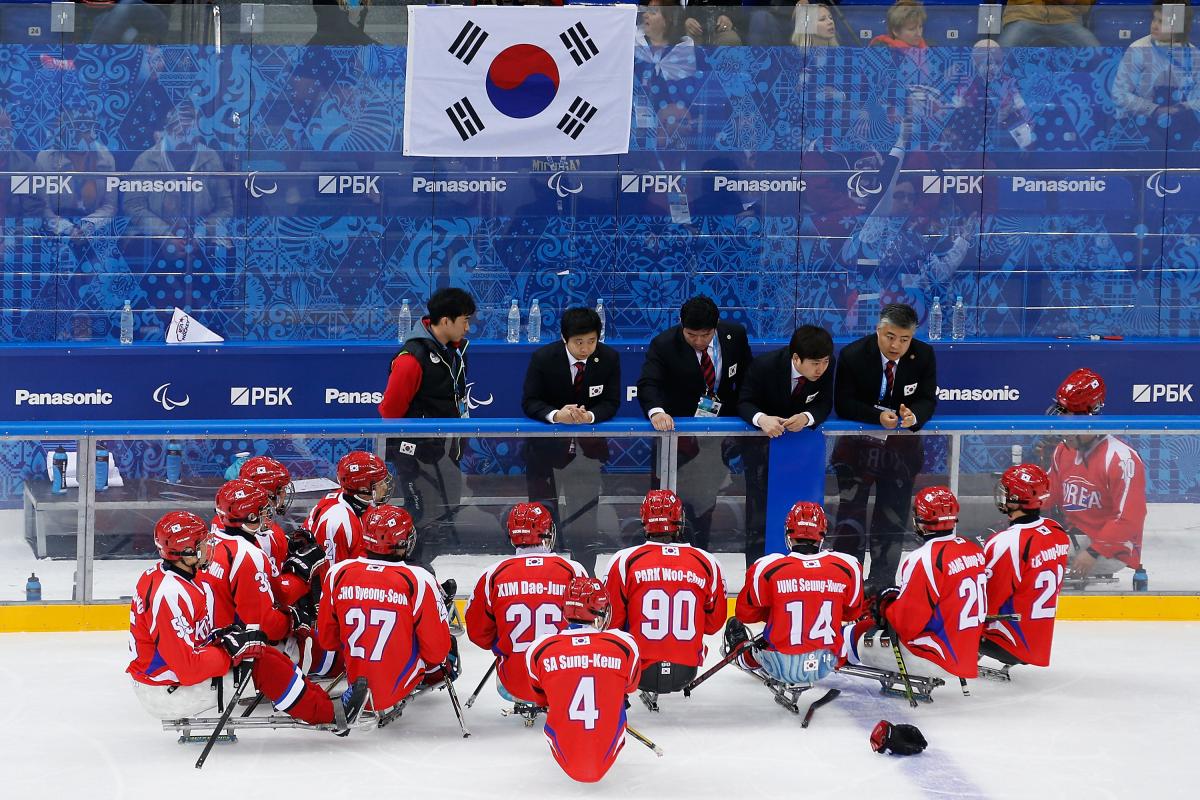 ⒸGetty Images
By EJ Monica Kim | for the IPC
"We want to stand proud as a strong team in front of our home fans and family in Pyeongchang."
South Korean head coach Ik Hwan Kim has revealed his confidence in winning the gold medal at the 2015 IPC Ice Sledge Hockey World Championships B-Pool in Ostersund, Sweden, from 15 March, securing promotion back to the A-Pool in time for the PyeongChang 2018 Paralympic Winter Games.
"I'm sure that we won't have difficult games," Kim said. "If the players maintain being in a good form, until the tournament finishes."
The team dropped to the B-Pool at home in Goyang after finishing last at the IPC Ice Sledge Hockey World Championships A-Pool in 2013.
But they were still able to gain a ticket to the Sochi 2014 Paralympic Winter Games through the IPC Ice Sledge Hockey Qualification Tournament in Torino, Italy.
Once in Sochi they secured an upset in the first match by defeating home team and eventual silver medallists Russia, however their hopes for a medal were soon thwarted by the USA and Italy.
Kim therefore has a strong will to claim victory at Ostersund 2015 to prove that his team have what it takes to play amongst the best in the world.
"It's such a shame that we couldn't compete in the A-Pool [World Championships]," Kim continued. "Therefore, we should win March's World Championships in order to be promoted to the A-Pool in 2017, ahead of Pyeongchang 2018."
But his confidence is not un-tempered and he has been keeping his eye on Ostersund 2015 hosts Sweden.
"I have heard that several young players joined the Swedish team, so we have to stay focused," he said.
South Korea's key player Seung-Hwan Jung meanwhile believes that it was better for his side to have been relegated in 2013, rather than in 2015.
"We're making long-term preparations for our ultimate goal, which is to compete well at the 2018 Paralympic Winter Games," he said. "That's why I think that this is a good chance to check and improve on our weaknesses at this point."
Jung is also optimistic that the team should get back into the A-Pool in time for 2018, regardless of their automatic qualification spot for the Games.
"We want to stand proud as a strong team in front of our home fans and family in Pyeongchang," he said.
On the way to PyeongChang 2018
Twelve out of the 17 players for South Korea belong to the same club team the Kangwon Bears and, along with veteran players, have played together in the national team since the early 2000s.
"Team work is one of our strengths, as current players have teamed up for a long time," Kim said. "However, I'm concerned about their physical strength, particularly the veterans.
"Back at Sochi 2014, we realised a lack of fitness, after smashing Russia. That's why we lost the rest of the matches in the preliminary round," he said.
His personal aim in 2015 is also to build up his side's physical strength.
Above all, the team urgently needs more team members as a back-up in case of injuries to main players. Jung, for example, held out for his matches in Sochi carrying a rib fracture.
The team are attempting to improve this through a national development programme, where aspiring players trained with the Los Angeles Kings Sled Hockey team in the United States in early 2015
"I'm aiming to encourage many young players to join the team, so that we can start Pyeongchang 2018 together," Kim concluded.
Ostersund 2015 runs from 15-22 March and features teams from Poland, Slovakia, Great Britain, newly qualified Austria and hosts Sweden, as well as South Korea.