Sport Week: Wheelchair basketball shapes Jama's attitude
The Great British player hopes to lift his team from London 2012 disappointment.
18 Mar 2016
Imagen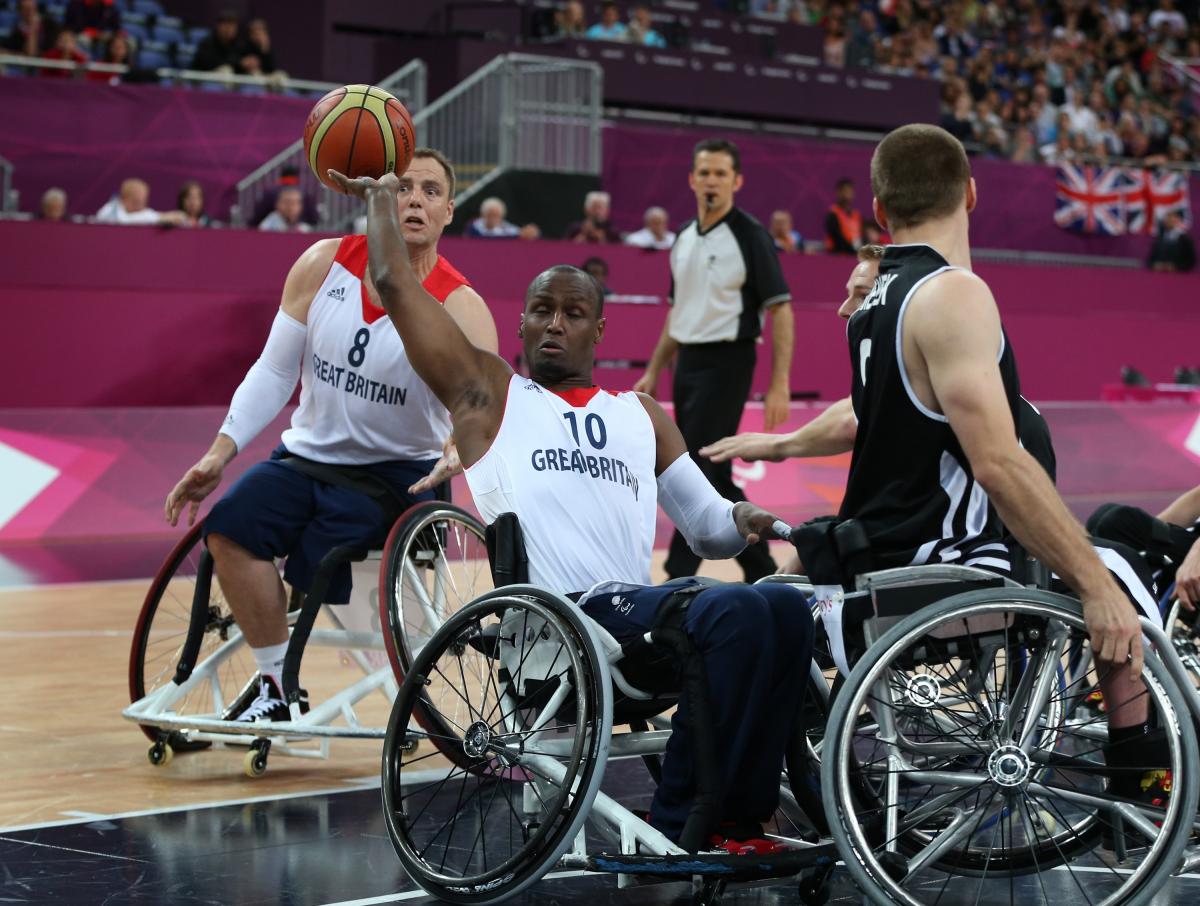 ⒸGetty Images
By Laurie Lawira | For the IPC
"Every day you've got to work hard and find the ways that you can help your teammates to win the gold medal. You're trying to get in the best shape."
Editor's note: Each sport on the Rio 2016 Paralympic programme will have a dedicated week of featured content published on paralympic.org. Every week a new sport will be featured and the series will run until September's Games, helping the public understand more about the 22 sports being contested in Rio.
After just missing the Paralympic podium, especially with home court advantage, Great Britain's Abdi Jama is determined not to repeat that feeling.
His team lost to the USA in the bronze medal game at the London 2012 Paralympic Games. But lately, Jama believes his current training, especially during wheelchair basketball-league play in Europe, is preparing him well for Rio 2016.
"That [fourth place] is probably the worst place you can come because you're so close yet you're so far," Jama said about the London 2012 results. "So we want to fix that. We want to fix that disappointment so hopefully we can get on the podium [in Rio]."
"Every day you've got to work hard and find the ways that you can help your teammates to win the gold medal. You're trying to get in the best shape."
Jama's passion for wheelchair basketball is evident in his voice. It is that passion that has shaped his perception on life, and his motivation to do his best in Rio.
"I travel around the world, playing in the Paralympics, World Championships, Europeans, [the sport] means a lot to me. The way it has shaped me as a person as well. To understand life in a different way," Jama said from his Milan, Italy, home where he is currently playing in the Italian wheelchair basketball league.
"I'm playing against the best guys in the world. Training with the best players in the world. A chance to learn different ways of playing, you pick up things from other international players and it improves your game. It's phenomenal to be playing in a competition that's so competitive, most teams have international players and it's just fantastic."
His involvement in wheelchair basketball began when he met Great Britain's Ade Orogbemi, who was demonstrating the sport to a class of schoolchildren. Jama was invited to attend a training camp, and now two-time Paralympian has not looked back.
"He's taught me a lot of things and I've picked up a lot of things from him," Jama said. "There's occasions where I go to him for advice and I see him as an older brother so I'm so happy to ask, accompany, it's a privilege to play alongside him."
The pair represented Great Britain in Beijing 2008, where they took bronze, and in London 2012.
Last September, they were part of the British team that won gold in the 2015 International Wheelchair Basketball Federation (IWBF) European Wheelchair Basketball Championships, Great Britain's third in a row.
At the end of the Championships, Jama was announced on the European Wheelchair Basketball Championships Men's All Star 5.
Classified as a 1.0 player – in which the athlete has no volume of action in either the vertical, forward or sideways planes – the guard takes a unique attitude when he plays on the court.
"A lot of people say 'oh you shouldn't be able to do that;' there's actually no boundaries to anything you can do," Jama said. "You can do anything in your own way. So you can adapt to the wheelchair, to any skill that you need, and that's for me, I've adapted a lot of things, and I've taken a lot from different players.
"I like to shoot the ball at the same time, I like to ball handle, I do things a lot differently than other one-pointers," Jama added. "That's not taking away from any other low-pointer. Everyone is good at something so, whatever you're good at that's what your role is."
"I want to be known as, not just a point, you know the point classification doesn't really exist to me – I'd like to be known as a basketball player not just a point."
__
Sport fans from around the world can now buy their Paralympic tickets for Rio 2016 from authorised ticket resellers (ATRs).
The IPC's Global ATR is Jet Set Sports, and Rio 2016 tickets and packages can be purchased on the CoSport website.
Residents of Brazil can buy 2016 Paralympics tickets directly from the Rio 2016 website.