Sydney 2018: Best quotes
Who said what at wheelchair rugby Worlds
11 Aug 2018
Imagen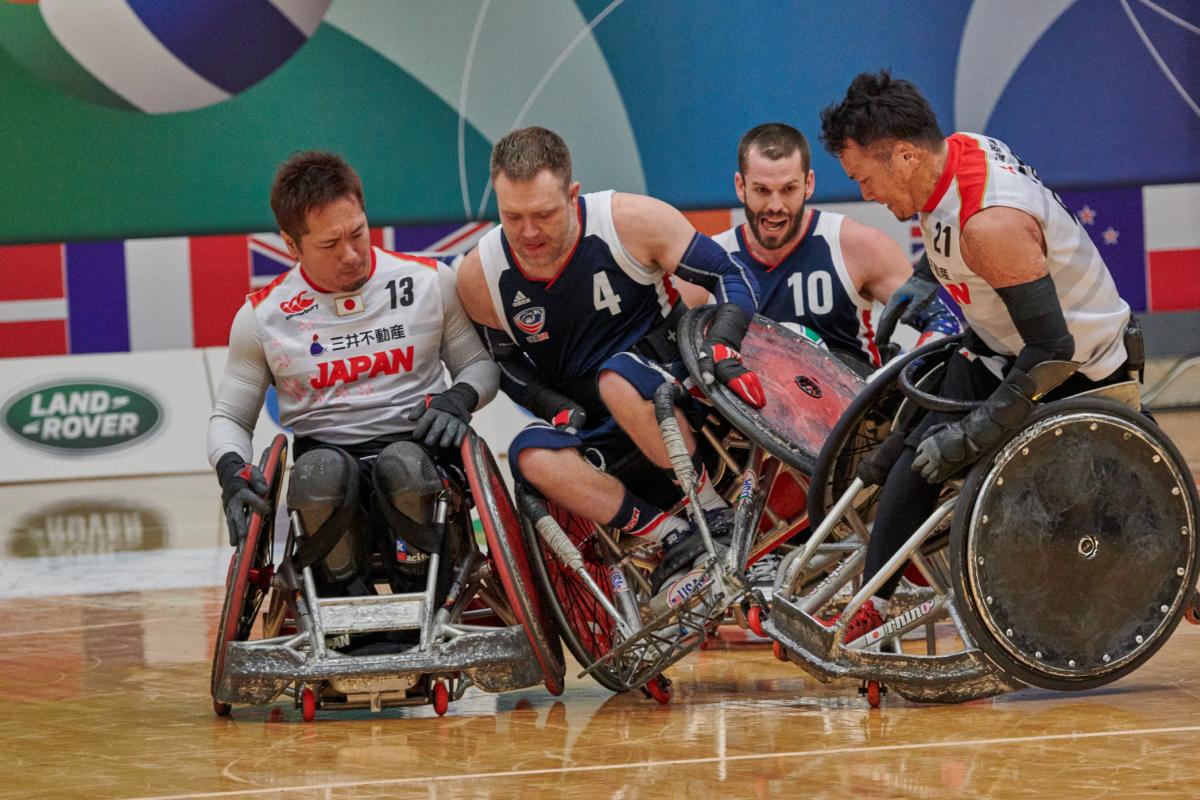 ⒸDisability Sports Australia
By Beau Greenway | For the IPC
"We've been at the top for six years, we'll still keep our number one seed, but we lost this World Champs to a better team."
It was a record-breaking tournament at this year's wheelchair rugby World Championship, ending with a first-time winner. Here are some of the most memorable reactions from the tournament, which ended on 10 August in Sydney, Australia.
Ryley Batt – Australia, gold medal match
It was the result nobody saw coming, but Australia were beaten on home soil in the gold medal match by a determined Japan outfit.
Australian captain Ryley Batt had doubts his side could turn around a six-point decifict in the second quarter after conceding more turnover in the space of eight minutes than they had in the entire tournament.
"The game was out of our hands, way out of our hands at half-time and I didn't believe we could get it back," Batt said.
"As much as I've got belief in the boys, I really didn't believe we could get it back, but we were up by two points.
"We've been at the top for six years, we'll still keep our number one seed, but we lost this World Champs to a better team."
Daisuke Ikezaki – Japan, gold medal match
Japan made history by winning the IWRF World Championship for the first time.
After reaching the podium with a bronze medal at the Rio 2016 Paralympics, Japan took a huge step towards their ultimate goal of winning gold at Tokyo 2020 with victory against the World's No.1 side in Sydney.
Japan veteran Daisuke Ikezaki claimed the World Championship and tournament MVP double, which he admitted was the greatest moment of his career.
"There's still many things we have to work on, but this championship gives us huge confidence and could boost us further towards Tokyo 2020," Ikezaki added.
James Gumbert – USA, semi-finals
USA coach James Gumbert's side was made to pay for its mistakes in its shock 51-46 semi-final loss to eventual champions Japan.
It was the second straight World Championship that the US has been beaten in the semi-finals.
"The thing that beat us was our own mistakes and as painful as it is, it's an extremely important lesson that we've learned," Gumbert said.
"We didn't come into this game with expectations that we were going to run through this team because they're a great team.
"We have to look at the gift that it gave us and right now that's hard."
Carlos Neme – Colombia, Pool B
It was a history-making day three at the World Championship with Colombia winning its first ever match at the tournament.
The South American nation defeated Poland 50-43 on day three to exact revenge for their double overtime loss to them at the World Championship qualifier in April.
Colombian captain Carlos Neme said a victory against Poland was the Colombians goal of the tournament.
"It's one of a lot of (great) moments for the team, until the tournament has finished we can't say anything more," Neme said.
"We've worked hard for all the families and the people that have supported the team. We thank them very much."
Sebastien Verdin – France, day five crossover game
France progressed to the fifth-place playoff with Canada after a 54-42 victory against European rivals Sweden on day five of competition.
The Worlds was Sebastien Verdin's first international tournament and he proved to be a breakout player for France throughout the week.
However, Verdin wasn't only turning heads with his skill on the court, he also sported a unique haircut, featuring the French flag coloured on the back of his head.
"I really love my country and I am proud to be French, so if I'm not doing it at the World Championship, where else can I do this?" Verdin said.
Jonathan Hivernat – France, fifth-place playoff
France proved to be one of the most-improved nations at the Worlds, and, while it was a surprise to some, it wasn't to them.
"It's one of the best moments in our history to be fifth in the world," French captain Jonathan Hivernat said.
"It's the beginning of our story, to be fifth is okay, but it's not enough. We want to go up step-by-step.
Chris Ryan – Great Britain, bronze medal match
Great Britain captain Chris Ryan was heartbroken after almost leading his side onto the podium at the Worlds for the first time.
After a narrow two-point loss to Australia in the semi-finals, Great Britain's worst performance of the week came in the bronze medal game against the USA, where they lost by 11 tries.
"We came here to win, it was always going to be hard, but that's what we've got to aim for and one day we'll get there."