Sydney 2018: Canada stunned again
Five wheelchair rugby teams remain unbeaten at Worlds
06 Aug 2018
Imagen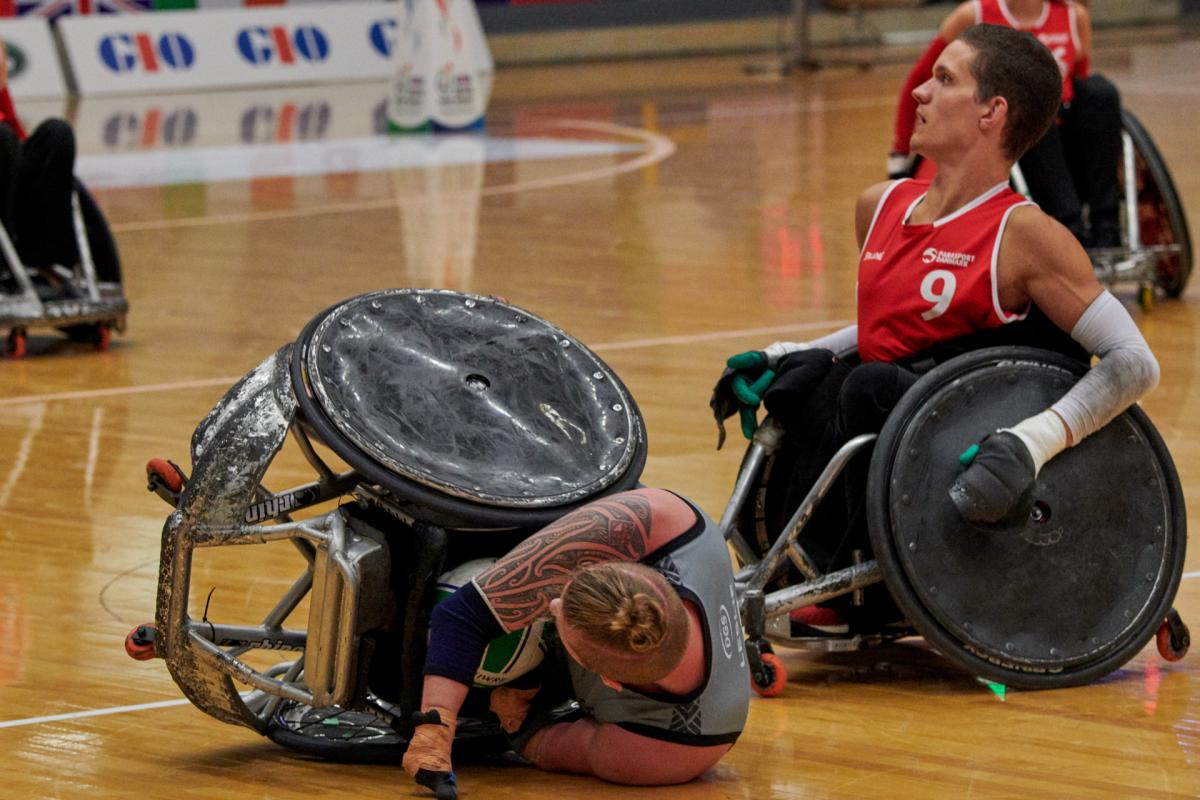 ⒸDisability Sports Australia
By Beau Greenway | For the IPC
Poland handed world No. 3 Canada their second shock defeat of the 2018 Wheelchair Rugby World Championship on day two (6 August) in Sydney, Australia. The day ended with five teams still unbeaten and plenty of close contests in both Pool A and Pool B.
Polish star Mateusz Wawczak said the tight 45-43 win over the Canadians was their best so far.
"It was a tough game, but we beat Canada - a big team with huge history," he said.
"We're making big steps, improving a lot and going higher and higher. It was our tactic to start as hard as we could and I think it was a good tactic. After you have the game on your side, you can control more. It was a perfect day for us."
Japan and Denmark unbeaten
Japan continued their winning start in Sydney with a 56-37 triumph against New Zealand in Pool A.
Seiya Norimatsu helped the Japanese side to victory and felt he improved his performance from day one after a nervous start.
"The team as a whole performed well, but there's some small details to work on," Norimatsu said. "We have different strategies for [next opponents] New Zealand and Sweden."
Denmark also made it three wins from three games, first beating Ireland 56-47 before holding on for a thrilling 55-54 victory over New Zealand.
However, high-pointer Mark Peters felt there were still a few nerves in the Danish team.
"We got off to a pretty good start and suddenly had a bit of a down, but we fought through it," Peters said. "After that we had pretty good control of the game and it was about clock management during the last period."
USA still on course
World No. 2 USA held off a challenge from Great Britain to remain in control of Pool B, eventually winning 47-41.
Star US low-pointer Jeff Butler said it was nice to come away with the victory given Great Britain had beaten them in a recent tri-nations tournament.
"We really wanted to come out hot and prove that we have what it takes to come out on top," Butler said.
"They gave us a really good run, they've got a lot of really good guys on their team, but we're excited to continue our pool play and hopefully move into crossovers.
"We always say if we don't get them in the first, we don't get them in the second, we don't get them in the third, hopefully we'll be able to keep pushing and get those turnovers.Thankfully for us it broke open in the fourth."
Champions class
Reigning world and Paralympic champions Australia were just as impressive as on day one, outclassing Sweden 71-38.
Veteran Ryan Scott said the Steelers wanted to send a message early in the tournament.
"We haven't really taken our foot off the gas at all and we don't want to get complacent, we want to make sure when we get to the tougher games that we're already playing at a high intensity from the start," Scott said.
"We played four different line-ups today and each line-up got turnovers and were as strong as each other.
"This is the hardest event to win with more games and a double-header coming up, so it's a good position to be in for later in the week."
Sweden bounced back in the final game of the day with a hard-fought 52-47 win over Ireland.
Close to history
Colombia came very close to their first win at a World Championship, pushing France all the way before falling 50-45.
"Maybe we didn't play our best game, but we played against a great team," said French vice-captain Adrien Chalmin.
"It was the second time we have played them and it's always a pleasure. They've improved a lot and I wish them the best for the rest of the competition."
Colombia's Paola Martinez was proud of the way the team played.
"It's our first time in this tournament and we want people to talk more about Colombia," she said
"We have clear goals in the tournament, but we don't know much about a lot of the teams in the tournament. We are training hard to have the best performance as a team, we have to take a good position in the rankings and we have the Parapans in Lima [in 2019], which will be another possibility."