Sydney 2018: France surprise Canada
Hosts Australia open tournament in style by beating New Zealand
05 Aug 2018
Imagen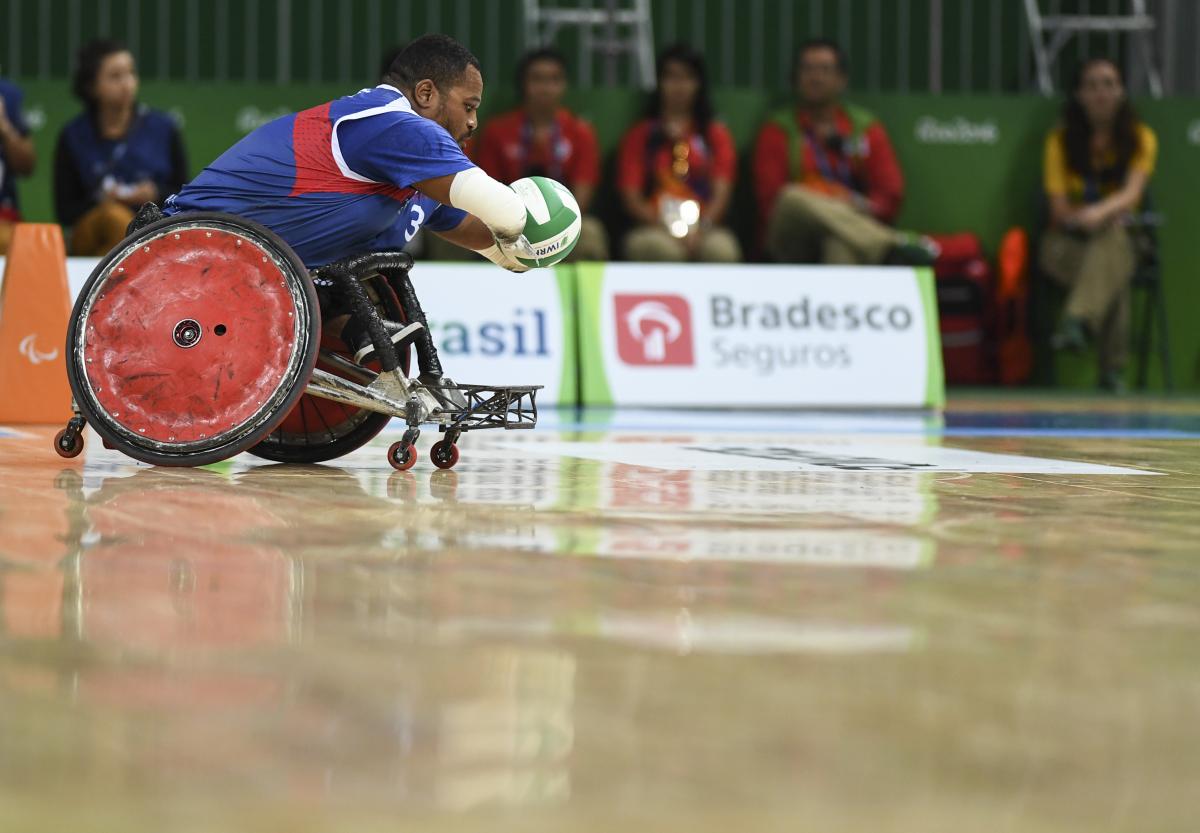 ⒸGetty Images
By Beau Greenway | For the IPC
France caused the surprise of day one (5 August) at the 2018 Wheelchair Rugby World Championship in Sydney, Australia.
The French took down world No.3 Canada 51-42, in what was arguably the biggest win in the side's history.
It leaves Canada with a mountain of work to do if they are to repeat their effort from four years ago and reach the final.
France stormed out of the blocks with a 14-9 first quarter and had the lead out to eight early in the second quarter.
Canada started to rally and kept themselves within striking distance, but ultimately couldn't do enough to close the gap.
French captain Jonathan Hivernat was delighted with the result.
"On the court, we played well because we applied what the coach said before the game," he said.
"It's the first time we've beaten the No.3 in the world and we are No.7.
"It's not a surprise because we worked hard for that and we knew the Canadian team is really strong, but we've improved year after year.
"The beginning was important because we put a lot of pressure on them and they took two or three timeouts at the beginning of the game."
Massive home crowd celebrates win
Australia opened the tournament in style in front of massive home crowd, taking down New Zealand 66-36.
Steelers' captain Ryley Batt admitted the performance exceeded his expectations.
"To get everyone on the court and to play fantastic, every line up got a turnover and we can't ask for a better start to the tournament," Batt said.
"The momentum is building, the crowd was fantastic and I'm very happy to be here at a home World Champs and hopefully we can keep this momentum building for next game.
"We play Sweden tomorrow and they're actually a really composed offensive team.
"I don't think we'll get as many turnovers as we did against New Zealand."
New Zealand's Cody Everson felt it was a bit of a wakeup call for the Wheel Blacks, but he's confident they can turn it around as the tournament progresses.
"We did get beaten by quite a bit, but we still did some good things and we'll take the positives out of it," Everson said.
"It was awesome to have a big crowd, I've got some family and friends here."
Japan enjoy first victory
Another of the tournament favourites, Japan, also got off to a strong start with a 57-37 triumph against tournament debutants Ireland.
Japan coach Kevin Orr was pleased with the tournament opener.
"It's a team that we've never played so it was very important to come out and play well," Orr said.
"I've coached against Ireland before, but it's obviously the first time I've coached Japan against them.
"They have a very good team, they've got some great young talent and it's exciting to see the team that won the qualifier because it shows how far the sport has come."
Denmark prevail in closest game of day one
The Danish team reversed the heartbreak of the past two European Championships with a hard-fought 57-54 victory against rivals Sweden.
Denmark got off to a quick start and withstood a late challenge to get the job done.
"We had a good start, but after the second quarter they shook us a little bit and we had to battle a little harder," Denmark star Leon Jorgensen said. "I think the guys played really hard and we managed to pull it off at the end.
"The first game is always a big one to get out of the way, so I think the nerves are good now."
Sweden's Tobias Sandberg admitted the side took too long to get to its best. "It felt like we started playing in the fourth quarter and we woke up," he said.
"It's bad that we're doing it so late, but we'll forget about this.
"We've got Australia tomorrow and we'll try to start over with them."
USA beat debutants Colombia
The USA produced an impressive display against another of the tournament's new faces, Colombia, beating them 58-32.
USA co-captain Joe Delagrave didn't feel the score was a true reflection of the game.
"The fans were great from Colombia, I said during the game that if someone walked in, they would have thought the Colombians were winning," Delagrave said.
"It was good for them and it's their first time at Worlds, so it's special for them to be here.
"For us, it was about taking care of business and hopefully getting better for the next game.
"Minute management is going to be huge all week, a World Championship is seven games which is unlike any other tournament.
"We were making sure we were getting guys in when we can and giving guys breathers we can."
Great Britain emerge triumphant
The British team rounded out the day's action with a 55-31 salute against Poland.
"It was a bit of a sticky start, we didn't come out quite the way were hoping to, but we adjusted and came back to get the job done," Great Britain´s high-pointer Jim Roberts said.
"We got everyone on court and we've been here over a week now, so we should be fairly over the jetlag.
"It's good to get actual gameplay in for everybody, which was something, key."
Day two action features plenty more enticing games with Japan to meet New Zealand, Denmark to face Ireland, USA to clash with Great Britain, Australia to face Sweden, Poland to square off with Canada and Colombia to challenge France.
Four teams play two games on the day with Ireland to back up against Sweden, while Denmark come up against New Zealand.