Sydney 2018: Who will progress from Pool B?
Paralympic silver medallists head second group at wheelchair rugby Worlds
02 Aug 2018
Imagen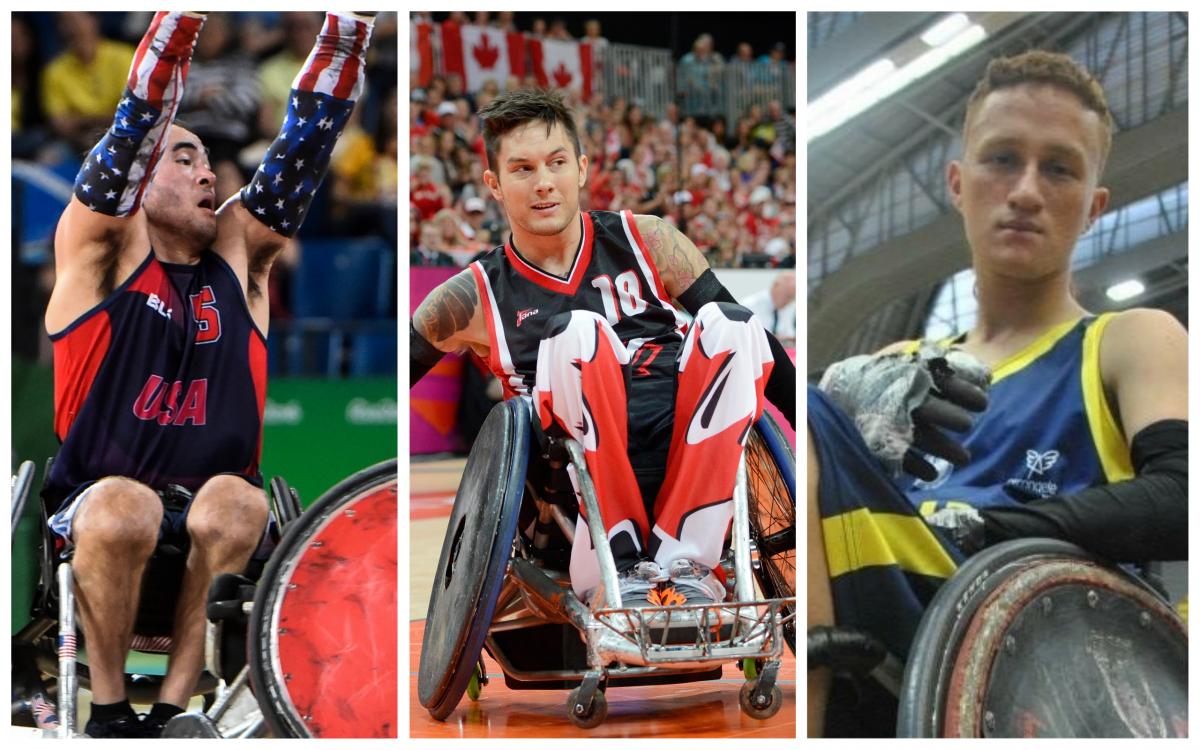 ⒸGetty Images/IWRF
By Beau Greenway | For the IPC
The best wheelchair rugby nations will converge on Sydney, Australia, for the 2018 IWRF World Championship from 5-10 August. Australia are the reigning Paralympic and world champions and will start the tournament as one of the teams to beat. The Steelers' feature in Pool A, while Rio 2016 silver medallists the USA headline Pool B.
Can Pool B produce this year's champion?
USA
Team USA have the most successful history at the IWRF World Championships, winning four of the six editions so far. The only multiple winners of the tournament will look to get back to top of the podium in Sydney, after their worst result in 2014 in Odense, Denmark, where they finished with bronze. Six new faces will experience their first World Championship this year.
Key facts
World Championship: Gold (1995, 1998, 2006, 2010), Silver (2002), Bronze (2014).
Paralympics: Gold (1996, 2000, 2008), Silver (2016) Bronze (2004, 2012)
Head Coach: James Gumbert
Squad: Chad Cohn, Ernie Chun, Joe Delagrave, Chuck Melton, Josh Wheeler, Chuck Aoki, Jeff Butler, Lee Fredette, Tallbot Kennedy, Adam Scaturro, Alejandro Pabon, Jake Daily.
First game: Colombia (5 August)
Pool prediction: 1st
GREAT BRITAIN
Is this the year Great Britain finally reaches the podium of a major tournament? The side will pose a massive threat to likes of the USA and Canada in Pool B. After a number of narrow defeats at Rio 2016, Great Britain should be primed and ready to show the world they have what it takes to get into the medals. Seven players from the 2014 World Championship squad are at coach Paul Shaw's disposal, so the group will well and truly know how each other plays.
Key facts
World Championship: No medals
Paralympics: No medals
Head Coach: Paul Shaw
Squad: Ayaz Bhuta, Jonathon Coggan, Jim Roberts, Chris Ryan, Jamie Stead, Gavin Walker, Muhammad Islam, Ryan Cowling, Myles Pearson, Nicholas Cummins, Aaron Phipps, Stuart Robinson.
First game: Poland (5 August)
Pool prediction: 2nd
CANADA
The world's No.3 side will be chasing their second IWRF World Championship title in 2018. After falling short to Australia in the gold medal match in 2014, it will be a vastly different looking Canadian team heading to Sydney. The notable absentee is 2014 IWRF World Championships MVP, Zak Madell, who has taken some time away from the sport. However, six players from their last Worlds campaign remain and they can't be taken lightly.
Key facts
World Championship: Gold (2002), Silver (1995, 2014), Bronze (1998, 2006)
Paralympics: Silver (1996, 2004, 2012), Bronze (2008)
Head Coach: Patrick Côté
Squad: Trevor Hirschfield, Patrice Dagenais, Patrice Simard, Travis Murao, Fabien Lavoie, Mike Whitehead, Eric Rodrigues, Anthony Letourneau, Cody Caldwell, Shayne Smith, Matt Debly, Branden Troutman.
First game: France (5 August)
Pool prediction: 3rd
FRANCE
France have certainly come a long way since 2014. Entering the Worlds in Odense as the lowest-ranked team at the tournament, the French now sit seventh in the standings. France claimed bronze at the 2017 IWRF European Championships after placing seventh at Rio 2016 in their second straight Paralympic Games appearance.
Key facts
France will fancy their chances against a new-look Canada in their opening game on 5 August.
World Championship: No medals
Paralympics: No medals
Head Coach: Olivier Cusin
Squad: Adrien Chalmin, Christophe Corompt, Cedric Nankin, Ryadh Sallam, Jonathan Hivernat, Corentin Le Guen, Matthieu Thiriet, Nicolas Rioux, Nicolas Valentim, Sebastien Verdin, Brice Maurel, Christophe Salegui.
First game: Canada (5 August)
Pool prediction: 4th
COLOMBIA
One of three nations making their first Worlds appearance in Sydney. Colombia will bring plenty of energy to the tournament with their creative style of play. Low-pointer Carlos Neme will be one to watch, having been named in the All-Tournament Team at the recent qualification tournament for the Worlds in Nottwil, Switzerland. Expect them to pick up a win or two in the pool phase.
Key facts
World Championship: No medals
Paralympics: No medals
Head Coach: Jhonattan Vargas
Squad: Jhon Orozco, Anderson Munoz, Moises Alonso, Christian Ordonez, Giovanni Vanegas, Cristian Amaya, Julian Vargas, Uriel Rodriguez, Paola Martinez, Carlos Neme, Disledy Gonzlaes, Manuel Mongua.
First game: USA (5 August)
Pool prediction: 5th
POLAND
Poland are the underdogs of Pool B and the second lowest ranked nation in the tournament at No.17 in the world. They claimed a thrilling double-overtime victory against Colombia in the qualification event to secure bronze and a place at the Worlds.
Key facts
World Championship: No medals
Paralympics: No medals
Head Coach: Janusz Kozak
Squad: Krzysztof Kosider, Dominik Rymer, Tomasz Witkowski, Krzysztof Kapusta, Rafal Rocki, Pawel Szostak, Leszek Lachmanowicz, Lukasz Szalabski, Pawel Sierakowski, Arkadiusz Henicz, Izabela Sopalska-Rybak, Mateusz Wawczak.
First game: Great Britain (5 August)
Pool prediction: 6th