Sydney 2018: Colombia take historic win
New Zealand also claim first victory at wheelchair rugby Worlds
07 Aug 2018
Imagen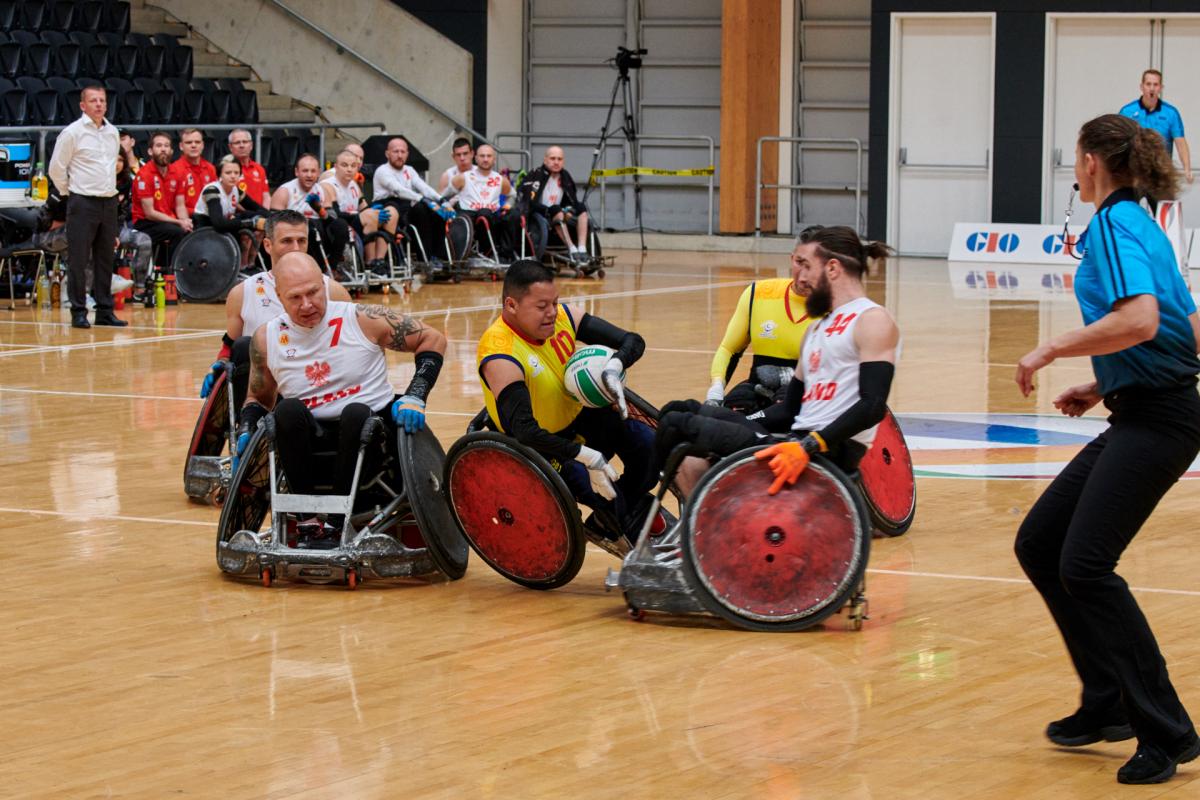 ⒸDisability Sports Australia
By Beau Greenway | For the IPC
Colombia made history on day three (7 August) of the 2018 Wheelchair Rugby World Championship in Sydney, Australia. The newcomers recorded their first win on the Worlds stage after defeating Poland 50-43 – exacting revenge for their double overtime loss to the European outfit at the Qualification Tournament in April.
"It gives us great satisfaction to reach our goal of the tournament," said Colombian captain Carlos Neme.
"It's one of a lot of (great) moments for the team, (but) until the tournament has finished we can't say anything more.
"We've worked hard for all the families and the people that have supported the team.
The Colombians can finish fourth in Pool B if they beat a struggling Canada on Wednesday (8 August).
Canada woes continue
The Canadians lost their third straight game to Great Britain 55-43, but it was not as straightforward as the score suggests. Ryan Cowling said his team's victory was a good response to Monday's defeat by USA.
"We were patient in the first half and turned the screw in the second half," Cowling said.
"We've had a couple of additions to the squad and it's made us stronger.
"We've had two years to prepare for the Worlds and the European Championships in between, which we won, so we're all pretty pleased with how it's gone."
Canada's Eric Rodrigues admitted it has been a hard week for the side.
"We try to work as hard as we can, execute our game plan according to what our coach lays out and take as many positives as we can," Rodrigues said.
"We're rebuilding, our team is young and we're gaining a lot of experience from all these games.
Great Britain went on to win their second game of the day as they accounted for Colombia, 57-20.
Business as usual
US veteran Chuck Melton was pleased with the position the World's No.2 side find themselves in, following a 54-39 victory against a rapidly improving French side.
"Guys got a lot of playing time, we ran some different lines and everything was good," Melton said.
"We didn't look past France, we don't look past anybody. We care so much for each other and we all want each other to get better," he added.
"We want to win obviously, but if anyone happens to go down, the next person is ready to step up, take that place and get the job done."
It was also business as usual for Australia, who withstood a challenge from a determined Denmark side to win 61-49.
"It felt good being out there, but they were a little tougher than our last opponents were," said Worlds debutant Jake Howe said.
"Everyone is getting enough court time, it's just been good to get out there in front of a home crowd.
"We just want to play the game, get stuck into recovery and get onto the next one."
France bounced back in their second game of the day to beat Poland 51-39.
"It was nice that everybody played pretty well, but now we're essentially in a quarter final in the game against GB [Great Britain]," said France's Christophe Salegui.
"It will be a really tough game, I know we can beat them because we've played a tournament with them a month ago and beat them once."
New Zealand join winning sides
New Zealand got off the mark at the event with an impressive 52-42 triumph against Ireland.
"To have a win today and sing our song, there's no better feeling," Michael Todd said.
"We stuck to our game plan the whole game, didn't relent and everyone at the end was still making turnovers.
"The most important thing is, each game from our practice game against Poland to our first game against Australia and then Denmark, we've kept on raising the bar."
Japan avoid shocker
Sweden almost pulled off another major upset, leading Japan for the majority of their contest before falling 48-46.
"We managed not to give up and were focusing until the end," Kotaro Kishi said.
"There's some little things we have to improve, but the most important thing is confidence, we have to play with confidence."
Pool play wraps up on Wednesday
Australia takes on Ireland; Japan faces Denmark; USA meets Poland; Canada searches for its first win against Colombia; Sweden and New Zealand should be evenly-matched; Great Britain and France play for second spot in Pools B. The winner of Pool A will be determined in the Australia and Japan clash, while rivals USA and Canada also square off.