Sydney 2019: Top rifle shooters to watch out for
Ace shooters Veronika Vadovicova and Abdulla Sultan Alaryani all set to take aim at Worlds
08 Oct 2019
Imagen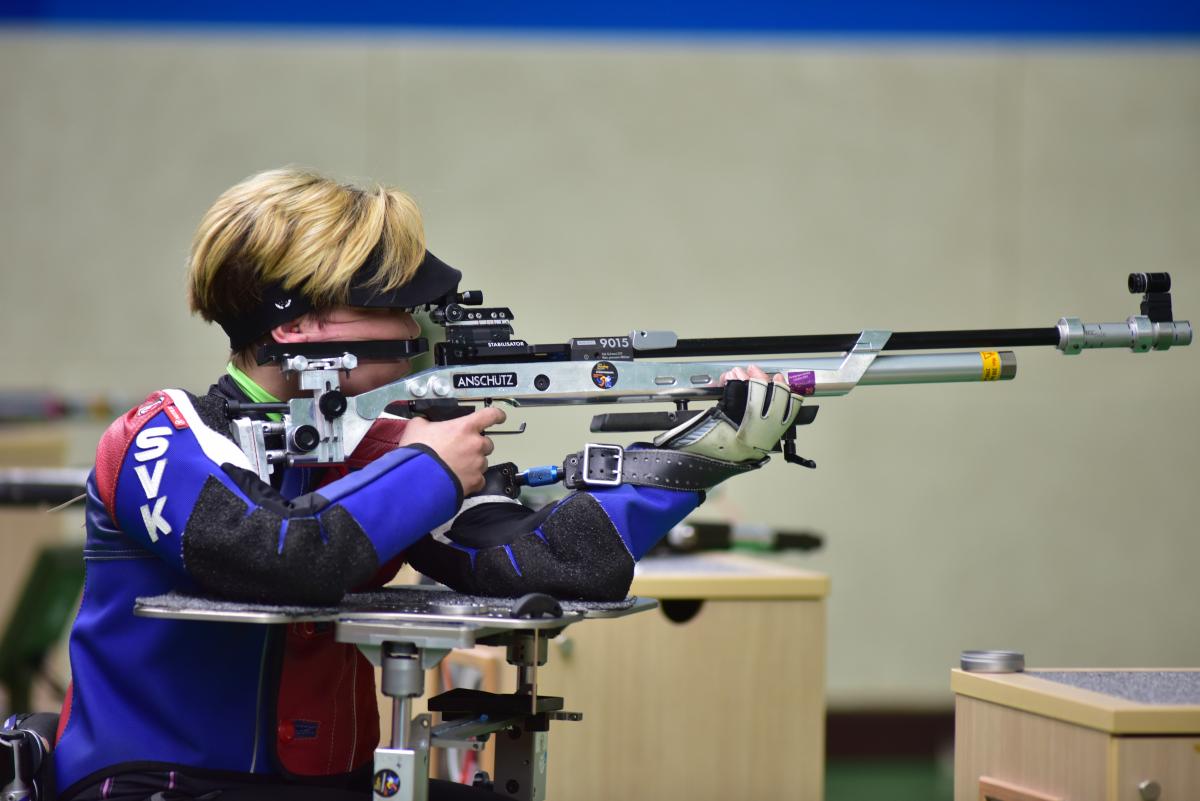 ⒸCheongju 2018
By Ros Dumlao | World Shooting Para Sport
Rifle is the top discipline in shooting Para sport, and nine individual world champions will be decided at the 2019 World Championships that gets underway on Saturday in Sydney, Australia.
The top-quality field include the likes of reigning Paralympic champion Veronika Vadovicova of Slovakia and UAE's double world champion Abdulla Sultan Alaryani. However, there are also new names who have emerged over the past year.
R1 (men's 10m air rifle standing SH1)
Slovakia's Radoslav Malenovsky holds the title from 2018 and returned a few months after to win the Al Ain World Cup in February. While he remains a favourite, Ukraine's 2018 bronze medallist Andrii Doroshenko is expected to push for that gold he missed out on last time.
He will be looking to build on the confidence he gained from his victory at the Osijek World Cup in July. But, also do not forget about South Korea's Jinho Park. Inside the soft-spoken athlete is a loud desire for avenging his second-place finish from his home Worlds in Cheongju last year.
R2 (women's 10m air rifle standing SH1)
A rifle rival has cooked up between Slovakia's reigning Paralympic champion Veronika Vadovicova and Ukraine's European champion Iryna Shchetnik.
Shechetnik, who turns 20 later this month, stunned one of the sport's legends at the 2018 Europeans last December. But Vadovicova is too experienced to be signed off for a gold medal  and expect her motivation to be extra high after settling for second place at the 2018 Worlds.
R3 (mixed 10m air rifle prone SH1)
World and European champion Vadovicova has owned this event. The names who have finished after her have shuffled over the last few World Cups and World and European Championships. Great Britain's Matt Skelhon fell just short of upsetting Vadovicova at Cheongju 2018 and at the 2019 Osijek World Cup. Germany's European runner-up Natascha Hiltrop has also finished in Vadovicova's shadows far too long and has been training hard to take down the latter.
R4 (mixed 10m air rifle standing SH2)
New Zealander Michael Johnson highlights the SH2 shooters, being one of the most long-time consistent podium finishers. Last year, the two-time Paralympic bronze medallist was sandwiched on the podium between two South Koreans – (winner) Jiseok Lee and Youngjun Jeon. But with the Championships being on his Oceania region, Johnson would hope to play that to his advantage.
R5 (mixed 10m air rifle prone SH2)
Dragan Ristic seems to be riding a wave of confidence since winning the 2018 title. He went on to capture gold at his home Europeans in Belgrade and added the 2019 World Cup victory in July.
R6 (mixed 50m air rifle prone SH1)
UAE's Abdulla Sultan Alaryani has been the king of the 50-meter distance. But the reigning world champion has not stepped up at the World Cups in Al Ain and Osijek. China's Yan Yaping and Zhang Cuiping upset him at his home World Cup earlier this year. He did not even make it to the elimination round at July's event, which was won by Natascha Hiltrop. Sydney 2019 would be Alaryani's chance to remind fans and rivals he is still relevant.
R7 (men's 50m rifle 3 positions SH1)
The event tests athletes' shooting abilities in the standing, sitting and prone positions. The mix seems to suit Abdulla Sultan Alaryani, who holds the 2018 crown and, unlike the R6, has shownd consistency at the World Cups this year. Jinho Park, Andrii Doroshenko and Radoslav Malenovsky will also try to find a place on the podium.
R8 (women's 50m rifle 3 positions SH1)
Again, 2018 champion Vadovicova will be the takedown target. Sweden's Anna Normann entered the scene at Cheongju 2018 when she finished second. After winning her first gold medal in the sport in Osijek, the Swedish shooter should be confident in her winning abilities.
R9 (mixed 50m rifle prone SH2)
As the most recent addition to the Tokyo 2020 Paralympic programme, the R9 has higher stakes. Teenager Kristina Funkova captured an emotional gold medal victory in Cheongju, and the Slovakian hopes she can repeat that next week.
The Sydney 2019 World Shooting Para Sport Championships run from 12-19 October. More information is available on the event website.