Tbilisi 2021: Legacy of Siamand Rahman lives on as Iran dominates heavyweight podiums
Aliakbar Gharibshi beats Paralympic champion and sets new world record before Ahmad Aminzadeh triumphs in his World Championships debut
05 Dec 2021
Imagen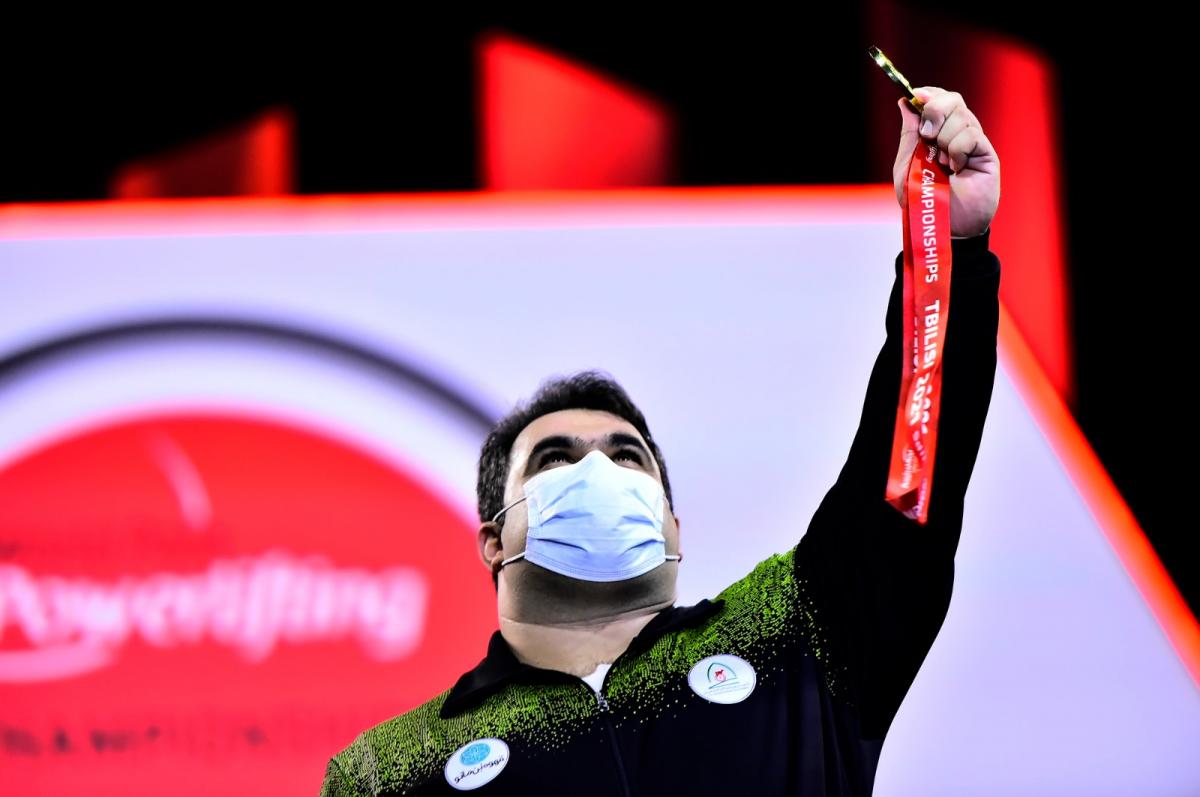 ⒸHiroki Nishioka for World Para Powerlifting
By Emma Logan and Filip Ozbolt | For World Para Powerlifting
It was a gripping shootout for the medals as Iran topped the podium in the final two individual events of the World Championships in Tbilisi on Sunday (5 December). 
The Asian country showed that the legacy of the late Siamand Rahman lives on with powerful performances in the heavyweight categories collecting four out of the six medals up for grabs in the penultimate day of the competition. 
A new champion was crowned in the men's up to 107kg. 
At his first ever World Championships Iran's Aliakbar Gharibshi took gold with a second round lift of 245kg.
Mongolia's Sodnompiljee Enkhbayar produced a solid effort in trying to defend his world title but the Paralympic champion fell short by 1kg and so settled for silver.
Fuelled with his winning momentum Gharibshi looked to top his world's best status with a new world's best mark. 
With a hefty fourth lift of 251kg, Gharibshi leaves Tbilisi with the Worlds' crown and new world record, stripping Enkhbayar of both these previous achievements. 
"I can sleep well tonight. I feel really delighted deep inside my heart," said Gharibshi.
"I have lost to the Mongolian athlete before so I was under pressure but I'm very happy that I was strong enough to fight back and set the scene for further development and improvement to get my gold medal." 
After finishing fourth at the previous two World Championships, Saman Razi finally found himself on the podium. 
Razi collected bronze for Iran with a best lift of 235kg. 
Iran retain gold in the men's over 107kg
Whilst the final individual event of the Worlds was filled with excitement, it was also a moment to remember the world's strongest powerlifter, Siamand Rahman, the world record holder from Iran who passed away in 2020. 
The title remains in his country though as Ahmad Aminzadeh raised the bar to a whopping 255kg, to win gold on his debut World champs. 
"The late Siamand Rahman was an epic athlete in the history of the Paralympic Games and we miss him so, so, so very much," said Aminzadeh following his victory. "He will remain the iconic figure in our competitions." 
Despite finishing with an unsuccessful attempt his compatriot Mahdi Sayadi landed alongside him on the podium, to add a silver to Iran's collection (247kg). 
Third place went to RPC's Konstantin Matsnev, who put in a mighty performance to create a new European record of 243kg on his way to bronze. 
This concludes the individual events at the World Championships with the Mixed Team competition closing the event on Monday (6 December).
The last day of the Tbilisi 2021 World Championships will be streamed live on the World Para Powerlifting website and Facebook page.
Complete schedule and results are available at the Tbilisi 2021 microsite.