Teenage Talents: Hunter Woodhall
In the third edition of 'Teenage Talents' US T43 sprinter Hunter Woodhall reveals just what drives him to succeed.
09 May 2017
Imagen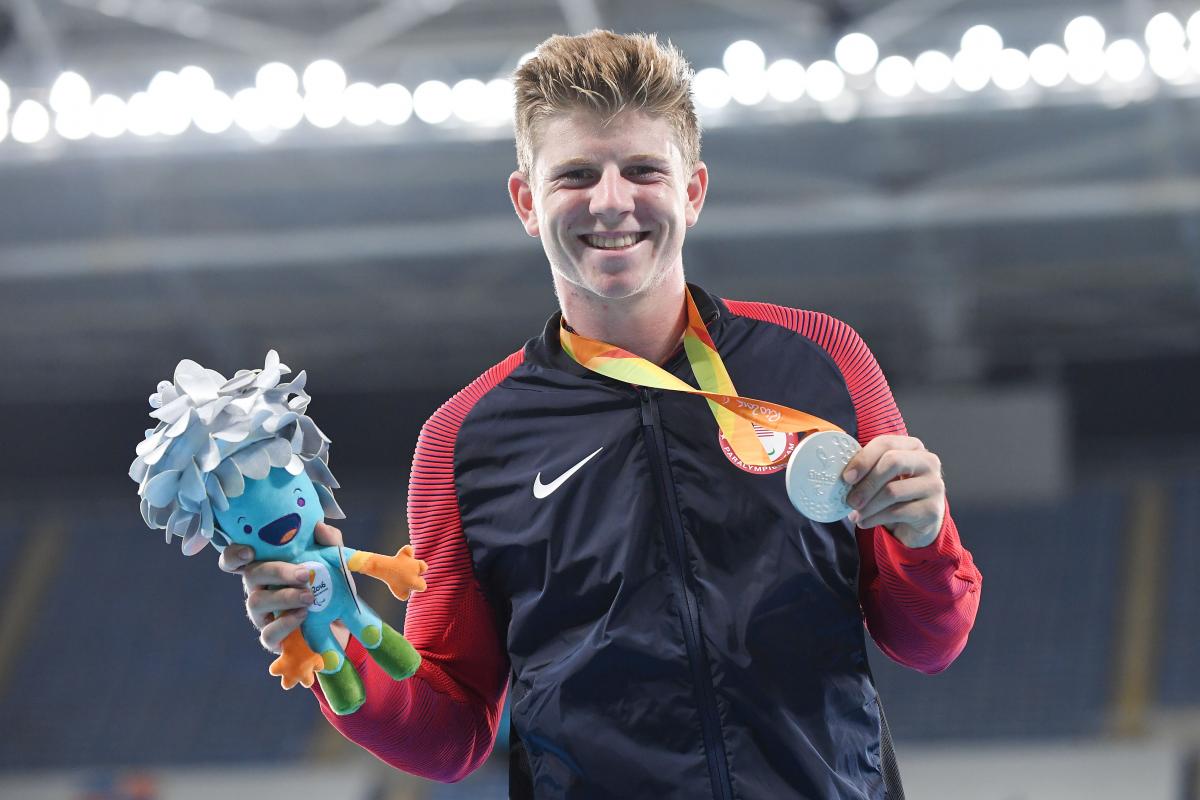 ⒸGetty Images
US amputee sprinter Hunter Woodhall likes proving people wrong.
Born with fibular hemimelia, his parents were told he would be unable to walk. At 11-months-old, both of his legs were amputated below the knee.
Now, at just 18-years-old, he has world and Paralympic medals; he is the Utah State High school champion and 400m record holder. And he's hungry for more.
"It's about changing the perception of what's possible," explained the T43 Para athlete.
"I go out every single day to prove to those people that it doesn't matter where you come from. You can do some amazing things as long as your head is in the right place and you have the work ethic to back up what you are doing.
"I want people to know that regardless of the situation you were given, none of those things matter."
As a youngster, Woodhall just wanted to fit in. it wasn't always easy, but his determination was apparent from an early age as he joined in playing football, baseball and basketball.
He explained: "I was always just trying to follow my brothers' lead. Both of them are older than me and they both did sport and I kind of just wanted to be like them.
"I had a very difficult time fitting in when I was younger, so the best way to feel like I was a part of something was doing what my brothers did.
"My family did a lot of five-kilometre fun runs and I wanted to feel like I was a part of something with them, so I started doing races with them."
It wasn't long before track and field became an important part of his life.
"It was just something that I felt very comfortable doing; something that took me away from whatever was happening in the world - that didn't matter because I felt good," he added.
Woodhall was just 16-years-old when he made his senior international debut at the 2015 World Championships in Doha, Qatar, winning 400m T44 silver and 200m T44 bronze.
"Taking my first international trip I got to experience all those new things. It was a whole new adrenaline for me, I liked it a lot. It just made me hungry for more.
"It lit a spark in my head about what was possible and I started to understand what I was capable of. It motivated me to work a little bit harder," said Woodhall, who is in his final year at Syracuse High School in Utah.
A place on the US team for the Rio Paralympic Games followed – Woodhall was the youngest in the field in both the 200m and 400m T44 finals, winning silver and bronze respectively.
But he still wants more.
"It was absolutely amazing, especially being the youngest in the race. But at the end of the day I didn't do what I wanted to do, which isn't such a bad thing. It motivates me going in to London this year and Tokyo 2020.
"I know what it's like to lose and I know what it's like to not be on top of the podium, and I know that that's not what I ever want to do again. It's just not enough for me to be second or third."
In April Woodhall broke the Utah State High School 400m record, clocking 46.56 seconds – 0.14 seconds faster than the time he ran at Rio 2016.
Taking to social media after the race, he wrote:
"This was so much more than putting my name in the books... A demonstration that no matter what situation you were given or who you are, you CAN do amazing things.
"Don't let anyone stop you from accomplishing your goals. This process has taken place over six years, and you have to embrace the process and motivate yourself each day. This was a step in the right direction, but I'm not done."
He may have set himself big targets, but those around him will know by now that Woodhall is more than capable of achieving his aims.
Expectations are growing: Perhaps Woodhall won't have to keep proving people wrong, but instead prove them right.
The London 2017 World Para Athletics Championships will take place between 14-23 July. To buy tickets, please click here.