Teenage talents: Great Britain's Kare Adenegan
Hear from one of the next generation of stars in Para athletics, starting with the British T34 racer.
14 Mar 2017
Imagen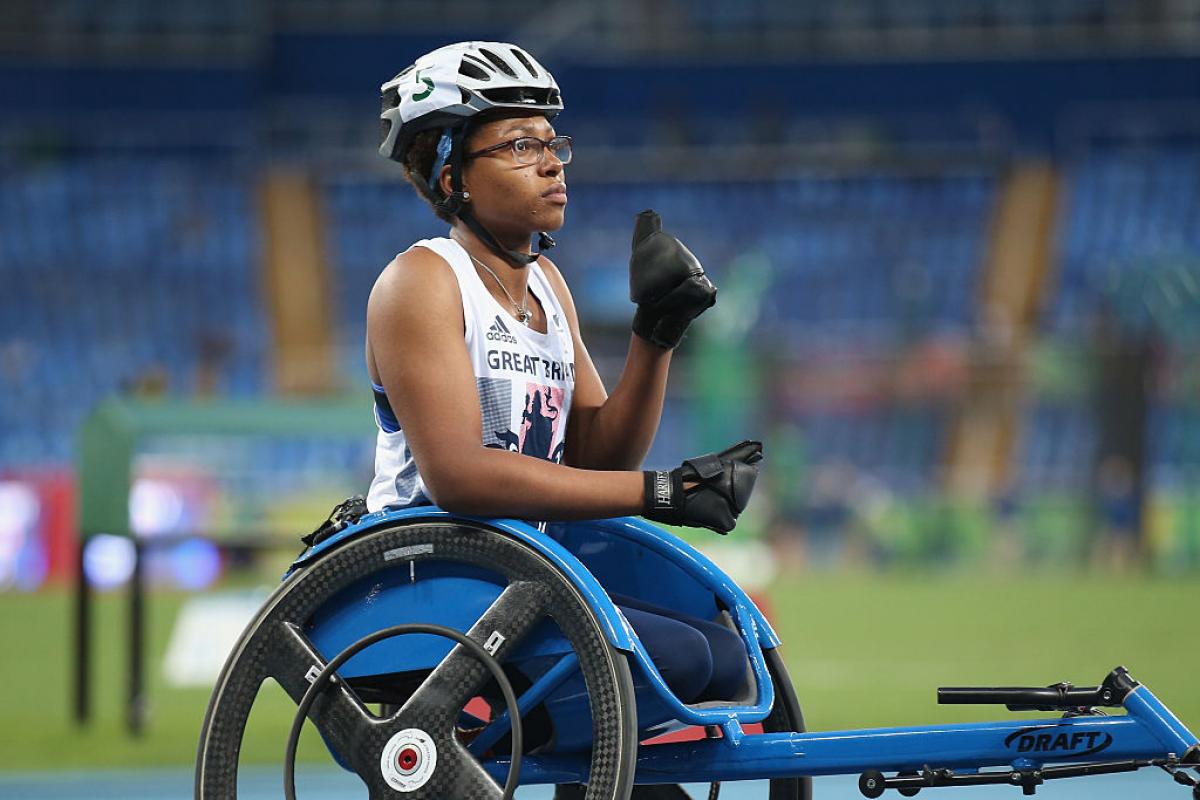 ⒸGetty Images
By IPC
"The big dream is to win gold one day but at the moment it's just about focusing and gaining experience and trying to finish on the podium."
In a new monthly series 'Talented Teenagers' we hear from the next generation of young stars who have already shown the capacity to excel on the world stage. Rio 2016 may be behind us, but for this group of talented teens, Tokyo 2020 is already a thrilling prospect.
__
Great Britain's T34 wheelchair racer Kare Adenegan made headlines in 2015 when she beat her teammate, the multiple world and Paralympic champion Hannah Cockroft, across the line in a 400m race in Newham, London.
Only 14 years-old at the time, Adenegan was the first person to beat Cockroft in seven years.
But while the result put Adenegan's name firmly in the spotlight, the teenager remained steadfastly unfazed.
"It did give me a bit of confidence but I tried not to dwell on that too much because on that day I just focussed on my race. If anything, it just taught me that I race the best when I just focus on what I'm doing," explained Adenegan.
"Of course it happened, but it just made me more focused to go in to a race and zone out and do my own thing.
"I focus on what I'm doing, I focus on competing for myself, I focus on improving myself. I focus on achieving my targets, so (beating Cockroft) is the last thing on my mind."
In fact, it was watching athletes like Cockroft compete at the London 2012 Paralympic Games that led the Coventry-based youngster to take up Para athletics.
"I didn't really know a lot about wheelchair racing – I'd heard of it before, but I didn't really understand how it all worked," said Adenegan, who was just 11 at the time of the London Games.
"After watching people like David Weir and Hannah Cockroft compete, that's when I realised that it was actually a sport out there."
It didn't take long before Adenegan was taking part in races around the country; competing on the international stage was just a matter of time. Not that she had to wait long.
In less than two years, Adenegan went from sitting in her living room, watching Paralympic stars on television, to lining up on the track alongside the best in the world. More significantly, she was holding her own.
Adenegan competed in the 2015 World Championships where she won 400m and 800m T34 bronze; at the Rio 2016 Paralympic Games, she won one silver and two bronze medals.
By the time Tokyo 2020 comes around, the young Briton will be 19 – more experienced, physically stronger and undoubtedly faster.
It's an exciting prospect, and one that Adenegan is well aware of. But as with her victory over Cockroft, the young Brit remains level-headed.
"I do think about that quite a bit – I feel like in Tokyo I should be hopefully at my strongest because I'll be 19 then, so I'll be an adult," she acknowledged.
"I'm really excited for the future. I know the four years are going to fly by and I'm just excited about getting stronger and improving.
"The fact that I've already got world and Paralympic medals, I want to continue to gain more. But it's always important to gain experience. I know there is so much more that I don't know about the sport."
Of course, Adenegan is not the only teenager making a name for herself in the T34 class. The USA's Alexa Halko is only six months older and came away with two silver medals and a bronze from Rio 2016.
For Adenegan, there's no doubt that Halko's presence provides a useful guide with which to measure her own progress.
"It does help me a lot as I have no excuses when I am competing against her," she explained.
"There is not a lot of difference between us. And it's really nice just being in the call room as well – we don't talk a lot but because we have known each other for a while – we did the World Juniors together – so I did compete against her before we did senior events. Having her there pushes me on as well."
Adenegan may be just 16 but her maturity still shines through.
"Obviously, the big dream is to win gold one day but at the moment it's just about focusing and gaining experience and trying to finish on the podium. That's the most important thing."
Adenegan is likely to one of 1,300 Para athletes set to compete at the London 2017 World Para Athletics Championships between 14-23 July. To buy tickets, click here.