Terezinha Guilhermina – 'How I got into Para athletics'
She trained with Usain Bolt last year, but how did the Brazilian T11 sprinter get into the sport she has dominated in recent years?
20 Aug 2016
Imagen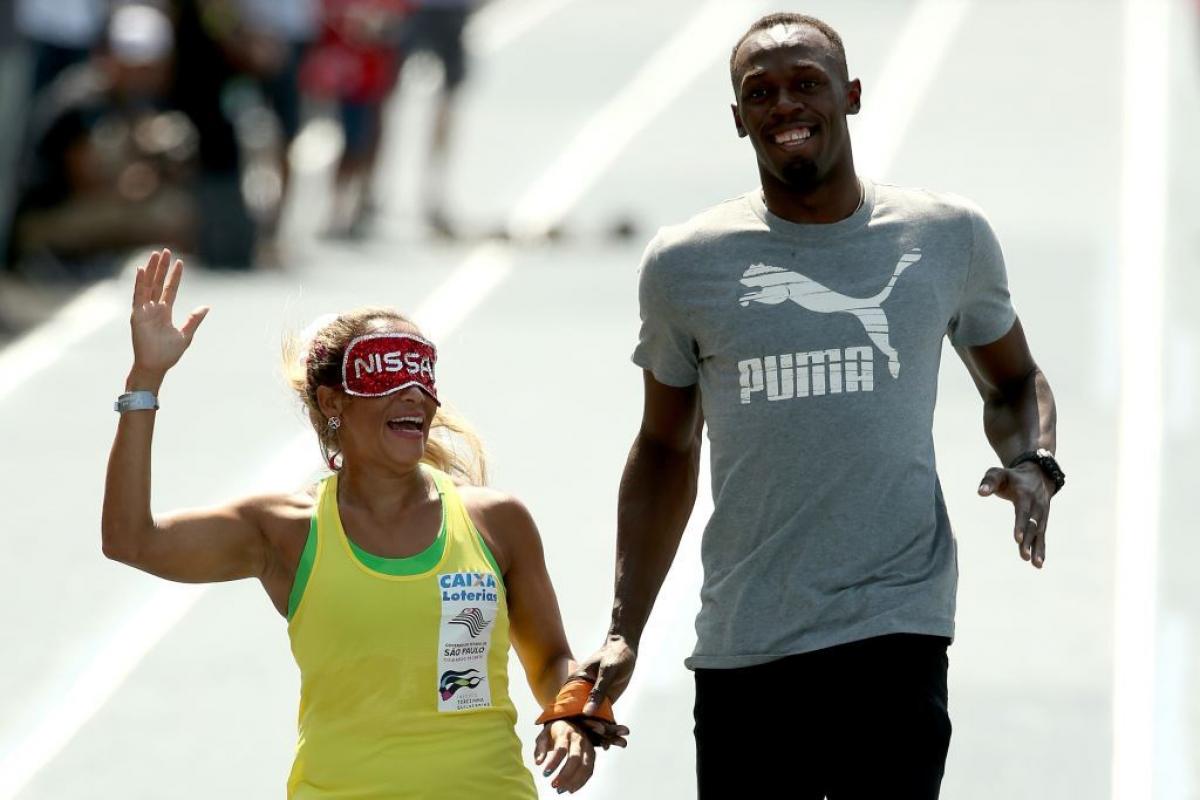 ⒸGetty Images
By Rafael Mendoza
The experienced Brazilian and multiple Paralympic champion Terezinha Guilhermina has been a key name to watch in the visually impaired sprints since making her Paralympic debut at the Athens Games in 2004, where she won 400m T12 bronze.
The 37-year-old holds the world records in the 100m and 400m T11, and hopes to break more records on home soil at Rio 2016.
In the last of the monthly series 'How I got into…' Guilhermina talks about how she entered in to the world of sport and how her life has changed since she became a Paralympic sprinter.
---------
In 2000 at the age of 22, and after finishing her bachelor's degree in psychology, Terezinha Guilhermina found herself in a situation typical of many graduates around the world.
"It is really hard to get a job after getting out of college. I couldn't find a job, because there were no jobs for psychologists," she explained.
The lack of jobs in her native Betim in Minas Gerais led her try something different, something she never thought she was going to do in the years to come.
"The Government of my city started a sports program for people with impairments, and I decided to try," added the Brazilian – although it wasn't athletics that she tried first of all.
"I started in swimming because at that time I had a swimsuit and I didn't have the resources to buy athletic shoes," she recalled.
"When I got home after my first swimming practice, I told my sister that I wanted to run, not to swim, but that I needed athletic shoes. My sister immediately replied that she had a pair and asked me if I wanted them. Of course I accepted them."
The following day Guilhermina arrived at the training complex ready to start running - and with no interest or desire to keep swimming.
"I told the coach that I really wanted to run, that I was not going back to the pool. He sent me to the track and that's when my career started.
"My first competition was a five kilometre race. At that time, all that I wanted was to run, I didn't care about the distances." she said.
Guilhermina finished in second place and stood on the podium for the first time in her career. She remembers it as the moment when she decided to be the best sprinter in the world:
"The prizes for the first three places were 100, 80 and 60 Reais respectively (approximately 20-30 Euros). When I got my prize, I felt like a millionaire.
"After the race I went straight to the market to buy my favorite yogurt, because when I was a little girl my parents never had the resources to buy my favorite foods," she said.
"When I got the yogurt I knew I was accomplishing one of my dreams, which was to be eating my yogurt after winning a race. At that moment I promised myself to keep training hard and run faster to become the best sprinter in the world. I didn't want to struggle to buy shoes or my favorite foods anymore."
Guilhermina made her international debut at the World Championships in Lille, France in 2002, and went on to become one the most successful sprinters in the history of Para athletics - winning numerous medals in Paralympic Games, Para Pan American Games, IPC Athletics World Championships, international and local competitions, as well as breaking all national and global records in the 100m, 200m and 400m T11.
Still, competition is not getting any easier – as she found out at last year's World Championships where she lost her three world titles from 2013 to China's young talent, Cuiqing Liu.
Today, at 37, she admits that she must train harder because the new generation of athletes are young and also very strong.
"When I started I was 22 and I was one of the youngest ones; today many of my opponents are 18-years-old and have excellent times," acknowledged Guilhermina, who will be hoping that racing at Rio 2016 can inspire her to top the podium once again.
__
Sport fans from around the world can now buy their Paralympic tickets for Rio 2016 from authorised ticket resellers (ATRs)
The IPC's Global ATR is Jet Set Sports, and Rio 2016 tickets and packages can be purchased on the CoSport website.
Residents of Brazil can buy 2016 Paralympics tickets directly from the Rio 2016 website.
Visa International is the exclusive payment card and the official payment system for the Paralympic Games.