Three world records smashed and one equalled in Beijing
On the first day of the IPC Athletics Grand Prix new world records were set in two relay events as well as the javelin, whilst a long jump record was equalled.
22 Apr 2016
Imagen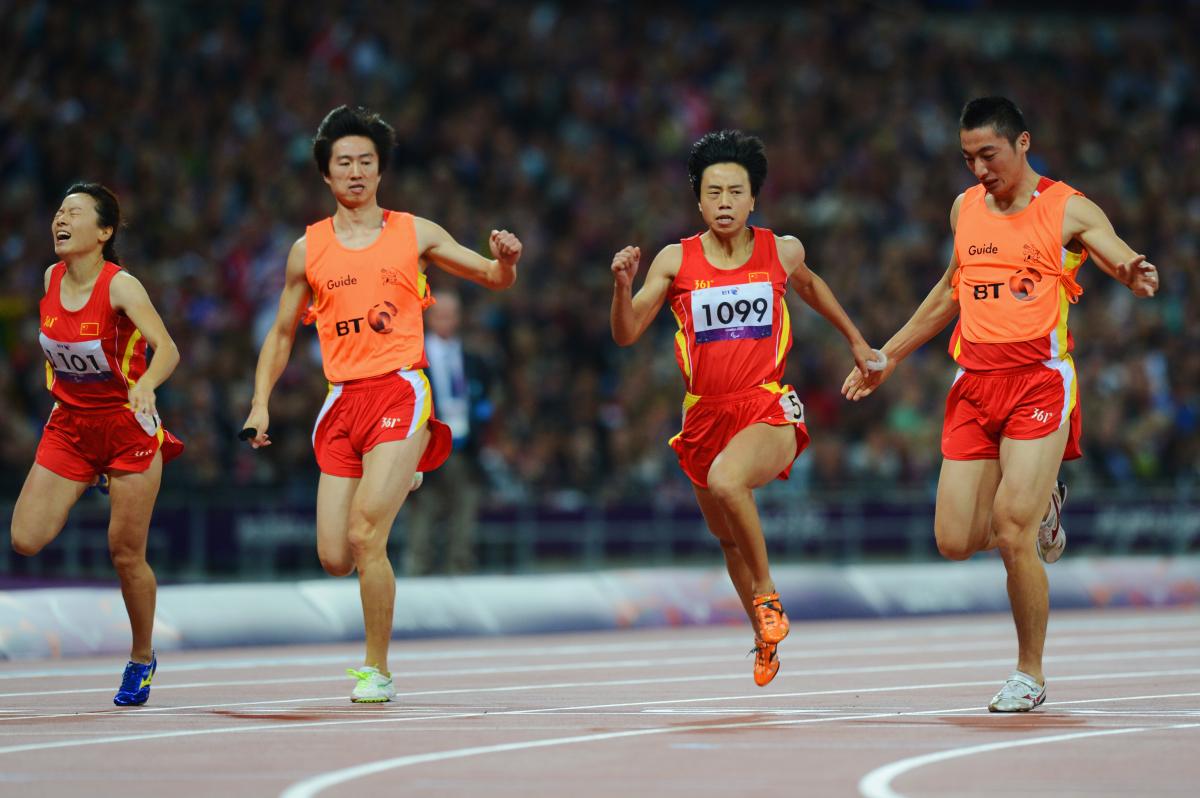 ⒸGetty Images
Three world records were set and one long standing one equalled on Friday (22 April), the first day of competition at the IPC Athletics Grand Prix in Beijing, with Chinese athletes leading the way on home soil.
On the opening morning of the year's fifth Grand Prix, two world records were set in the women's 4x100m relay by Chinese teams.
The T11-13 team of Guohua Zhou, Juntingxian Jia, Daqing Zhu and Cuiqing Liu crossed the line in 48.33 seconds to lower the previous record set at this meeting last year by 0.16 seconds. A new record was also set in the T35-38 class as Fenfen Jiang, Junfei Chen, Yingli Li and Xiaoyan Wen (51.52) took 0.70 off the previous best set at last October's World Championships by Great Britain.
In the field, world bronze medallist Yuping Zhao (42.73m) broke the five-month old women's javelin F12 world record by 7cm with a stunning fourth round throw.
Jumping into a -1.4m/s headwind, Xiaoyan Wen leapt 4.92m in the women's long jump T37 to equal the 15-year-old world record of Australia's Lisa McIntosh.
In addition to being part of the record breaking T11-13 relay team, Cuiqing Liu showed she will be a force to be reckoned with at Rio 2016 by winning the 400m T11. The triple world champion stopped the clock in 56.91, a time no athlete apart from herself has gone faster than since August 2007 when Brazil's Terezinha Guilhermina set the world record of 56.14.
World champion Hongzhuan Zhou (3:49.60) won the women's 1,500m T54 whilst there was a small surprise in the men's 400m T53 as Yufei Zhao (51.10) edged out world champion Huzhao Li (51.15) in a thrilling finish.
Other Chinese winners over 400m included Lu Li (59.53) in the women's T20/46/47, Xiaoyan Wen (1:04.75) in the women's T37, Yifei Yang (59.00) in the men's T36 and Jianwen Hu (52.54) in the men's T38.
Hongzhuan Zhou (57.19), a world silver medallist from last October over 400m T53, won her race this time round in a time that would have won her gold at Doha 2015.
Another world silver medallist, Junfei Chen (1:08.47), claimed victory in the women's T38 as did Doha 2015 bronze medallist Jialong Wu (54.50) in the men's T37 class.
Non-Chinese winners on the track included Malaysia's Muhamed Haisham Muhamad Ashraf (4:24.90) in the men's 1,500m T20/28/47, Uzbekistan's Fakhriddin Khamarev (50.96) in the men's 400m T12, Malaysia's Nasharuddin Mohd (51.63) in the men's 400m T20 and Kazakhstan's Islam Salimov (53.86) in the men's 400m T13.
Japan's Yusuke Terada (1:21.04) beat his teammate Yuhei Yasuno (1:29.97) in the men's 400m T33/34 and South Korea's Jun Lee Bong (1:10.01) finished first in the men's 400m T51/52.
Russia's T54 racer Alexey Bychenok was the victor over 400m (48.44) and 1,500m (3:23.82), Papua New Guinea's Samuel Nason (53.84) took the tape first in the men's 400m T47 and Libya's Hiba Alsafadi (7:30.62) completed the women's 1,500m T13.
In the field, a number of Chinese throwers achieved world leading distances for the year.
Amongst them were Guoshan Wu (44.63m) in the men's discus F57 and Liwan Wang (18.36m) in the women's discus F54.
In other discus events, there were wins for Japan's Masahiro Suzuki (14.15m) in the men's F34, Vietnam's Thi Hai Nguyen (24.13m) in the women's F57 and her compatriot Be Hau Nguyen (36.77m) in the men's F55/56.
The Uzbekistani pair of Nozimakhon Kayumova (43.31m) and Aleksandr Svechnikov (62.43m) extended their world lead distances for the year in the women's and men's F13 classes respectively.
Winners in javelin events included South Korea's Kiwon Nam (48.18m) in the men's F46, Singapore's Muhammad Diroy Noordin (28.24m) in the men's F40, Syria's Sawsak Bassam (46.40m) in the men's F42 and India's Poongodi Charles Sahayaraja (10.34m) in the women's F42.
World champion Pengxiang Sun (40.66m) in the men's F41 and world silver medallist Na Mi (29.83m) in the women's F37 also won their javelin events as did Dongquan An (45.03m) and Pengkai Zhu (53.74m) in the men's F38 and F12 classes respectively. Hongmei Zhao (39.29m) won the women's F46.
The athletes victorious in men's long jump events were world silver medallist Mingyo Chen (6.85m) in the T12 class, Yifei Yang (5.43m) in the T36, Jialong Wu (5.39m) in the T37 and world champion Jianwen Hu (6.18m) in the T38; all four winners were from China.
The only two non-Chinese long jump winners were Chinese Taipei's Hui Yang Chuan (6.16m) in the men's T11 and Japan's Uran Sawada (4.87m) in the women's T11/12.
Finally, Fuliang Liu rounded off a busy first day of action with a leap of 13.41m to claim victory in the men's triple jump T47.
More than 200 athletes from 21 countries are in Beijing for the IPC Athletics Grand Prix which runs through to Sunday (24 April).
Related Documents