Tokyo Paralympics: Para athletics day 2 preview
Paralympic legends and newcomers take centre stage on 28 August at the National Olympic Stadium in the Japanese capital
14 Aug 2021
Imagen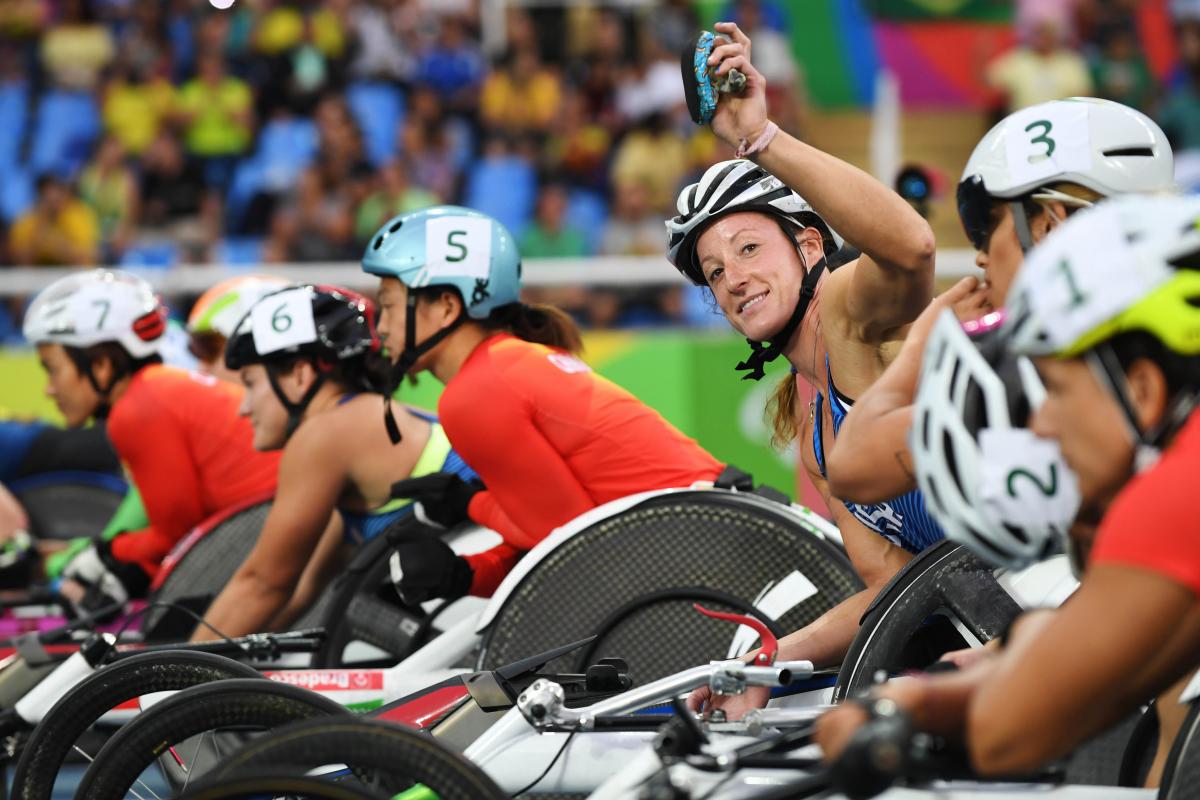 ⒸAtsushi Tomura/Getty Images for Tokyo 2020
By World Para Athletics
The second day of action in the Para athletics programme at the Tokyo 2020 Paralympic Games will kick off at 9:30 (Tokyo time) on Saturday, 28 August.
The first medal event will be the women's discus throw F57 final. Algeria's Nassima Saifi will be looking at adding a third Paralympic gold to her already extensive CV.
Saifi is a five-time world champion in the event (from Christchurch 2011 to Dubai 2019) and topped the podium at London 2012 and Rio 2016.
China's Mian Xu is the silver medallist from the Dubai 2019 Worlds while Safia Djelal – bronze medallist in Dubai – can give Algeria another medal at the National Olympic Stadium.
The men's shot put F12 is the first male event on day two and it is likely to be another battle between Spain's Kim Lopez and Ukraine's Roman Danyliuk. 
Lopez is the defending Paralympic champion but had finished behind Danyliuk in two World Championships and one European. That changed at the Bydgoszcz 2021 Euros in June when Lopez took gold with the Ukrainian settling for silver.
Iran's Rio 2016 silver medallist and London 2017 world champion Saman Pakbaz will try to pull a surprise. 
The men's 5000m T13 will see Australia's world champion Jaryd Clifford in search of his first Paralympic gold. The 22-year-old made headlines in 2018 when he took part in the World Athletics U-20 Championships against able-bodied runners in Tampere, Finland.
Gold medallist from Dubai 2019, he will be facing the two athletes who shared the podium with him in UAE, Spain's Yassine El Ataby (silver) and RPC's Aleksandr Kostin (bronze).
London 2012 champion and Rio 2016 silver medallist El Amin Chentouf of Morocco will be going for his third Paralympic podium.
Next on the track will be one of the highlights of the morning session. The women's 5000m T54 will be the first race for Paralympic legend Tatyana McFadden in Tokyo. 
She has 17 Paralympic medals to her name, including seven gold. One of them came in the women's 5000m T54 at Rio 2016. McFadden has the best time of the season in the race but will have a huge task to defend her title. 
Australia is another medal candidate with London 2017 world champion Madison de Rozario. She finished second at the Dubai 2019 Worlds behind China's Lihong Zou who will also be looking for gold in the race.
Switzerland's Manuela Schaer is the world record holder and has the third best time of the season. The second-best in the ranking in 2021 is USA's Susannah Scaroni.
Another name to watch is the young European champion Merle Menje of Germany. The 16-year-old also competes in snow sports in Para cross-country.
The men's 1500m T46 will come next. Two-time Paralympic champion Samir Nouioua of Algeria will be defending his title from Rio 2016 against Dubai 2019 world champion Hristiyan Stoyanov from Bulgaria
Stoyanov finished second in this year's European Championships in Bydgoszcz behind RPC's Aleksandr Iaremchuk, the bronze medallist from Dubai 2019.
Uganda's David Emong is another name to look out for as the London 2017 world champion and Rio 2016 Paralympic silver medallist. 
The first jump event of the day will also set to be one of the most fiercely contested of the Para athletics programme. 
The women's long jump T64 will line up Rio 2016 Paralympic champion and world record holder Marie-Amelie Le Fur from France against the Bydgoszcz 2021 European champion Fleur Jong and Japan's Dubai 2019 world champion Maya Nakanishi.
Other medal contenders are Marlene van Gansewinkel of the Netherlands, who finished second in Dubai and Bydgoszcz, and London 2017 world champion Stef Reid from Great Britain – who has two Paralympic silver in the long jump.
Out on the field, Uzbekistan's Nozimakhon Kayumova will be defending her Rio 2016 title in the women's javelin F13.
She took silver at the London 2017 and Dubai 2019 World Championships behind China's Yuping Zhao. The Chinese thrower will be going for her first Paralympic medal after finishing fourth at Rio 2016.
Anna Kulinich-Sorokina from RPC is the Dubai 2019 silver medallist who will be coming to Tokyo as the European champion from Bydgoszcz 2021.
The women's 400m T11 will wrap up the morning session. China's Cuiqing Liu is the defending Paralympic champion and two-time world champion (Doha 2015 and London 2017). 
She had to settle for silver in the last World Championships though as Brazil's Thalita Simplicio finished ahead of her to take her first world title. 
Venezuela's Sol Rojas, Rio 2016 silver medallist, has the best of time of the year in the women's 400m T11. 
Afternoon session
The men's javelin F57 is the first event in the afternoon on 28 August. 
Brazil's Cicero Valdiran is the Dubai 2019 world champion and world record holder. Fourth place at home in Rio he will be keen to add a Paralympic medal to his collection.
Amanollah Papi is another thrower looking for a first Paralympic podium following his gold at the London 2017 World Championships and silver at Dubai 2019.
In the men's club throw F32, Rio 2016 Paralympic champion and world record holder Maciej Sochal from Poland will have to battle against throwers who beat him in the more recent major championships.
Algeria's Lahouari Bahlaz has four world titles, including the last two World Championships (London 2017, with silver to Sochal, and Dubai 2019, when Sochal finished with bronze).
Czech Republic's Frantisek Serbus won gold in this year's European Championships with Sochal in second and Greece's Athanasios Konstantinidis (Rio 2016 silver medallist) in third.
The first track event in the afternoon session is set to be a very tight contest for the podium in the women's 1500m T13. Tunisia's Somaya Bousaid is the defending Paralympic champion and two-time gold medallist in the race in the Games (Beijing 2008 and Rio 2016).
Dubai 2019 world champion Fatima El Idrissi of Morocco is another gold medal contender while two-time European champion Greta Streimikyte of Ireland has the best time of the year. 
New Zealand's Lisa Adams will try to emulate her Olympic multi-medallist sister Valerie when she makes her Paralympic debut in the women's shot put F37. 
The Dubai 2019 world champion and world record holder, Adams had Valerie as her coach in UAE. Her sister has just recently clinched her fourth Olympic medal in shot put at Tokyo 2020. 
China's Mi Na will be her main rival as a two-time Paralympic champion and four-time World Championships gold medallist. She finished second to Adams in Dubai and also took silver at the Rio 2016 Games.
The National Olympic Stadium will see two back-to-back 100m T38. First the men's 100m final with three sprinters who made the podium at Dubai 2019 as favourites.
China's Dening Zhu took gold in the last World Championships followed by Great Britain's Thomas Young – who successfully defended his European title at Bydgoszcz 2021 in June. 
Third place at Dubai 2019, Australia's Evan O'Hanlon is a Paralympic legend in his country with two gold (Beijing 2008 and London 2012) and one silver (Rio 2016) at the Games. 
Great Britain's Sophie Hahn is the name to beat in the women's 100m T38. She has not lost a major championships gold since the Swansea 2014 European Championships. 
The world record holder will be defending her Rio 2016 gold and is a four-time world champion and three-time European champion in the event. 
Hungary's Luca Ekler will make her Paralympic debut as a strong medal contender alongside RPC's Margarita Koncharova.
The men's long jump T63 world record holder Leon Schaefer of Germany will be going to his second Games but still in search of a Paralympic medal. His main opponent is likely to be the jumper he beat for gold at Dubai 2019, Denmark's Daniel Wagner.
Three-time Paralympic medallist Atsushi Yamamoto is one of Japan's medal hopes in the event alongside Junta Kosuda.
The men's 5000m T54 is the penultimate race of the day with world record holder Daniel Romanchuk of USA eager to take his first Paralympic medal. 
But in order to do that he will have to beat Thailand's reigning Paralympic champion Prawat Wahoram, who since Rio 2016 added the Dubai 2019 World Championships gold to a CV that already included other two Paralympic titles.
The Swiss Silver Bullet Marcel Hug is a two-time Paralympic champion who is yet to top the podium in the 5000m. He finished second to Wahoram in Rio.
Great Britain's David Weir and Canada's Brent Lakatos are other ones to watch in the race. 
The last event on day two will be the women's 400m T47. South Africa's Anrune Weyers is the Dubai 2019 world champion, world record holder and has the best time of the year. 
She took silver in the race at Rio 2016 behind China's Li Lu, whom she beat for gold at Dubai 2019. Lu is also a London 2017 world champion.
Japan's Sae Tsuji is another medal hope for the hosts as the bronze medallist from Rio 2016 and London 2017. She has the second-best time of the year, with Lima 2019 Parapan American champion Lisbeli Vera of Venezuela appearing in third.
Complete schedule and results from Para athletics events at Tokyo 2020 will be available on Paralympic.org.