Tomoki Sato wants to inspire with home gold
'I want people to see our performances and feel that anything is possible'
13 Jul 2021
Imagen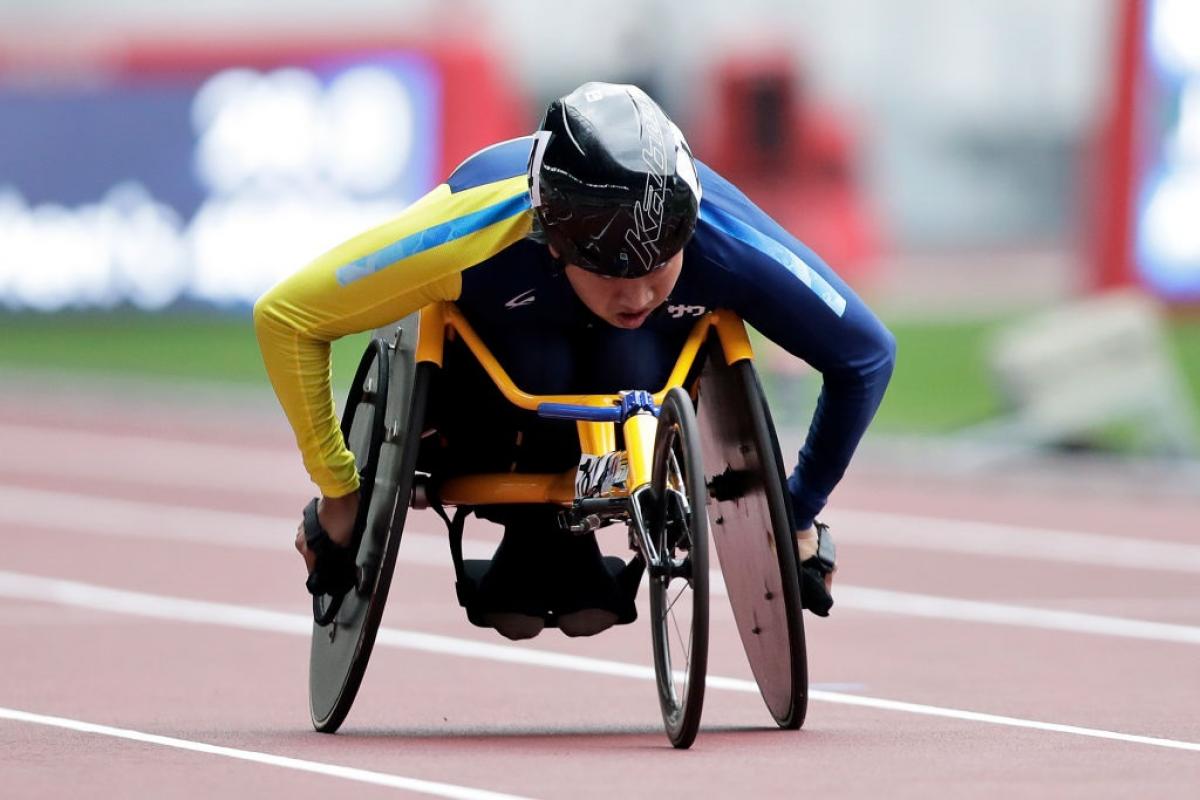 ⒸKiyoshi Ota/Getty Images
By Tokyo 2020
Tomoki Sato's speed accelerates as he dashes down the final stretch of the track. His lead opens up as he turns the last corner and crosses the finish line ahead of the chasing pack. The result is a familiar one for the four-time world record holder.
In the 2019 World Para Athletics Championships, Sato conquered two events, the men's 400m T52 and 1500m T52. "Each race I take part in, my time improves. In other words, I exceed my own limit and it becomes addictive. It's in that moment that I feel I can never quit this sport," explains Sato.
After graduating from high school, Sato moved from his home in Shizuoka to the capital Tokyo to become an actor in musicals. Around April 2010, he noticed that at times he felt weak in his lower body.
He didn't think much about it because after taking some time off to recuperate, he would get on with his life as usual. But that fall, he suddenly lost consciousness and was rushed to the hospital. He was left in a wheelchair, and it took a further 18 months, and visits to several hospitals, before he was diagnosed with myelitis, which is an inflammation of the spinal cord which can lead to paralysis.
The news left Sato demotivated and he spent most of his time at home. But his life changed when he watched the London 2012 Paralympic Games. The image of the athletes exerting themselves on the world's biggest stage inspired him.
"This is what I'm going to do," he thought. Sato set a goal to compete in the Rio 2016 Paralympic Games and win a gold medal. He sought help from people around him to find a a suitable sports' wheelchair that he could rent and set out to practice.
"Before I knew it, I was taking action," he said. "I immersed myself and was making steady progress. I was focused on how I should condition myself so that I could go to the Rio 2016 Paralympic Games."
MAKING HIS DEBUT IN A RENTED WHEELCHAIR
Sato's first race in December 2012 in Kanagawa Prefecture was in a rented wheelchair. He crossed the line in 12th place in 39min 12 sec. In a half marathon, he finished in 45th place in 1:23:47. The results may not be world-beating, but Sato felt positive that he had a chance to perform on the big stage.
"I finished with those results competing in a rented wheelchair. In practice, it took me about two and a-half hours to complete a half marathon, but I crossed the goal in just over one hour and 23 minutes. I realised I was good, and I had the talent for this."
When Sato started competing, his main target was road race events. In 2014, he took part in the Oita International Wheelchair Marathon after spending a year preparing for the race. His training paid off and he finished among the top contenders, but his time was more than 20 minutes slower than the winner. This got Sato thinking, "Although I'm steadily improving, there's only two years until the Rio 2016 Games. I have to do something. Maybe I need to change my training environment."
Sato had been training at his home ground in Shizuoka Prefecture, but the next year he moved to Okayama Prefecture to take classes at a vocational school. He continued to train and success came quickly. He won the 400m race for the first time at the 2015 World Para Athletics Championships in Doha, Qatar, and then went on to win two silver medals in Rio 2016 Paralympics, his dream stage.
Changing his training base after the result in the Oita marathon had been his turning point.
DIFFERENT APPROACHES REQUIRED FOR 400M AND 1500M
After Rio, Sato decided to focus on track events. He is now a promising contender in the 400m and 1500m events at the Tokyo 2020 Games. Both these events are considered middle distance races. In the 400m, the athletes remain in their own lane, whereas in the 1500m, the race becomes open with no lanes, and this difference requires a different approach.
"In the 400m, the key is to gain top speed at the final stretch, so the start is very important. Of course, the start is important in the 1500m too, but more than that you need stamina and endurance," he said.
In the 400m, having good reflexes when the start gun goes off and accelerating at speed are the key factors. It's not easy for Sato, whose left hand is paralysed, but he is determined to work on his start and improve his chances of winning.
To win the 1500m, Sato adopts interval and distance training to improve his stamina so that he can maintain top speed throughout the race. "No matter what strategy the other athletes have, I think I'll have the stamina to overwhelm them," he said. Sato plans to avoid the inner lane where it gets crowded and accelerate down the outer lane to race past the other athletes.
A BIG MOVE IN 2021: 'I'M REALLY ENJOYING MYSELF RIGHT NOW.'
The Tokyo 2020 Games were postponed to 2021 due to the coronavirus pandemic. In this historic year, Sato made an important decision about his career to sign a professional athlete contract with software company Morisawa Inc. With all the negative news related to the pandemic, Sato wanted people to see him working hard and chasing his dream so that he could deliver courage and hope to them.
"I can now concentrate on training and competing. More than ever, I also post on social media my thoughts and feelings as an athlete as I prepare for competitions. I'm really enjoying myself right now."
With the Tokyo 2020 Games approaching, Sato reflects on the past five years with a sparkle in his eyes: "I was nervous and excited the entire time in my first Paralympic Games at Rio 2016. I worked so hard to be part of the Rio 2016 Games, and to actually be there filled me with emotions.
"I think we have the opportunity to communicate the significance of the Paralympic Games because we are in the middle of the COVID-19 pandemic. Even in a normal situation, Para athletes are always faced with all kinds of challenges, but we maximise whatever potential we have left and achieve results. I want people to see our performances and feel that anything is possible."
Sato will be emotional at the starting line again at the Paralympics in Tokyo. He will be infront of his home nation, ready to capture the gold medal, his dream goal, which he just missed out on in Rio.