From Tokyo to Tbilisi: David Degtyarev
Kazakh athlete in search of his first world title three months after giving his country the first Para powerlifting Paralympic gold in history
12 Nov 2021
Imagen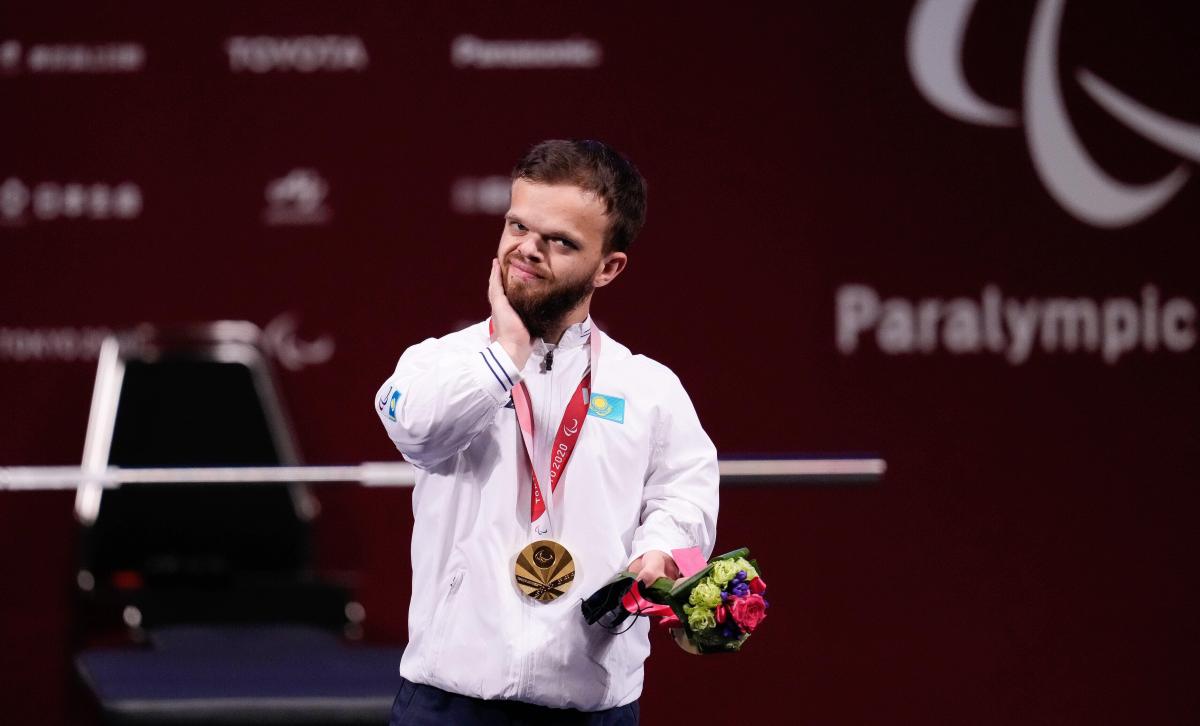 ⒸChristopher Jue/Getty Images
By World Para Powerlifting
With a little bit more than two weeks to go until the Tbilisi 2021 World Para Powerlifting Championships, From Tokyo to Tbilisi series continues to highlight 10 of the best athletes to watch in the Georgian capital.
The series kicked off last Friday presenting China's Paralympic champion and two-time world champion Lingling Guo.
Omar Qarada from Jordan and Mariana Shevchuk from Ukraine followed with David Degtyarev from Kazakhstan as the next in line to watch out for at the Tbilisi 2021 Worlds.
David Degtyarev, Kazakhstan
The 25-year-old Kazakh Para powerlifter won his first major international title at the Tokyo 2020 Paralympic Games in the men's up to 54kg category.
Degtyarev lifted 170kg in his first attempt at the Tokyo International Forum and locked up the gold medal. None of his rivals managed to lift more than 165kg.
Eventually, Degtyarev successfully lifted 172kg and 174kg in the last two attempts to prove his dominance over the opponents in Tokyo.
Historic success for Kazakhstan
Degtyarev's gold was the country's first-ever gold medal in Para powerlifting at the Paralympic Games, and only its second in Paralympic history.
"I am very happy. I have nothing else to say, but I am very happy," said the overwhelmed athlete born in Atbasar in 1996.
Degtyarev finished 9kg ahead of France's silver medallist Axel Bourlon. Asked about the secret that led to his dominant performance, the Kazakh athlete responded:
"My coach decides my strategy, and everything else is a secret, so I am not going to explain what my plan was. The most important thing is that I won."
After Tokyo, Degtyarev is on his way to participate in the Paris 2024 Paralympic Games where he will potentially defend his title.
"I still have three years to think about that, so we will see what happens once I am there," concluded the 25-year-old who is currently focused on Tbilisi 2021.
Major championships results
Degtyarev made his major international debut at the Mexico City 2017 World Para Powerlifting Championships where he finished seventh.
Only a year after, he was already winning medals on the international stage. First came the bronze medal at the Asia-Oceania Open Championships in Kitakyushu, Japan. Just a month later, Degtyarev won silver at the Asian Para Games in Jakarta, Indonesia.
In the summer of 2019, Degtyarev experienced the first big disappointment of his young career. He finished only fifth at the Nur-Sultan 2019 World Para Powerlifting Championships in his home country.
The weight of expectations on his chest was too big for then 23-year-old Degtyarev who made his country proud two years later in Tokyo.
Competition day in Tbilisi
The reigning Paralympic champion Degtyarev will take on the stage in Tbilisi on Monday (29 November), the second day of the World Para Powerlifting Senior Championships.
The men's up to 54kg category is first on the schedule with programme starting at 13:00 (local time) for Degtyarev.
He will go up against France's Axel Bourlon and Greece's Dimitrios Bakochristos, silver and bronze medallist at Tokyo 2020. They will be accompanied by Taha Abdelmajid, nicknamed the Egyptian Leopard, who won the bronze medal at the London 2012 Paralympic Games.
The World Championships start on 27 November with a one-day Junior Worlds and run until 6 December when the Mixed Team Event takes place.
Complete schedule, results, and records from the World Championships will be available on Tbilisi 2021 microsite.