Training Tuesday with Germany's Markus Rehm
The German long jumper holds every title there is and will be aiming for gold once again at Rio 2016.
02 Aug 2016
Imagen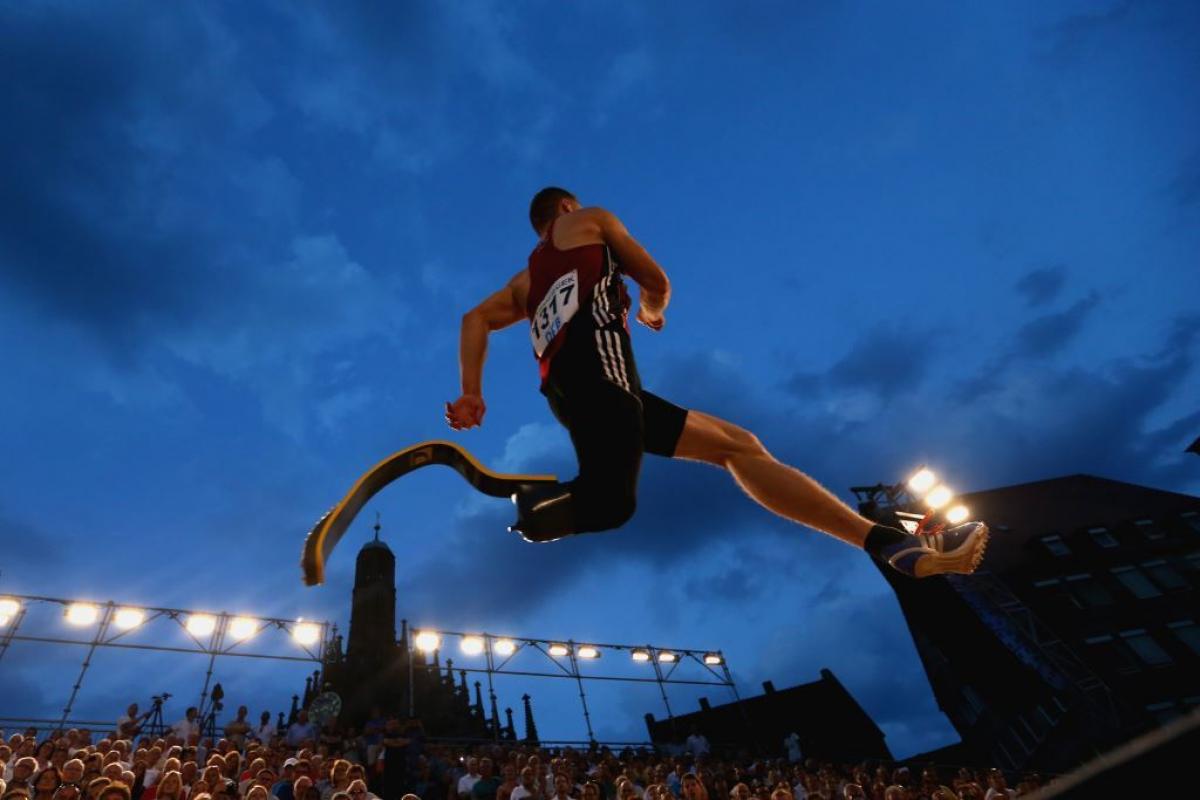 ⒸGetty Images
By IPC
Germany's Markus Rehm is the reigning world, Paralympic and European long jump T44 champion. He is the world record holder and the only T44 Para athlete so far to jump beyond the eight-metre mark.
Rehm's world record currently stands at 8.40m – achieved at last year's IPC Athletics World Championships. What does it take to be the best in the world?
Here he talks us through his #TrainingTuesday.
"Most of the time I get up around 07:30 or 08:00 in the morning. I do set an alarm as I'm not a morning person – I spend quite a long time in the evening answering e-mails, or doing other stuff on the computer, because by the time I'm back from training and had dinner it is quite late. So I sleep a bit longer in the morning. I definitely don't leap out of bed - I need some quiet, peaceful time to relax and get up slowly.
For breakfast, most of the time I go for cereals. I love to make a proper breakfast with different fruits - blueberries or raspberries, or whatever I can get that is in season. I'll add other stuff like chia seeds – all the trendy food! I enjoy a lot of variety.
Then I go to training. We have a special coach here on Tuesday and Thursday mornings for stabilisation and balance – we do exercises to make your core stronger. That lasts about an hour. There are many exercises we do – for the sides of the body, not always the big muscles like you might work on in the gym. It's about training the smaller muscles, which is important and really useful for balance.
Next I do some sprints – short sprints, because I'm a long jumper. In winter they are up to 80 metres, and in the summer season when we are preparing for competitions it will be up to 30 or 40 metres. I run with weights – pulling perhaps 5kg plus the sledge.
Then I head back home and have a shower, then have some lunch. Nothing big, just a sandwich with some nice bread, or some fruits and a yoghurt which has a lot of proteins.
I have to hurry because straight after lunch I go to work. I work every afternoon – some things I can do at home, but otherwise I am in the office. There is always a lot to do so I don't get bored during the day!
I go back to training later – it depends what time my coach is available – maybe 16.30 or 17:00. I warm up before my coach arrives then we have our second training session.
Sometimes we just jump – maybe a technical session - after that we often go for relay training. Fortunately all the guys from the national relay team are in Leverkusen, so we can train together every week which is great.
Back home I will cook dinner – I cook myself every day. I'm not sure if I'm a good cook, but there are a few meals that I'm not that bad at. But for my needs it's alright.
In winter I need a lot of energy but in the summer now if I have to look at my weight a bit and it's leading in to a competition then I'll just have a salad, maybe with some salmon, or turkey or chicken.
Sometimes I watch television in the evening, but most of the time I have to work. Lots of e-mails will have arrived during the day, and I have a lot of things to organise. I sit down and answer e-mails and messages, and it can take some time.
My lights go out around midnight – at the latest. When it's after 23:00 I start to think 'Okay, it's getting later, time to get ready for bed.'"
__
Sport fans from around the world can now buy their Paralympic tickets for Rio 2016 from authorised ticket resellers (ATRs)
The IPC's Global ATR is Jet Set Sports, and Rio 2016 tickets and packages can be purchased on the CoSport website.
Residents of Brazil can buy 2016 Paralympics tickets directly from the Rio 2016 website.
Visa International is the exclusive payment card and the official payment system for the Paralympic Games.