Training Tuesday with Brazil's Terezinha Guilhermina
The Brazilian sprinting legend talks about how she is preparing for her fourth Paralympic Games.
19 Jul 2016
Imagen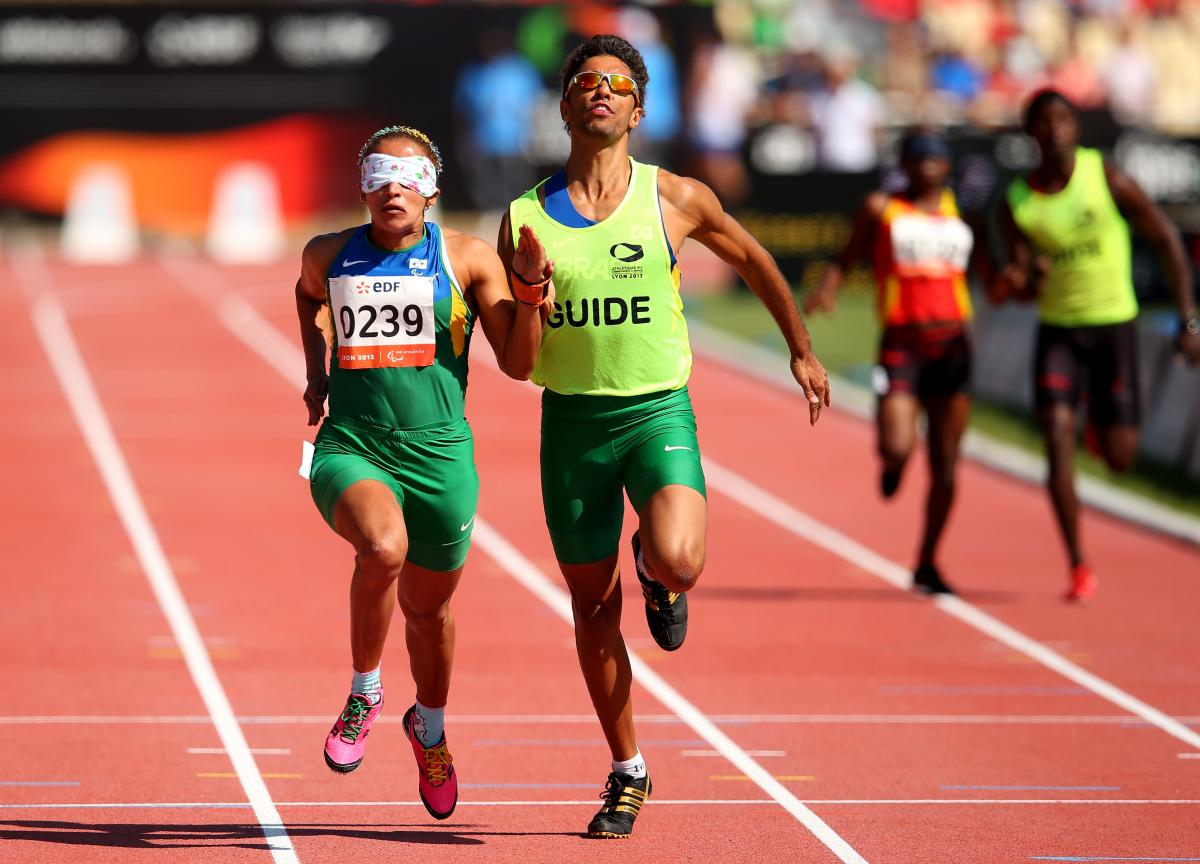 ⒸGetty Images
By Rafael Mendoza | For the IPC
"If athletes want to succeed they need to work and dream high."
In less than eight weeks' time Brazilian Paralympic 100m and 200m T11 champion Terezinha Guilhermina will have the opportunity to defend her Paralympic crowns in front of a supportive home crowd.
The 37-year-old first lined up on the Paralympic stage at Athens, Greece, in 2004 – Rio 2016 will be her fourth Games.
With the emergence of other young talents such as China's Cuiqing Liu, who took triple gold at last year's World Championships ahead of former world champion Guilhermina, success will not be straightforward.
Here Guilhermina explains how she is preparing to go for gold once again.
------
"I believe the words 'effort' and 'work' go before the word 'success'. If athletes want to succeed they need to work and dream high. We need to believe in ourselves and understand that all our efforts will be worth it.
I want to be the best Paralympic athlete, I want to break all the records in my competitions and beat my own records. I want to conquer all the competitions I will be running in in September and celebrate with the Brazilian crowd to the rhythm of the Brazilian anthem.
That is why I always try to train harder every day.
Tuesdays are probably the toughest and most tiring days of my week. These days my workout routine starts at 07:00, so I have to wake up at 06:00hrs and get to the sports complex on time. I work out in all the areas of the complex - track, weight room, and the pool.
Before I start, I have to warm up and do some stretches. The exercises prior to the actual workout are extremely important because if I don't stretch I can get some kind of injury. In the morning workout at the track I work mainly on my technique and co-ordination, but also I do some other exercises such as jumps to improve my power and rapid force.
This is the part I like the most of my whole workout; doing plyometrics makes me improve my power and speed, and I can feel it every day I do it.
After the first part of my workout, my muscles are ready for tougher exercises in the weight room; over there I have to work every part of my body for around 1.5 hours. At 12:00 I swim to relax and stretch all my muscles for 30 minutes, and after this I finally have my lunch break.
I have to admit that I have one weakness: junk food. However, this year I accepted a very strict nutritional regime because I want to be stronger and better for the Paralympics Games. Right now, I'm avoiding all kind of foods that contain gluten, because it makes me retain many liquids and makes me feel heavier. In fact, when I took gluten out of my diet, I lost a lot of weight. Now I am stronger than ever.
For sure, after Rio 2016 is over, I will have a break from my diet and I hope to celebrate my birthday in October with some of my favourite meals and desserts, and with some medals hanging around my neck.
I go back to work at 16:30 to the track once again. In this part of my routine, I work along with some physiotherapists to help me improve my posture during competition. This is when I start running for real with some short and long sprints. I really enjoy running short sprints, however the part I really dislike about my routine is when I run 300m, 400m and 500m sprints, because this kind of training make me feel very tired and it takes me longer to recover.
Once I'm done with all my workout sessions, I finally go back to my house. I usually go to bed at 20:00 to have a full recovery and I sleep at least 10 hours, so the next day I can wake up at 06:00hrs without a struggle.
However, once I get home and have free time, I really like to do some other things that are not related to sports. Talking to my family, learning other languages, watching some movies and talking to my patients (I am a psychologist) are activities that help me to relax and not to think about sports the whole day; getting distracted from sport is very beneficial for all athletes, and makes me finish my day in the best possible way.
I think I am trying to do all the necessary things to be successful in September in Rio. I really hope the crowd is excited like us, and will be ready to see the next Paralympics as the biggest international party, full of colour and happiness - and with them enjoying and supporting their favourite Para athletes.
__
Sport fans from around the world can now buy their Paralympic tickets for Rio 2016 from authorised ticket resellers (ATRs)
The IPC's Global ATR is Jet Set Sports, and Rio 2016 tickets and packages can be purchased on theCoSport website.
Residents of Brazil can buy 2016 Paralympics tickets directly from the Rio 2016 website.
Visa International is the exclusive payment card and the official payment system for the Paralympic Games.