Twelve Athletes of Christmas: Part Three
New Year's Resolutions and a lookback at 2017 with some of Para athletics' biggest stars
22 Dec 2017
Imagen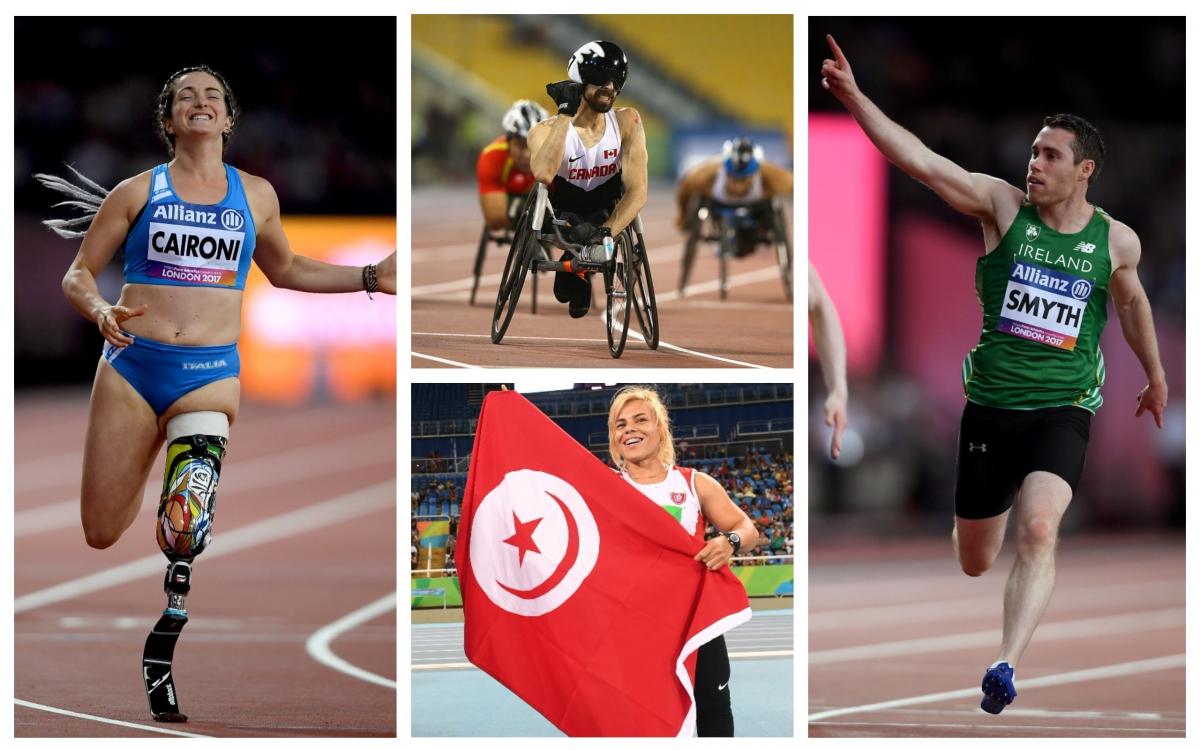 ⒸGetty Images
By IPC
Time to hear from the final quartet of Para athletes from around the world who reveal what they thought of 2017 – and what they look forward to next year.
Ireland's five-time Paralympic T13 sprint champion Jason Smyth, Italy's Paralympic and world 100m T42 champion Martina Caironi, Canada's T53 racer Brent Lakatos – winner of four gold medals at London 2017 - and Tunisia's multiple world and Paralympic champion in the F40/41 throws, Raoua Tlili, take their turn in the hot seat.
What are you doing in the off season before 2018 gets underway?
Jason Smyth (JS): Unfortunately nothing too exciting, just training hard. I have been back since the beginning of September so well in the swing of things at this stage. Getting the work in and being consistent in it has been a big part of all my success so I rarely take my eyes off the prize. Away from sport I spend most of my time with my family and enjoying the time I have with them.
Martina Caironi (MC): I'm training hard but also travelling more than other years. I've been to New York for a week and I'll go to Buenos Aires at Christmas time. I'm also working hard to promote the Paralympic Movement, Ottobock and the sport's values. I'm sharing my story in schools and conventions; I've been to ESA (the European Space Agency) to talk about technologies, I'm supporting a Foundation that recently released a film-documentary with me as a co-protagonist (Niente Sta Scritto - Teaser Ufficiale del Documentario ). Another documentary will be released soon and it is about the year before Rio 2016, my life, my training and so on (L'ARIA SUL VISO | teaser - regia di Simone Saponieri). I'm in the Italian Paralympic Committee as an athlete representative too...my life is not just about training:)
Brent Lakatos (BL): I'm just ramping up back into the swing of things again. This winter I'm going to be focusing on distance training which is a new challenge for me.
Raoua Tlili (RT): In the winter period, the training remained, even though I moved to my hometown "Gafsa" in southwest Tunisia to visit my family.
What are you most proud of in 2017?
JS: Winning double gold at the World Championships in London. It was incredible to be back in the stadium where I have such fond memories from the 2012 Paralympic Games. But this time was the first time my daughter has been to a major Championships to watch me. That was special to see her enjoy it and be proud of me.
MC: I'm very proud about changing lots of things in my life: new house, new awareness of my capabilities. In sports I'm proud about my achievements and about what I'm doing for the athletes of the future.
BL: I'm proud of how I was able to improve this year. I made a major leap forward performance-wise in the middle distances. I'm not a young athlete and I didn't think improvements like that would be possible for me.
RT: The most proud thing of the year is winning two gold medals in the World Championships, because I have maintained my past level and this is important for me.
Which Para athlete impressed you this season?
JS: I would say the Brazilian 100m and 200m T47 sprinter Petrucio Ferreira. He has stepped up another level since his win in 2016 in Rio, to this year run 10.53 seconds to win the 100m T47. To put it in perspective very few Para athletes have ever run that quick in the 100m. What I think is exciting is he is young and has much more room to improve. If he continues to work hard and stay injury free it will be interesting to see how quick he can go in the coming years.
MC: Nicole Roundy and Brenna Huckaby, two Para snowboarders from the USA that I follow on Instagram. They go very fast and they have a great technique from which I'm learning more.
BL: Marcel Hug. For the first time this year I competed against him several times. His stamina and strength are quite formidable. I am looking forward to racing against him in the years to come.
RT: The Para athlete that impressed me most in 2017 is the Tunisian athlete, my colleague in athletics Fathia Amaimia. I cried when I heard the result of Fathia at the 2017 World Championships (in the discus F41) where I waited to be ranked second in the same event but she ranked fifth.
What would you like to receive in your Christmas stocking?
JS: Not sure if I made the good list or the naughty list this year - we will have to wait and see. Maybe it's a sign of old age, but I actually am more interested in seeing what my daughter gets in her stocking and how she enjoys the Christmas season. This will be the first year she is really old enough to understands it, which makes that whole time of the year a bit more magical.
MC: Mmm...a surprise!
BL: Christmas is going to come early this year. December 15th to be precise. Star Wars: The Last Jedi.
What's your New Year's resolution for 2018?
JS: I've never really been one for New Year's resolutions – I can't even remember the last time I set one. I don't feel like I need it to be a new year to set myself a target. If I want to do something I just do it regardless of when it is.
MC: My resolution for the next year is to run faster than 2015, jump further than 2016 and to be a coach for new athletes in Italy, towards Tokyo 2020.
BL: I am going to train for Marathons this year, so my resolution will be to become a contender at the highest level.
RT: 2018 for me, despite training sessions and a programme of sporting events, remains a year of rest without much pressure before the next World Championships.