Twenty facts about Tokyo 1964 and 2020 Paralympics
Some things you might not know about the 1964 Paralympic Games held 50 years ago and the Tokyo 2020 Paralympic Games.
11 Nov 2014
Imagen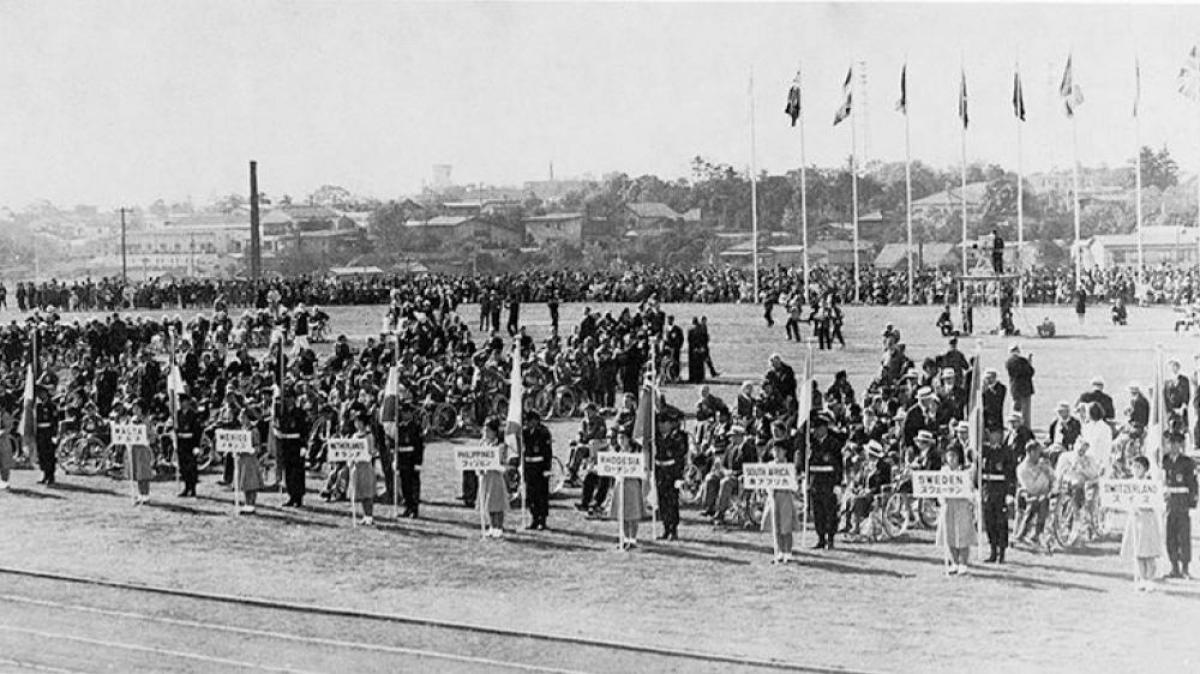 ⒸIPC
By IPC
The International Paralympic Committee is celebrating 50 years since the Paralympic Games were held in Tokyo in 1964 and is looking ahead to Games to be held there in 2020.
Tokyo 2020
1. Tokyo will be the first city ever to host the Paralympic Games on two separate occasions. In 1964, 378 athletes from 21 countries competed in nine sports – the first time a Paralympic Games had been held in Asia.
2. Two Games: one unified 60-day festival of sport. The Tokyo 2020 Olympic and Paralympic Games will have their own distinct character and atmosphere, but will be unified as a single sporting festival conducted over 60 consecutive days.
3. Tokyo 2020 will be held from 25 August - 6 September 2020, following the Olympic Games which end on 9 August. Most events will take place within an 8km radius of the Paralympic Village, except for shooting which will be staged at the Asaka Shooting Range. There will be two main zones – 'Tokyo Bay' and 'Heritage'.
4. Tokyo is widely thought to have the best hospitality, public transportation, taxi services and the cleanest streets. It is the largest of Japan's 47 prefectures, containing 23 wards, 26 cities, five towns and eight villages.
5. Tokyo 2020 will take place in one of the world's most accessible cities, with the highest standards for athletes, official and spectators.
6. A total of 44 hectares of land will be used for the Paralympic Village, with magnificent views over Tokyo Bay. It is located around Harumi Pier in the fast developing waterfront area of Tokyo, where the Heritage Zone and Tokyo Bay Zone of the Tokyo 2020 concept meet. Situated near Ginza, a bustling historic and shopping area, the Paralympic Village is also close to the waterfront at Odaiba.
7. An incredible 2.3 million tickets will be available for spectators to come and watch all the action.
8. The new futuristic National Stadium will have 80,000 seats and host the Opening and Closing Ceremonies as well as athletics competitions. It is replacing the current National Stadium which will be demolished from December 2014 to make way for construction set to begin on the new building in October 2015.
9. Badminton will make its debut at the Tokyo 2020 Paralympic Games.
10. The greater Tokyo area has 35 million citizens eagerly looking forward to the 2020 Games and aims to reinforce the change in perceptions which began in 1964.
Tokyo 1964
1. Tokyo 1964 represents the first example of the use of the term 'Paralympics' in official documentation. It was held directly after the Olympic Games using some of the same venues.
2. Dr. Ludwig Guttmann, the founding father of the Paralympic Movement and President of the Stoke Mandeville Games Organising Committee, initially agreed for Tokyo to host the Games with a Mrs. Watanabe during a chance meeting at Rome 1960. Watanabe was attending a separate Congress and had come along to watch the Games.
3. Great Britain's participation at Tokyo 1964 marked the first time that the country's government had supported para-athletes. They gave grants towards team expenses in the same way that they had done for the Olympic team.
4. The Stoke Mandeville Games Organising Committee was able to negotiate with several airlines on transporting teams to Tokyo by charter, who would eventually even share flights to Japan. A specially adapted slimmer wheelchair was also created, to allow athletes to be transported comfortably down the aisles of the aircraft.
5. The original budget for Tokyo 1964 was 80 million yen and would be funded by the national government, the city and other large-scale donors. However, it soon became apparent that much more would be required and, thanks to media coverage, donations soon came flooding in from some 2,000 individuals and organisations including schools and sports associations to cover all costs.
6. In his evaluation of Tokyo 1964, Guttmann noted "Through circumstances beyond our control, the competitions had to be cramped into 4.5 days and […] our paralysed sportsmen and sportswomen had to start the Games 36-48 hours after arrival. Although there were no ill-effects and, incredible as it may seem, in spite of the strain imposed, records were even broken, such a strain should be avoided in future Games." There were only three days between when the Olympic Village was handed over to the athletes and the Opening Ceremony. Most events took place in and around the Olympic Village.
7. For some events, such as swimming, the same technical officials as those who had overseen the Olympic Games were used, without experience of para-swimming. This, alongside the language barrier, caused some difficulties which were overcome by specialist technical advisors taking to the pool to demonstrate differences in classifications.
8. According to the official review of Tokyo 1964, 700 reporters came to cover the Games from across Japan. Unlike today where media accommodation must be separate, media worked and slept in the Athletes' Village.
9. Such was the positive impact on perceptions of people with impairments in Japan that following Tokyo 1964, the Ministry of Labour built a factory to employ this group in recognition of their physical and psychological capabilities.
10. On an official day trip for athletes to Hakone, whilst passing through one village, hundreds of children lined the streets to welcome the procession of coaches.
Related Images