Unstoppable Brian McKeever speaks on his time and more
Completes hat-trick of titles in Beijing
12 Mar 2022
Imagen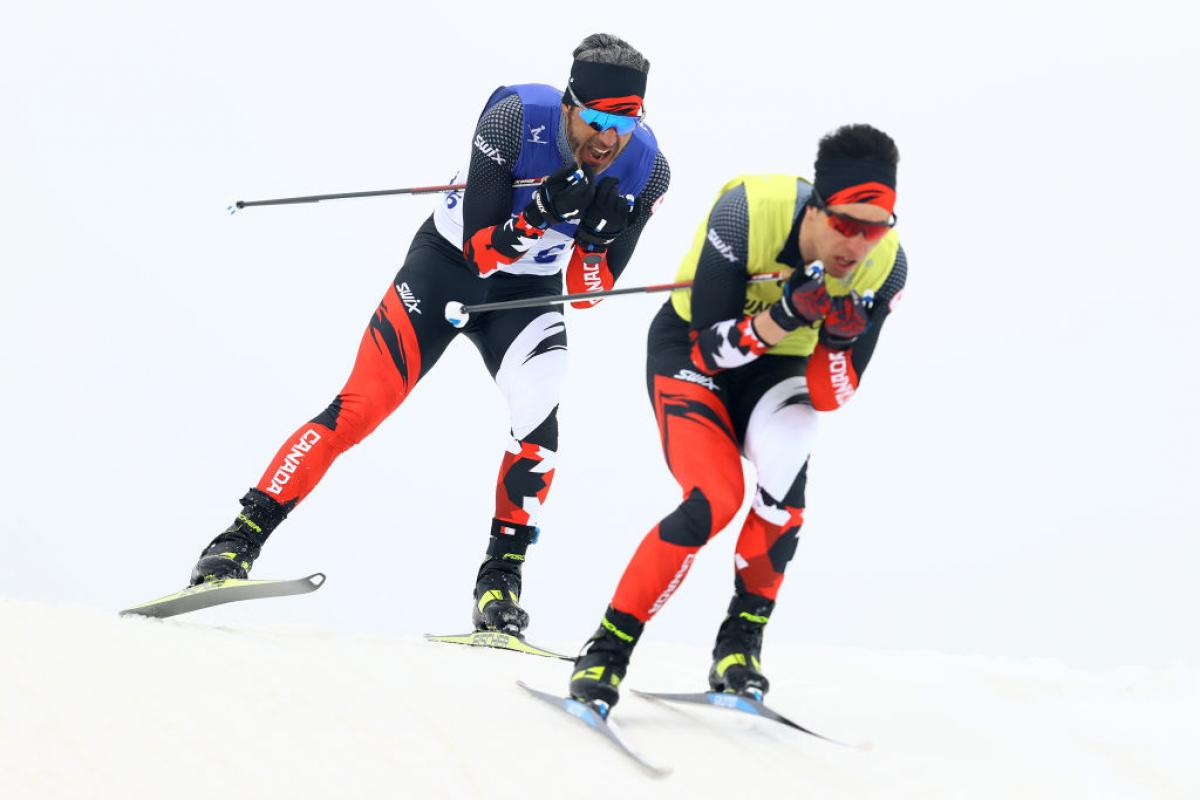 ⒸMichael Steele/Getty Images
By ND Prashant | For the IPC
The world will see Canada's legendary Paralympian Brian McKeever for one last time on Sunday, 13 March, when he would be going all out in the Cross-Country relay chasing a record 17th Paralympic title.
On the penultimate day of the Beijing 2022 Paralympic Winter Games, McKeever teamed up with long time guide Graham Nishikawa and wearing bib No 16, to complete a hat-trick of gold winning the Men's Middle Distance Free Technique Vision Impaired  with a time of 33:06.6.
Sweden's Zebastian Modin settled for silver while Ukraine's Dmytro Suiarko claimed bronze.
With his third gold medal in three events, McKeever is now tied with Germany's most decorated Alpine skier Gerd Schenfelder -  16 gold medals. Such has been McKeever's dominance that he has not lost an individual competition in the Paralympics since Turin 2006 Games.
Excerpts:
Another special performance, can you live us through the race
"I think it was because they gave me the right bib today. Nishi (guide) did a fantastic job today of setting the pace and I think we had a lot of talk of how we would race it. Last two days, we were working on the pace and knew if we started with the right pace then we can adapt to anybody else's pace and in the end everything worked well for us.
On equaling record of Germany legend Gerd Schenfelder 
To be perfectly honest, it doesn't mean a damn thing (laughs). It's never been about any of it. It has always been about enjoying the process and I love representing the country. We love getting lost in the mountains then to come home after 10 hours slogging and suffering… then look at the picture later and say, that was fun. If records happen to come it will come. Trying to do what you know to do best is what mattered to me all through my career.
Expectations going into the last relay race on Sunday and going for gold  No 17
More importantly, I'm racing with a friend Brittney Hudak. This was my last individual race but I will be teaming up with Brittney in the relay tomorrow for one last go. She has raced so well here and an is an awesome person. We are a good team and looking forward to have a good day. Anything can happen in a race. At the end of the race like this, I want to go back and talk about it later. Not everybody gets to do that and hence I'm looking forward to the race.
On leaving a legacy behind
Never been interested in leaving a legacy, that's not been important for me. For me, it has always been about trying to be the best athlete and trying to do the work as professional as I can. The result always comes with that. There is one thing that we managed to show was the level that an athlete can get to at the Paralympics. How professional one needs to be to come this far. If you are not training a 100 percent professionally here, its not going to work for you. The gaps between the field are pretty incredible here. It is fun to watch others who are competing and I'm proud of other Para athletes here.
Message to athletes who would like to emulate you
The races are won in the off season. The races are won with the work you put in and there is no secret and there is no short cut. Putting in the hours and trusting in your dreams. Enjoy the long days and yet to be comfortable with solitude and being on your own because there are a lot of lonely days - fight. If you can do that then you can get into the flow and into the zone during the 350 other days when you are not at the Paralympic Games or at the World Cups.
Will you be associated with the sport after hanging up the boots
We will be always be associated with the sport. Me, Graham (Nishikawa), Russel (Kennedy). This stuff is fun for us. If we weren't paid to do this then we will still find other ways to get on the skis and get up on the mountains. We are always going to be in touch with the team. This team is a tight group of friends and we are a tight group in the Paralympic Movement. I have been working with a bunch of skiers from different nations. Possibly, if someone feels like they want me to come on board as a mentor or coach then I'm there. I do love coaching and in these many years, I have got a pretty good skill set.
Most memorable moment of your career
Racing at home in Vancouver was both wonderful and painful. You rarely get a chance to race in front of home fans, your family and friends. So that was truly a special moment.