Canadian legend Brian McKeever inches closer to Gerd Schenfelder's record
'If we win, we'll take it. If we're fourth, then that's the beauty and the pain of sport, you just turn around and shake everybody else's hands because they beat you.'
07 Mar 2022
Imagen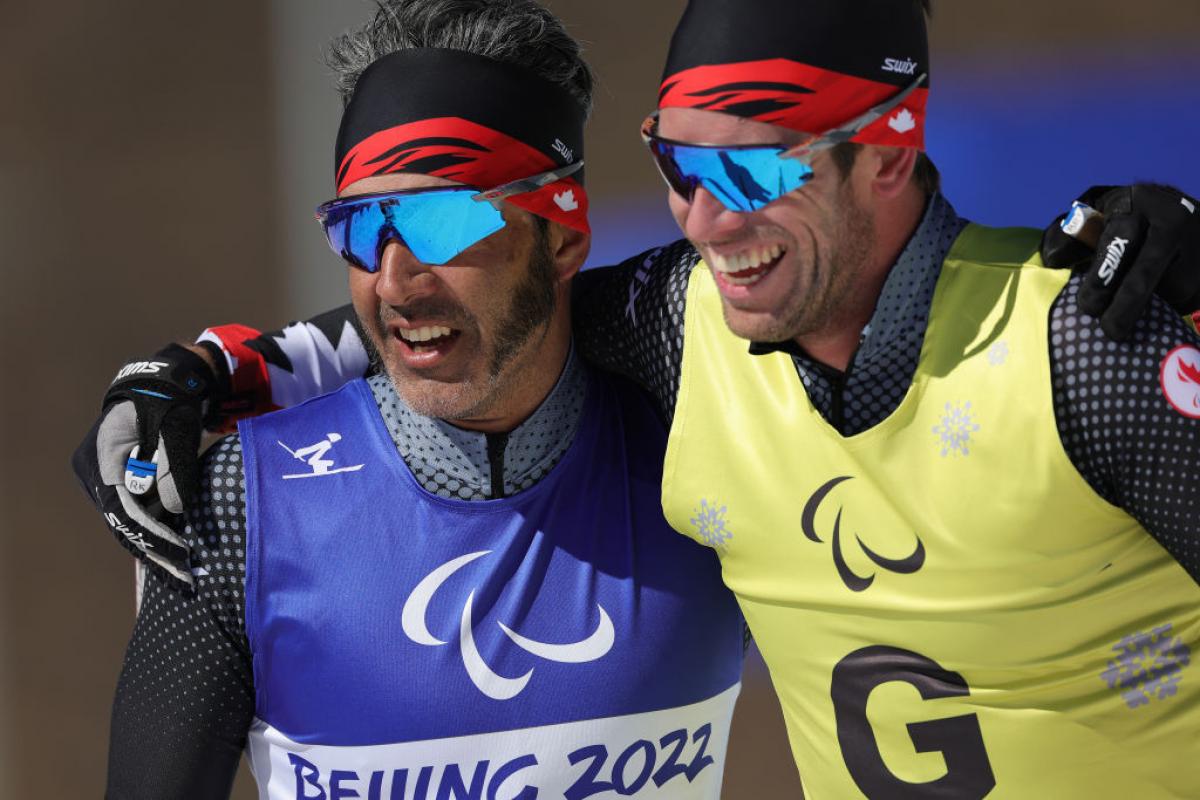 ⒸCarmen Mandato/Getty Images
By ND Prashant | For the IPC
Canadian legend Brian McKeever's added another gold to his illustrious career on Monday, 7 March, with an authoritative performance in the Para Cross-Country Skiing Men's Long Distance Classical Technique Vision Impaired at Zhangjiakou National Biathlon Centre.
The 42-year-old, who has already announced his retirement post-Beijing Games, was in a league of his own racing with his guide Russell Kennedy.
Displaying an authoritative show McKeever, finished the 20km race without being challenged at all and finished the race with time of 55 minutes 36.7 seconds. Such has been McKeever's dominance in this event that he has not lost the title since Turin 2006 Games.
HUNGRY FOR MORE MEDALS
A jubilant McKeever, following his medal winning performance, announced that he still has the fire in his belly to win more medals and will be going all out here.
"(Medals) They're all hard. With the challenges we've seen over the past couple of years, with the (COVID-19) pandemic and the political situation, it's been tough for everyone. It is a miracle in a sense that we're even here.
"I'm still hungry. I still love training every day. When we are out there, we are still competing against each other on the training sessions," said a pumped up McKeever, who also heaved words of praise for his guide Kennedy.
"It's always exciting. It's never easy and today, having Russell around, it was a great pace he set, very good guiding.
"He's one of the fastest skiers in the world and to have him skiing in front of me, he is a great person to be following. And the wax team did a great job. These skis are definitely some of the best skis I've ever been on."
ON CALLING IT A DAY
McKeever, who has spent two decades in the sport and won 17 Winter Paralympic Games medals, when asked if he would contemplate not calling it quits having put such a sensational display of endurance said: "If it wasn't for good (physical) therapists, I wouldn't be standing here, so I think it is time. The body is slowing down.
"Call it a soft retiring, I want to fade away slowly. We are still competitive, but I'm breaking down. You wake up in pain, you go to bed in pain, so it's certainly time." 
McKeever now has two more events where he will be looking to defend his title  - Men's Middle Distance and Men's Sprint Vision Impaired. 
"I still love this, I still love getting out and training all the time, with Russ (Kennedy) and the others in the team.
"But I'm getting old, body is breaking down. I've got a lot of pain every day and it will be nice to take it easy a bit and get out skiing more for fun rather than as a job.
"But for the time being, we've got a job to do, we're going to have fun doing it and it's still exciting to be here," said McKeever, who with this gold is also two shy of equalling the most decorated German Alpine skier Gerd Schenfelder's record of 16 gold medals at the Winter Paralympics, including four gold medals each at the Salt Lake 2002 Games and Vancouver 2010 Games.
"I'm just hoping to have good days, make a good plan, stick with it and hope that it's good enough. That's all we can ask for.
"If we win, we'll take it. If we're fourth, then that's the beauty and the pain of sport, you just turn around and shake everybody else's hands because they beat you."