The untold story of 1964 Paralympic Games
The 'Unofficial Opening Ceremony' saw about 480 athletes from all 47 prefectures of Japan gather to compete across 36 events.
07 Nov 2020
Imagen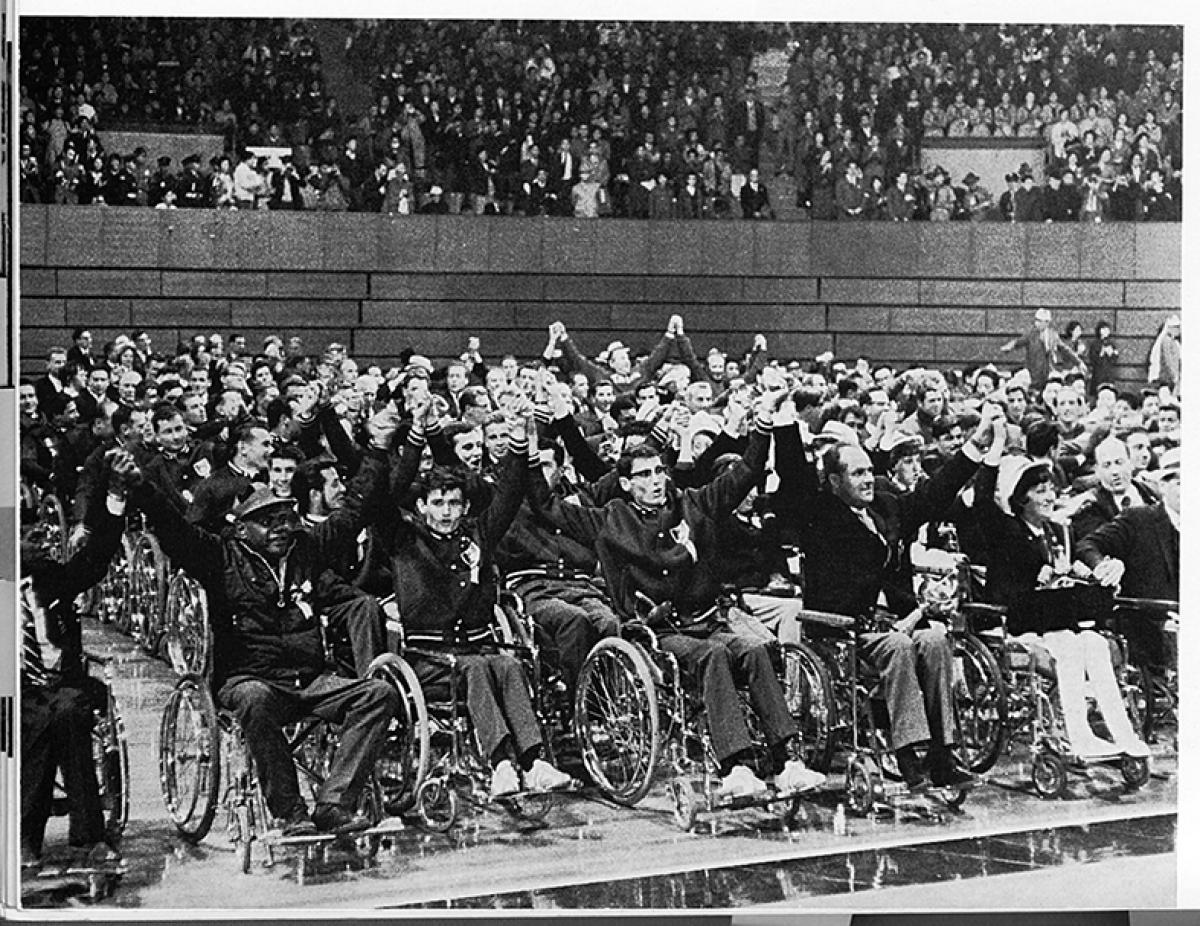 By Tokyo 2020 / IPC
A vintage stained yellow book titled 'Tokyo 1964 Paralympic Official Report' holds a piece of history rarely heard and its contents hold great significance for the Paralympic movement in Japan.
Following the closing of the Olympic Games on 12 November — a five-day event which saw 374 athletes from 21 countries compete — the Organising Committee proceeded to host an ambitious unofficial event.
The unofficial 'Opening Ceremony'
A day after the Tokyo 1964 Olympic Games came to an emotional end with the chorus of Auld Lang Syne sung by all participants, thousands of people once again packed the Oda Field.
This was the second, 'unofficial' Opening Ceremony to celebrate a sports event for people with impairments. Despite the sky not being the bright blue it was for the Tokyo 1964 Opening Ceremony, hundreds of participants marched to the 'Sukiyaki song' played by the marching band of Japan's defence force.
Participants came from all over Japan, as far north as Hokkaido and as far south as Okinawa. Meanwhile, West Germany was the only non-Japanese team to participate.
The Ceremony, known domestically as 'the second part of the Paralympics' saw about 480 athletes from all 47 prefectures of Japan gather to compete across 36 events. This included hearing, visual and physical impairment competitions, since Tokyo 1964 had only included athletes with spinal injuries.
As Japan had not been able to send a single athlete to the 1960 Paralympic Games in Rome, the 1964 edition was a breakthrough moment.
Chairman of the Board of Directors for the Organising Committee, Yoshisuke Kasai, said the motivation to host the unofficial event was to make the most of the unprecedented public attention.
"Wheelchair users are not the only people with impairments. There are many other people with impairments," he said.
"As we are hosting the international sport event for people with impairments, we would like to give those who are not eligible for the event a chance to participate. That is why we decided to host the second part, so they can join in."
Behind the great achievement
While the event was a great success, for Japanese athletes it clearly showed the gap between them and their overseas counterparts.
"I must not be the only one who wondered how foreign participants can be so cheerful and energetic?," said Japanese swimmer and fencer Shigeo Aono, who took the Oath on behalf of the athletes at the Tokyo 1964 Opening Ceremony said.
"I have no doubt that they can't be like that without the sufficient welfare system which their nations provide to them. I can't deny there are huge gaps between us and them.
"Can our society be ready to accept us when we become physically good enough to adjust for maintaining the social life?"
Teammate Masami Hasegawa added: "I realised why foreign participants can be so cheerful and energetic. There is a reason to be so. They are welcomed and supported by general public.
"They are recognised by their society as an individual and thus they are self-disciplined as an individual. That made a stark difference from us.
"I wonder when we, Japanese people with impairment, can feel the same way as them and live like them? I just wish such day will come as early as possible."
FACT FILE
1. Tokyo 1964 represents the first example of the use of the term 'Paralympics' in official documentation. It was held directly after the Olympic Games using some of the same venues.
2. Dr. Ludwig Guttmann, the founding father of the Paralympic Movement and President of the Stoke Mandeville Games Organising Committee, initially agreed for Tokyo to host the Games with a Mrs. Watanabe during a chance meeting at Rome 1960. Watanabe was attending a separate Congress and had come along to watch the Games.
3. Great Britain's participation at Tokyo 1964 marked the first time that the country's government had supported para-athletes. They gave grants towards team expenses in the same way that they had done for the Olympic team.
4. The Stoke Mandeville Games Organising Committee was able to negotiate with several airlines on transporting teams to Tokyo by charter, who would eventually even share flights to Japan. A specially adapted slimmer wheelchair was also created, to allow athletes to be transported comfortably down the aisles of the aircraft.
5. The original budget for Tokyo 1964 was 80 million yen and would be funded by the national government, the city and other large-scale donors. However, it soon became apparent that much more would be required and, thanks to media coverage, donations soon came flooding in from some 2,000 individuals and organisations including schools and sports associations to cover all costs.
6. In his evaluation of Tokyo 1964, Guttmann noted: "Through circumstances beyond our control, the competitions had to be cramped into 4.5 days and […] our paralysed sportsmen and sportswomen had to start the Games 36-48 hours after arrival. Although there were no ill-effects and, incredible as it may seem, in spite of the strain imposed, records were even broken, such a strain should be avoided in future Games." There were only three days between when the Olympic Village was handed over to the athletes and the Opening Ceremony. Most events took place in and around the Olympic Village.
7. For some events, such as swimming, the same technical officials as those who had overseen the Olympic Games were used, without experience of para-swimming. This, alongside the language barrier, caused some difficulties which were overcome by specialist technical advisors taking to the pool to demonstrate differences in classifications.
8. According to the official review of Tokyo 1964, 700 reporters came to cover the Games from across Japan. Unlike today where media accommodation must be separate, media worked and slept in the Athletes' Village.
9. Such was the positive impact on perceptions of people with impairments in Japan that following Tokyo 1964, the Ministry of Labour built a factory to employ this group in recognition of their physical and psychological capabilities.
10. On an official day trip for athletes to Hakone, whilst passing through one village, hundreds of children lined the streets to welcome the procession of coaches.